Guitar Aficionado is supported by readers. If you buy something after clicking on one of our links, we may get an affiliate commission from that & it won't cost you anything.
You want to crank up your guitar amp and go wild. But it's not entirely practical, especially early in the morning, late at night, or when others around you are trying to concentrate or sleep.
Is there nothing you can do? Well, of course, you can play unplugged or at quieter volumes. But sometimes that just isn't satisfying.
So, it might be time to take advantage of that convenient "headphone in" most guitar amps come with. Just know that the headphones you use will affect your experience, so choosing the right pair will make a difference.
Here we'll look at the best headphones for your guitar amp.
Focal Stellia Closed-Back Circum-Aural Over-Ear Headphones, For Audiophiles Only
This product is only for the most discerning, most demanding of players. The price alone could give the wrong person a mild heart attack. But for audiophiles, it might be hard to accept anything less.
The French-made Focal Stellia closed-back circum-aural over-ear headphones are stunning and don't look like anything else that's out there. And at this price point, you would expect as much. But these babies promise to deliver all the tiny details in audio you wouldn't otherwise be able to hear – from high frequencies to low frequencies, the entire spectrum!
These ear cans come with full-range speaker drivers, offer good ambient noise soundproofing, and are comfortable and ergonomic.
If you're going to spend this much on a pair of headphones, though, don't let them go to waste. Use them in your studio, listen to the highest quality of music, utilize them in a variety of ways.
These headphones aren't just headphones. They are an experience, and customer sentiment reflects this fact. Most agree – they are the best closed back headphones money can afford. You'll be able to hear your guitar like you've never heard it before!
Some customers apparently had issues with the "flimsy" headband. We can't confirm or deny, but if it's true, it's a sad thing to see on such an expensive piece of gear.
Item weight: 5.95 lbs.
Package Dimensions: 13.7 x 10.5 x 12.9 inches
Focal Listen Wireless Headphones
Now, compared to the previous pair, the Focal Listen Wireless Headphones are probably a little more realistic for most guitar players, and they are still well above average in performance.
These cans come with Bluetooth 4.1 wireless, aptX compatibility, Titanium/Mylar drivers, heat-sensitive memory foam ear cushions, and 20 hours of battery life (three hours to charge).
The driver offers transparency and clarity to higher frequencies with near distortion-free bass.
Now, you may not have heard of Focal before, and to be fair, their brand name isn't as prominent as, say, Sennheiser, Sony, or Audio-Technica. But they are award-winning and are especially loved by audiophiles (if you hadn't figured that out already).
Finding a cheaper pair of Focal cups will prove challenging indeed, making this the most viable Focal option for a guitarist, considering all relevant factors.
Overall, the clarity and detail of the sound offered is phenomenal.
Some reviewers found the headphones a little uncomfortable, didn't enjoy the sound quality, or thought they were about average for the price.
Item weight: 2 lbs.
Package Dimensions: 7.87 x 3.94 x 7.87 inches
BOSS WAZA-AIR Wireless Guitar Phones System
BOSS' WAZA line of products have been making waves as of late. Sure, some of their compact stomp boxes remain staples in many floorboards, but some of their early attempts at multi-effects and modeling efforts were a little lackluster. But now, they seem to have a renewed commitment to making great products that delight guitarists.
Here we have the BOSS WAZA-AIR wireless guitar phones system, and out of the gate, it's clear they're appealing to the late-night, "I must play eight hours of guitar per day to be any good" crowd who are always grinding to get to the next level of playing.
The WAZA-AIR cups come with wireless technology, Bluetooth audio playback, six tone settings, custom-designed 50 mm drivers, up to five hours of playtime (up to 12 hours with the BOSS WL-T transmitter), and a built-in tuner function.
Let's be honest – playing guitar through headphones, for the most part, isn't a satisfying experience. You won't get anywhere near the dimension or depth of playing through an amp, and as result, nowhere near the same level of excitement. These headphones were developed to make that visceral excitement more accesible.
They do sound promising, but the reviews tell a different story. Plenty of satisfied customers, to be sure – some thought they were quite amazing, others thought it gave them a satisfying, real amp sound. But others had issues with the Waza phone app, and thought the product was tad overpriced.
Item weight: 1.7 lbs.
Package Dimensions: 11.57 x 9.57 x 11.61 inches
Sennheiser Pro Audio HD 650 Open Back Professional Headphone
It would be hard to go wrong with the Sennheiser Pro Audio HD 650 open back professional headphones. These come with a specially designed acoustic silk, hand selected matched driver elements, high power neodymium magnets, and lightweight aluminum voice coils.
While these ear cans are marketed to higher-end users, they aren't so cost-prohibitive that guitarists wouldn't consider them a viable option.
One thing to keep in mind is that they are open back headphones, which are often used for mixing (where headphones are employed for mixing). And that means they do leak some sound, even if it is relatively quiet. So, if your goal is avoid disrupting your roommates, these may not be the ideal choice. There wouldn't be any issues with neighbors though.
Given that they are designed for audiophiles, you can expect a highly defined sound from the HD 650 pair.
Some customers said these were the best headphones they've ever had, and most agree. If you want to use them for high-quality audio listening, you will need to use them alongside an amp (not a guitar amp), though.
An audiophile pair in this price range is not a bad deal at all.
Item weight: 9.1 ounces
Package Dimensions: 12.4 x 10 x 4.33 inches
Audio-Technica ATHM50XBT Wireless Bluetooth Over-Ear Headphones
From here down, we're mostly looking at mid- to low-tier products. The Audio-Technica ATHM50XBT wireless Bluetooth over-ear headpones are still quite impressive, though, all things considered.
Along with wireless technology, these cans come with touch control, 45 mm large aperture drivers, and a USB charging cable.
These are the most popular Audio-Technica headphones available and have outsold just about every other headphone product available!
One of the best things about them is that they're versatile, and Audio-Technica markets them as good all-arounders for gaming, studio, and everyday headphone use.
Some of the other highlights include a collapsible design and 90-degree earcup rotation. In addition to black, they also come in purple and blue.
These cans feature amazing bass response and strong midrange definition. Unlike the previous generation, these are also wireless!
Reviews are a little mixed. Most were satisfied with the product, noting their overall comfort and sound quality.
The less enthusiastic thought the headphones were disappointing given their price and contended that they should have a longer playtime.
Item weight: 10.9 ounces
Package Dimensions: 8.66 x 4.33 x 9.84 inches
Yamaha PAC HPH-MT7 Monitor Headphones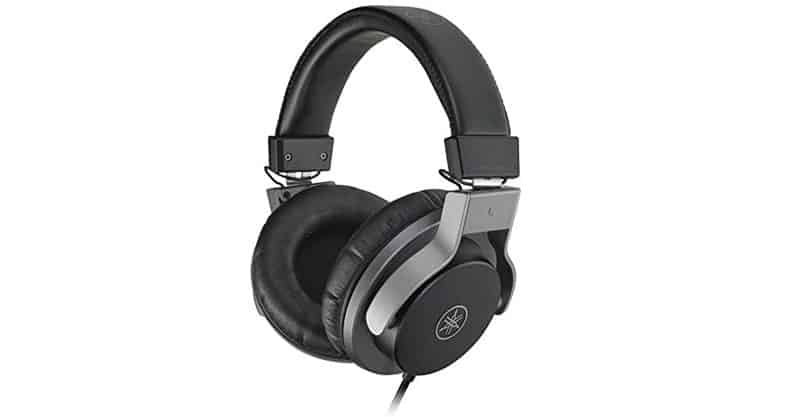 Yamaha has not had a heavy presence in the headphone space for quite a while. That said, their out of production NS10 is one of the most popular studio monitors ever created, and the Yamaha PAC HPH-MT7 monitor headphones are a throwback to their glory days.
These babies boast a closed-back circumaural design, 40 mm custom drivers with CCAW voice coils, synthetic leather and low-resistance cushions, three-dimensional arm pivot construction, and adjustable slider length. They also come with a 6.3 mm standard stereo plug adaptor and carrying bag.
Overall, the headphone monitors are quite dynamic. Their sound is maybe a tad too flat and transparent for some, but you can always adjust your tone on your amp.
The PAC HPH-MT7 cups make for great mixing headphones and can help you identify problems in your mixes. Most users agree, they sound great, feel good, and are easy to use.
Some didn't find them to be the most comfortable, mind you.
Item weight: 15.5 ounces
Package Dimensions: 10.4 x 4.9 x 10.9 inches
Beyerdynamic DT 770 PRO 80 Ohm Over-Ear Studio Headphones
The German-made Beyerdynamic DT 770 PRO closed over-ear headphones have been designed with professional recording and monitoring in mind.
They come with circumaural velour ear pads, bass reflex system, and a single-sided cable. They offer plenty of detail, so if you're looking for cups you can also mix with, you might enjoy these. They are well loved by producers recording vocals because of their noise isolation capabilities. And these same qualities make them great for guitarists as well.
Overall, these headphones are extremely durable, sound great, and feature a quality build.
Still, there were some reviewers who weren't impressed with this set's sound, and thought they were a little overrated.
Item weight: 9.5 ounces
Package Dimensions: 10 x 5 x 8 inches
Sennheiser HD 599 Open Back Headphone
We've already looked at one Sennheiser set, and in some ways, the Sennheiser HD 599 open back headphones are like the product we've already looked at. The HD 599, however, have a reputation for being versatile, and as a guitarist, that can only be a plus.
These around-ear open back headphones claim to offer an audiophile level sound with a premium design. They come with a padded headband, velour covered ear pads, multiple connectivity options, Sennheiser engineered transducers with aluminum voice coils, and a beautiful ivory color design.
And, true to form, they do sound quite good. They're lacking some low end, but they have a balanced, neutral sound. Lead instruments and vocals sound clear, and that's always good news for a guitarist hunting for headphones.
There's a bit of muddiness in the higher bass and lower midrange, but that shouldn't prove much of a deterrent, especially if you're primarily using this set for dialing guitar tones.
The pros – these might well be one of the best sets in the price range. Some even said this would be the last set of headphones you'd ever need.
Cons – some thought the HD 599 cans offered too dark a sound and didn't think they were worth the asking price.
Item weight: 8.8 ounces
Package Dimensions: 8.1 x 3.95 x 10.25 inches
Philips Audio Fidelio X2HR Over-Ear Open-Air Headphone
The Philips Audio Fidelio X2HR over-ear open-air headphones may prove another worthy alternative to some of the open-ear headphone products already introduced.
These cups come with engineered double layered ear-shells with pre-tilted speaker plates, 50mm high-definition neodymium drivers with LMC diaphragm, deluxe memory foam ear-pads with velour finish, and lightweight self-adjustable hammock with 3D mesh and genuine leather outer headband.
If you're looking for cans that offer a distortion-free, neutral sound, this is a good place to look. They sound balanced if a bit dull in certain frequencies while a little too accentuated in others. They also don't have the lowest of low ends, though that probably won't concern you too much as a guitarist.
Because they are open back, they don't have the best sound isolation, and overall, they are a little bulky.
Even so, some reviewers have declared these the "king" of Philips headphones, citing the detailed sound as one of their strengths.
Others didn't think these were anywhere near audiophile quality, which is true, and found them a bit uncomfortable too. I don't know why you would expect them to be audiophile quality at this price point, mind you.
Item weight: 13.4 ounces
Package Dimensions: 4.72 x 9.45 x 12.6 inches
Vox VGH Rock Guitar Headphones With Effects
Obviously, when brands making other guitar products make headphones (like BOSS), we pay attention. And so, we come to the rather unique Vox VGH Rock Guitar headphones with effects.
As the name suggests, these headphones do not require a guitar amp. They are a guitar amp all their own, and they come with built-in effects, including, of course, overdrive.
Do they give you the best tones and sounds you've ever heard? Obviously not. They are headphones. But I would still say they give you a relatively authentic Vox tone, and the controls are responsive. More than enough for personal practice and travel needs.
Obviously, one of the best things about these headphones is that they are effectively plug and play. And they even work as standard headphones when powered off. They aren't wireless, though, and that could be a deal breaker for some.
The reviews for these babies are a little mixed. Those who enjoyed these said they thought sounded quite good, found them easy to use, and practical for practice.
The less enthusiastic apparently had issues with the headphones shorting out after minimal use.
Item weight: 9.2 ounces
Package Dimensions: 7.68 x 6.3 x 1.97 inches
Status Audio CB-1 Closed Back Studio Monitor Headphones
If you're considering a budget option, then it's hard for me to imagine a better set of headphones for guitar and general studio use than Status Audio's CB-1 closed back studio monitor headphones. These have been my mainstay for the last year and a half or so, and I've found them to be quite surprising, especially for the price.
Their sound is more detailed than AKGs costing three times the price, they start to feel more comfortable once you've broken them in, and they are relatively durable too.
After a couple years of heavy use, the adjustable plastic parts started cracking and breaking, but I can't cite that as a major downside given how long they've held up, especially for the price. And, technically, they continue to hold up, at least for the time being.
Item weight: 8 ounces
Package Dimensions: 6.54 x 3.62 x 8 inches
What Should I Look For In The Best Headphones For My Guitar Amp?
Guitarists looking for headphones probably fall under a few categories.
The first is those who like to practice after dark and want to be able to do it quietly. If you fall under this category, you might be a night owl, a diligent student of the guitar, or just someone who enjoys songwriting at night.
The next is those who don't have much of an option. You might live with your parents, with roommates, with kids, or otherwise, and can't play at high volumes. It could even be that the walls are too paper thin, and you're worried about bothering neighbors.
The other category would be guitarists who simply need flexibility. Maybe you have an acoustically treated or soundproofed room, maybe even a studio. Maybe you want a pair of headphones you can mix with. Maybe you want to be able to practice while you're traveling, play a bit of guitar in your bedroom, or work on a new riff in total Zen.
Most types of players will be well-represented by one of the above three categories, with shades of grey in between. And the point is that, depending on what type of player you are, you're going to have different needs.
If you only need to use headphones occasionally, you probably don't need top of the line audiophile headphones.
If you don't have an option, then a more expensive set could be worth the investment.
And so on. Clear?
In addition, there are a few factors we will consider in more depth here:
Sound quality
Comfort
Durability
Budget
Let's get to it!
Great Sound Quality
Buying headphones often comes down to a conversation about what you're willing to settle for in terms of sound quality.
While not a blanket guarantee, the more you spend, the more likely you are to get a pair that's balanced, dynamic, detailed, and able to handle every frequency, even low bass, which most headphones just don't do.
Spending less isn't wrong. It just means you're less likely to end up with a pair that boasts all the above.
And so, where do you find yourself on the spectrum from audiophile to complete novice? If you're new to sound, you're less likely to notice the difference, and may not value the sound higher quality cans offer. And, if you're more experienced, and have listened through some of the best products available, you're less likely to accept compromise.
But I will tell you one thing – listening to guitar through headphones is a nuanced thing, and while you might think that an expensive pair of headphones is always better, that isn't always true. The point is, you've got to find what works for you.
Comfort
We ended the last section saying, "sound is individual," but when it comes to comfort, it's very much the same. It's going to depend on the size and shape of your head, as well as the overall adjustability of the cans, and the materials used.
What works for one doesn't always work for another. But it is wise to go looking for a set that feels comfortable, especially if you plan to wear them for hours on end as I do. I usually wear headphones all day long while I'm at my desk, and that includes podcasting, recording, and audio work in general.
Even expensive headphones sometimes miss the importance of comfort and don't offer what they should in terms of durability and comfort. Sad. But that doesn't mean there aren't brands that don't care. It's just a matter of finding them and getting a sense of the level of support they offer.
Durability
I've broken enough earbuds and headphones to know that durability and reliability is a big deal. Not that you would expect a pair of $50 headphones to last you for the rest of your life. Today's gear is so easily replaced because of the low barrier to entry (though I'm not advocating waste in any way). But hopefully you can count on your cans to last you for a few years, especially if you're going to be spending a few hundred dollars on them.
Conventional materials like plastic, cloth, and sometimes leather is unfortunately susceptible to wear and tear and breakage, if not short-term, then certainly long-term. And headphones in the more affordable range almost always use these types of materials.
Spending more on a pair of headphones isn't always easy to justify, especially if you aren't wearing them all day. On the other hand, if you're using headphones heavily, it's usually worth spending a little more, even if just for the added comfort more expensive models usually provide.
You want headphones that, at the very least, last you a couple of years, and if more expensive, maybe five to 10 years or more.
A Price Matched To Your Wallet
We've looked at headphones ranging from about $100 to $3,000. We don't think there are going to be too many takers for the $3,000 pair, but the point is that most viable options are in the $100 to $500 range, and that's a bit of a spread when thinking about headphones.
What should you look out for? Well, it's always good to consider budget. It can help you filter options. It can also help you avoid going into debt for no good reason, which we don't advocate.
Have a look at the options, and then consider what you're willing to spend. Amazingly, there are a lot of comparable options in the $150 to $300 range, if you're willing to make certain sacrifices (e.g., wireless, or not wireless).
What Are The Best Headphone Brands For Your Guitar Amp?
Most brands covered here are major contenders. That said, we thought we'd highlight a few brands specifically to close out this guide.
Focal
While the French-made Focal keeps a bit of a low profile in the headphones market, they are well known by audiophiles for their high-fidelity products.
Their products aren't cheap, but that is to be expected from a brand that focuses on serving audiophiles. Focal products won't be of interest to every guitarist, but some will find them worthwhile.
Sennheiser
The German-made Sennheiser is a go-to for various sound gear products, including wireless units, microphones, and of course headphones.
With a proven track record behind them, they continue to serve the needs of many artists, performers, stages, techs, businesses, events, and more.
Audio-Technica
Audio-Technica makes incredible products for the price. Maybe even more so than the infamous Behringer. They've certainly found their stride with their microphones, and their turntables, cartridges, and headphones are worth the money too.
BOSS
In terms of headphones, we're keeping BOSS on our "to watch" list, and we think you should too.
It would hardly be surprising to find they haven't ironed out all the kinks on their new forays into headphone products yet, but we do think their ideas are on point, and with further refinement, they could have something great on their hands.
Top Headphones For Your Guitar Amp, Final Thoughts
That's it! If you're still not sure, go out and test a few headphones. You'll find something that works for you in terms of sound, comfort, and reliability. Unless you're playing guitar through your headphones all day, you probably won't need anything crazy, which means you can get away with a relatively minimal investment, if you so choose. Happy shopping!