Guitar Aficionado is supported by readers. If you buy something after clicking on one of our links, we may get an affiliate commission from that & it won't cost you anything.
Martin Guitars are legendary. They've been seen in the hands of Chris Cornell, City And Colour, John Prine, Steve Howe, Tommy Emmanuel, Willie Nelson, and many other notables. And that's not by accident.
Their guitars are beautiful, comfortable, and they sound amazing. They may appear simple and "standard," but that's only because they've set the standard. And more than ever, they have great products at a variety of price points.
In this guide, we'll look at some of the best Martin Guitars for the money.
Martin Guitar Standard Series HD-28 Acoustic Guitar, Best Martin For Fingerpicking
The handmade Martin Standard Series HD-28 acoustic guitar is the living image of simplicity and luxury in motion. This dreadnought features a solid sitka spruce top, solid rosewood back and sides, mahogany neck, and ebony fretboard.
This legendary guitar has an excellent, balanced, full, warm tone that's sure to satisfy the ears of even experienced guitarists. Every note rings out with clarity and punchiness, making it great for strumming and picking alike – a rare breed indeed. And it is the best guitar on this list for fingerpicking.
Its simple appearance could be deceiving. This, by no means, is a cheap guitar. But it is the meeting place of quality and price, making it an excellent choice for those who take the guitar seriously and want an axe in their collection with a beautiful tone, for the studio, or even live.
This guitar also comes with a molded hard-shell case.
Users loved the guitar's tone, playability, and beauty in simplicity. Some did find it a tad pricey though.
Item weight: Unknown
Package dimensions: 47 x 20 x 9 inches
Martin Guitar Standard Series 0-18 Acoustic Guitar
For those looking for an upper end Martin with a different body shape, the Martin Standard Series 0-18 acoustic guitar is worth a look.
The handmade 0-18 has a concert body, with a sitka spruce top, genuine mahogany back and sides, mahogany neck, and ebony fretboard.
Like the HD-28, this axe has a great tone, well suited to strumming and picking. All the notes are balanced, punchy and poppy enough to stand out in the mix. It can work great for just about any genre, but bluegrass players especially would be thrilled with this guitar.
Buyers agree – this is a great guitar through and through.
Item weight: 22 lbs.
Package dimensions: 9.25 x 47.24 x 20.47 inches
Martin Guitar Road Series D-13E Acoustic-Electric Guitar
For those who still want something nice but can't imagine spending an exorbitant amount of money on an acoustic guitar, there's the Martin Guitar Road Series D-13E acoustic-electric guitar, which is excellent value for the money.
This dreadnought features a sitka spruce top, siris back and sides, and of course, built-in Fishman electronics, making it perfect for open mics and gigs alike.
The D-13E features a bit of a clang and high-end spank compared to earlier entries on this list, but that can be a good thing for cutting through a mix. Not as warm as the other guitars we've looked at, but still competent in every way.
Overall, reviewers loved the tone of this instrument. Some even said it was worth every penny.
Item weight: Unknown
Package dimensions: Unknown
Martin Guitar Road Series D-10E Acoustic-Electric Guitar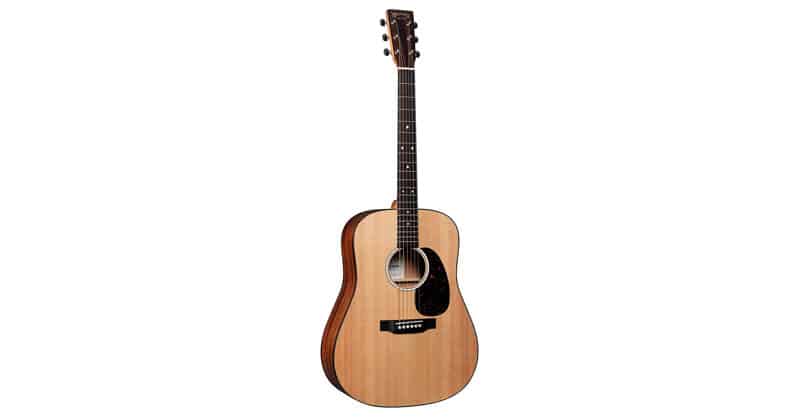 From the name, you might be able to tell that the Martin Road Series D-10E is basically cousin to the D-13E we just looked at.
This beautiful dreadnought features a bit of a different construction, though, with a sitka spruce top, sapele back and sides, and built-in electronics.
The Road Series Martin guitars are amazing for what they are, especially for the price, and it has a full, well-rounded presence. It might be slightly muddy for strumming, but not bad. It seems to shine more in the picking and / or a mix of strumming and picking department. But again, that doesn't mean it doesn't do strumming.
Reviewers thought it was a highly playable guitar with a great sound, especially at this price.
Item weight: 8 lbs.
Package dimensions: 37 x 16 x 7 inches
Martin Guitar X Series DC-X2E Acoustic-Electric Guitar
Now firmly in the intermediate to beginner range of guitars, the Martin X Series DC-X2E acoustic-electric guitar features a dreadnought cutaway body with a solid sitka spruce top, HPL rosewood back and sides, solid fingerboard and bridge as well as a solid neck, and built-in electronics.
The cutaway and electronics make this an excellent stage guitar. The cutaway gives you access to higher frets for leads and solos, and the electronics mean you can plug in through a PA system.
And for what it is, it sure sounds good. Not as thick, warm, and rich as some of the other Martin guitars we've already looked at, but its slightly thinner tone allows for definition across all six strings and the entire range of the fretboard. To me, it has a nice percussive tone that would be great for funky riffs featuring plenty of scratching.
Overall, this is a well-made guitar with a bright tone, and unless you're on an especially tight budget, it shouldn't break the bank.
Obviously, do not mistake this for a $3,000 let alone $6,000 instrument. It simply won't be able to live up to those high standards. But it could make for a great workhorse to take with you on your ongoing gigging or touring efforts.
Item weight: 8 lbs.
Package dimensions: 37 x 16 x 7 inches
Martin Guitar 000CJR-10E Junior Cutaway Electric-Acoustic Guitar
I don't know about anyone else, but I've always been attracted to acoustic guitars with this body type. The Martin 000CJR-10E electric-acoustic guitar comes with a junior auditorium cutaway body, sitka spruce top, sapele back and sides, and of course built-in electronics.
Its smaller size (24" scale) will certainly make it a comfortable instrument for players with smaller hands and / or bodies. Despite being smaller, it still features a solid wood construction through and through, along with Fishman electronics. And even if you're not smaller, this guitar could also work great as a workhorse or travel guitar.
Its sound isn't bad. Not amazing to my ears, but it still has good definition, and individual notes ring through nicely. It's also percussive. It's just missing that lush warmness you can only find in more expensive instruments.
Buyers found this to be an easy guitar to carry around, with a great feel and high degree of comfort. Overall, they didn't have anything bad to say about it.
Item weight: 8 lbs.
Package dimensions: 45 x 17 x 8 inches
Martin Guitar DJR-10E Dreadnought Junior Acoustic-Electric Guitar
The Martin DJR-10E acoustic-electric is another entry in the junior series, and this one specifically is a junior dreadnought, with the dreadnought being the most common acoustic guitar body type available. And it truly is just a smaller version of their full-body dreadnought.
And of course, that means this is a fun guitar with a different temperament, even for players who typically play full-sized guitars. But it's also a solid choice for those with smaller hands or bodies, and as a travel guitar. Given that it comes with electronics, its versatility also shouldn't be overlooked.
As with the 000CJR-10E, this guitar is a fully fledged instrument. The built-in electronics work superbly. Its natural tone, on the other hand, is a little muddy. Again, not bad, but not as distinct as a full body guitar. Strumming is warm and blending, picking is more distinct.
Reviewers loved the convenience of the guitar, its overall value, as well as its build quality and tone.
Item weight: 32.4 lbs.
Package dimensions: 45 x 18 x 8 inches
Martin Guitar X Series 00L-X2E Acoustic-Electric Guitar
Here's another X Series Martin worth checking out – the Martin X Series 00L-X2E acoustic-electric guitar.
With a unique grand concert sloped shoulder body, the 00L-X2E comes with a sitka spruce top, HPL mahogany back and sides, a hand rubbed finish, and electronics.
The guitar has a bright tone and is missing some richness and fullness typically heard from higher end instruments. It still takes well to picking and strumming and is a competent instrument for a variety of uses.
Buyers loved the sound of the guitar and were impressed by its projection as well.
Item weight: 8 lbs.
Package dimensions: 37 x 16 x 7 inches
Little Martin LX1E Acoustic-Electric Guitar
"Baby" and "Little" guitars have only grown in popularity in the last few years, not just among beginners or those with smaller hands, but even among pros, travelers, and those who are looking for a convenient couch guitar they can pick up and play anywhere, any time.
There are a few Little Martins on this list, but we kick things off with the Little Martin LX1E acoustic-electric guitar, which as you can tell from the name, boasts both flexibility and versatility.
The LX1E features a modified concert body, sitka spruce top, HPL mahogany back and sides, and a hand rubbed finish. It has built-in electronics too, of course.
If your expectations are realistic, you will likely enjoy how this guitar sounds. It handles both picking and strumming relatively well. It does have kind of a small and hollow sound characteristic of a guitar typical to this size, but given its portability and stature, what's on offer is still quite generous.
Customers enjoyed it as a travel guitar and loved its tone. Some even thought it was a good solution for those with weaker hands.
On the downside, some didn't think the tuning stability was anything to write home about.
Item weight: 8.3 lbs.
Package dimensions: 6.3 x 38.58 x 18.11 inches
Little Martin LX1R Acoustic Guitar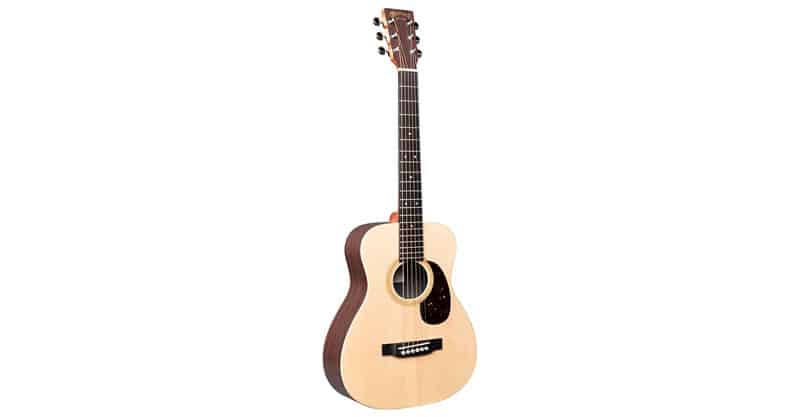 Here's a slightly more affordable Little Martin. The Little Matin LX1R acoustic guitar comes with a modified concert body, sitka spruce top, HPL rosewood back and sides, and a hand rubbed finish. Relatively standard stuff.
As with the previous entry, the guitar does sound a tad hollow. But you wouldn't necessarily notice it in a mix, and it has a very clear picked tone overall. In the hands of a pro, it can still sound quite nice.
Buyers loved the "fun" factor of this axe, as well as its tone, size, and playability.
Item weight: 7 lbs.
Package dimensions: 45 x 17 x 8 inches
Little Martin LXK2 Acoustic Guitar
The Little Martin LXK2 acoustic guitar may be humble, but it sure is beautiful with its HPL koa modified concert body.
Its tone is surprising, considering its size. It's warm, dark, and smooth with good projection. And in that way, it's a little different than the other Little Martins. It might well be my favorite among the Little Martin series.
No, it will not sound like a $3,000 guitar, but if your expectations are that it will sound just as it is priced, you won't be disappointed. And this is one of the best budget options available.
Reviewers loved its tone, size, and portability. It's a great couch or travel guitar!
Item weight: 7.63 lbs.
Package dimensions: 38.5 x 18 x 6.5 inches
What Should I Look For In a Martin Guitar?
Martin has a reputation of being an expensive, premium guitar brand. That said, in the last few years, they've created more budget models suitable to beginners and intermediate players than ever. And while their beginner models don't come at a bargain basement price, it's fair to say they keep to quality standards.
So, there's something for everyone here.
Choosing a Martin isn't exactly easy. There is an abundance of options, and they're all quite attractive.
Here's a general overview of the above axes:
If you're a beginner, hobbyist, or someone looking for a couch or travel guitar, you'll likely favor the Little Martin, X Series, and Junior Series guitars.
If you're an intermediate player, you'll probably get quite a bit of leverage out of the Road Series, and perhaps the X Series.
And, if you're intermediate going on advanced, or a pro looking for a solid all-arounder, the Standard Series has a lot on offer for the money.
This is just a general guideline, though, because there's nothing wrong with purchasing a Standard Series guitar as a beginner, especially if you're serious about learning and playing the guitar. And likewise, there's no harm in owning a Little Martin as a professional (as many reviewers will tell you).
With that, here are the main criteria we will consider in helping you find your ideal guitar. Here's your shopping guide:
Tone and sound. How the guitar sounds, genres and styles it works for.
Comfort and playability. How the body and neck of the guitar feels, the fretboard, how it plays.
Build quality. There isn't too much to say in this regard, because for the most part, Martin makes excellent product for the money.
Acoustic or electric-acoustic. Do you need an acoustic guitar, or do you need an electric-acoustic guitar? This depends on the player's needs.
Portability and convenience. Do you need a guitar that you can take with you wherever you go? For travel? For the couch?
Budget. Always consider your budget before jumping into a purchase. It can help you filter out options that aren't feasible with your current funds.
Now, here's a more in-depth analysis:
Tone & Sound
"The tone of the guitar is completely unimportant and irrelevant," said no pro guitarist ever. Pros and amateurs alike are attracted to Martin guitars because of their quality, and because of that classic beloved tone.
The equation, though, usually goes something like this. Pay more, and you get better tone. Pay less, and you get less. Given that Martin has a huge range of guitars, with Kurt Cobain's 1959 D-18E worth over $6 million, the fast and the short of it is you're unlikely to reach the upper limit in a hurry.
To be fair, the scarcity of the guitar, as well as who it was played by, play a huge part in Cobain's guitar's aftermarket value.
That doesn't mean Martin guitars that cost less are inferior in every way imaginable. You can get a lot of guitar in the $400 to $1,000 range. Martin has obviously gone to great lengths to create accessible options, even for those on a budget, and they are surprisingly good. But one should never expect a $900 guitar to sound like a $3,000 one.
Tone is individual, though, and that means you might be able to find a guitar you love, even in the more affordable range. What works for you, works for you.
But doing some research, listening to demos, trying out guitars for yourself is always encouraged. That's the only way you can know for sure whether an instrument is for you.
Comfort & Playability
Is comfort and playability the primary or secondary consideration? I would argue that it's just as important as tone, if not more.
Just because you have an amazing sounding guitar doesn't mean it feels and plays the way you want it to, and that can create frustration.
In an ideal world, you would find a guitar that boasts both – great tone and comfort / playability.
If your guitar is a little stubborn, though, it doesn't necessarily mean you need to trade it in. Oftentimes, you can simply swap out the strings for lighter ones or take it into a luthier / guitar tech to get it properly set up. And that's a valuable resource to be aware of, even if you are 100% satisfied with your guitar.
Generally, Martins boast a high degree of comfort. In some cases, users have complained of high action, so that's generally the only thing to look out for. Again, there are some quick fixes, and there are some fixes that will cost a bit of money, but nothing that's outside of the ordinary.
Build Quality
The pricier Martins are handmade with quality materials, but even the more affordable models are made with solid materials that are meant to last.
And that means you can pick up most Martin guitars without hesitation. By no means does this mean you shouldn't be careful with your instrument or treat it badly. But in most cases your Martin axe should be able to take a bit of abuse.
Overall, I'm quite impressed with Martins in this regard. You can buy a Martin guitar knowing you're getting Martin quality, and that means something.
If your guitar arrives at your door damaged, then be sure to get a refund or trade it in for a working model. These occurrences are rare though.
Acoustic Or Electric-Acoustic
These days, Martin instruments usually come with Fishman electronics, even on the more affordable models! That's great news for anyone who wants to go in the electric-acoustic instrument.
If you often find yourself playing from home or recording in a studio environment, then you are less likely to need the electronics. It can still be nice to have for recording, but the plugged-in sound of an acoustic certainly won't compare to that of the natural sound of the instrument with a good mic in a good position.
If you often play out, go to open mics and jams, gig and tour, then the flexibility of having an electric-acoustic instrument will appeal to you. As someone who plays both rhythm and lead guitar (but generally a lot of lead), I found it worthwhile to have an electric-acoustic instrument, in case I was invited up to play with anyone (and I often was at open mics!).
Some will say the cavity required to embed the electronics in the guitar will affect its overall tone, and to be fair, it does mean sacrificing a certain amount of wood. I'm not sure how much I buy that, but if you're concerned, then acoustic is the way to go. You can rest assured you will get a pure sound and pure experience with a pure acoustic.
Just keep in mind that an acoustic will need a mic for recording and live performance.
At the end of the day, there's no right or wrong though. Just different guitars for different situations!
Portability & Convenience
More expensive guitars usually require more upkeep and maintenance. And let's be fair. If you own a pricy guitar, you don't want it to get damaged in the first place. And that generally means using humidifiers, keeping the instrument in a temperate environment, and putting it away in its case religiously.
Guitars that only have solid tops or all-laminate bodies are generally easier to care for, are less prone to damage, and will take more abuse. This makes them great for travel.
If you're a serious musician with big ambitions of recording, performing, and touring, then portability may not be as much of a factor. It's still a factor, mind you, because a lot of bands are traveling light these days.
If you want to take a guitar with you everywhere you go, then it would be wise to consider a smaller instrument with a partial or all-laminate setup.
Fundamentally, you have options. The Little Martins and Junior Series are smaller guitars, and they will prove more convenient and portable overall, if that's what you're looking for.
Your Budget
With a wide range of guitars at different price points, budget should be a consideration if it isn't already. Our best advice would be to spend what you're prepared to spend, and don't go overboard. We recommend against going into debt for any gear purchases.
Plus, the good thing about considering your budget is that it can help you filter through options that might not otherwise be within your price range. And that can make the shopping and selection process a lot easier.
As noted, you usually get a better guitar if you're willing to pay a little more, so if you do have your sights set on a guitar that's a little outside your price range, be sure to save up for the purchase.
Since a Martin guitar can also be an investment, price will be a factor no matter what. But we'll look at that in more detail in the next section…
Is A Martin Guitar A Good Investment?
Yes, but it depends a lot on the guitar.
It has often been thought that a guitar, like a fine wine, only gets better with age. And there is something to be said for a guitar that's been properly broken in. Maybe it has something to do with all the hand grime and grease it accumulates over time, maybe it's something else, but a solid wood guitar does seem to benefit from age and use.
Most guitars do retain a certain amount of value. It's not as common for a guitar to increase in value over time, unless:
It was used by a famous musician
It had a limited run
It was a quality instrument with quality materials to begin with
It was made of materials that are now hard to find
It uses a production method that is no longer used
Some combination thereof
Otherwise, do not expect your Martin guitar to increase in value over time.
That said, Martins do tend to make for a great investment. Overall, guitars are less volatile than the stock market! Their value is quite stable, and thanks to inflation, even their aftermarket value tends to retain. Of course, if you're interested in selling, the best time is when the market is more volatile.
Physical goods have inherent value, and instruments are even insurable. They also have aftermarket value, and perhaps most importantly, they usually have personal value to the purchaser, above and beyond other considerations.
For a more thorough look at what makes a guitar a good investment, also see our guide on the same topic.
About Martin Guitars
Martin Guitars or C. F. Martin & Company was founded in 1833 in New York City, New York by Christian Frederick Martin. The guitar manufacturer is headquartered in Nazareth, Pennsylvania, and in addition to guitars, they also make ukuleles, strings, and other accessories.
Martin Guitars holds sustainability and protecting the environment as one of its core values.
You've seen Martin Guitars in the hands of Johnny Cash, Ed Sheeran, Willie Nelson, Neil Young, Joni Mitchell, Bob Dylan, and plenty of others across a wide range of genres.
Martin has become known for crafting some legendary guitars that set the standard, and that's not a legend. They take a lot of pride and put a lot of care and attention into their handmade models, and even their more affordable models set a high bar for any guitar manufacturer looking to compete with Martin.
Top Martin Guitars For The Money, Final Thoughts
If you're looking for the acoustic guitar with the sound that set the standard, you've come to the right place. Martin Guitars will satisfy.
Obviously, some of their instruments are higher priced, but even their more affordable line of instruments is surprisingly well-equipped. There's no right or wrong when it comes to hunting down a Martin for the money, but the above should serve as a great starting point. Happy shopping!