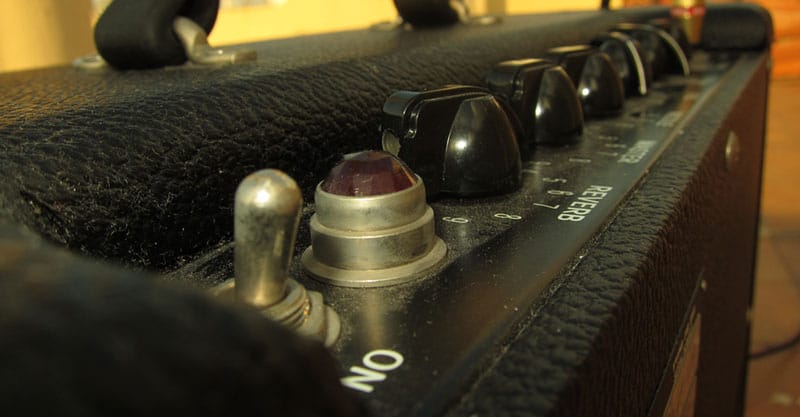 Guitar Aficionado is supported by readers. If you buy something after clicking on one of our links, we may get an affiliate commission from that & it won't cost you anything.
Guitar amps are an obvious necessity when it comes to the electric guitar. At least, that's the way it used to be for much of the electric guitar's history.
The times are ever-changing with the continual advancement of technology. Believe it or not, there are a number of different ways you can play an electric guitar without needing to have an actual guitar amplifier.
Read on to discover the various ways solutions to playing an electric guitar without an amp. You just might find a more preferable guitar rig (even for live performances) with the information you find out.
What Can I Use If I Don't Have An Amp?
There are a number of different ways you can play the electric guitar without an amplifier. Each way has its own prerequisite requirements to be able to use, whether it be a piece of equipment or an unavoidable purchase.
If you're without an amp, you can use the following items to play:
Audio interfaces connected to a computer
Effect pedal amplifiers
Pocket-sized amps
Some dedicated metronomes
Digital modelers
All of these methods are quite different from one another, as some require more hands-on setup time. Read on to learn more about each of these methods in greater detail.
Audio Interfaces
The digital age has brought with it the ability to send an audio signal directly to a computer. This has progressed music, and recording music, far beyond its analog limits of times past.
To connect a guitar to a computer, an audio interface that has a 1/4" input will be needed. Many of these audio interfaces are straightforward to use and can be connected to a computer via USB.
This opens quite a few doors for you as a guitarist. You can readily hear your guitar signal in a digital audio workstation by:
Creating a new track
Setting the sound input to the track
Turning on the track monitor
You can also readily record your tracks within the digital audio workstation, which can greatly benefit your practice efforts. However, there are other things you can do with audio interfaces.
By using an audio interface and a computer, you can effectively use the setup in the live performance setting. There are many software-based guitar amp simulators available that give you infinite possibilities of sound settings.
In recent years, many guitarists have ditched their amps, opting instead for software-based amplification. While having to rely on a computer as a critical piece of gear may be risky, this style of amplification can be easily plugged into any speaker or PA.
M-Audio M-Track Solo
If you're considering using an audio interface for software-based amp simulation, the M-Audio M-Track Solo is a worthwhile affordable option. This interface connects to both PC and Mac computers via USB.
The M-Track Solo has input capabilities for 2 channels. One of these channels can support both 1/4" cables and microphone cables.
The other channel is a variable line input, allowing to switch between a signal directly from a guitar, or a line output from any other source. Each input channel has its own dedicated input level knob.
Phantom power is provided as well, and the interface can be switched to send the output signal to a computer via USB, or to a speaker system. Output level control is also provided for this function. You can also plug a pair of headphones into the interface.
Item Weight: 10.6 ounces
Package Dimensions: 4.46 x 6.43 x 2.14 inches
Effect Pedal Amps
If you've been a guitarist for a while, you've likely witnessed the semi-silent evolution of guitar effects pedals over the years. However, you might not have known that there are actually amplifiers available that are the same size as effects pedals.
Many of these effect pedal amps have the same amount of power as a traditional combo amplifier or amp head. The sound is pretty comparable as well.
This might be worth checking out if you're looking for an alternative to an amplifier (or just do not enjoy lugging an amp around). These can be easily attached to a pedalboard, which is extremely convenient on many levels.
Pocket-Sized Amps
Another solution that is available in lieu of a guitar amp is a pocket-sized amp. While it is technically an amp, it is included in this list because it is a solution mostly suitable in practice situations.
Pocket-sized amps are essentially miniature headphone amplifiers that plug directly into your guitar. Quite often, there are some tonal settings available onboard, as well as a volume control.
This effectively allows you to play the guitar with a pair of headphones. Some of these will also have audio-in capabilities, allowing you to play music from an external device into your headphone mix.
Dedicated Metronomes
Metronomes have become readily available at the push of a button. With technology's advancements, metronome applications can be found on your mobile phone.
However, there is actually a useful benefit to having a dedicated metronome. Depending on the model, some metronomes have a headphone jack.
This gives you the ability to use the metronome in practice and hear your guitar. The guitar tone tends to be pretty basic but can be ideal for practice sessions at volume-inappropriate times.
Boss Dr. Beat DB-30 Portable Metronome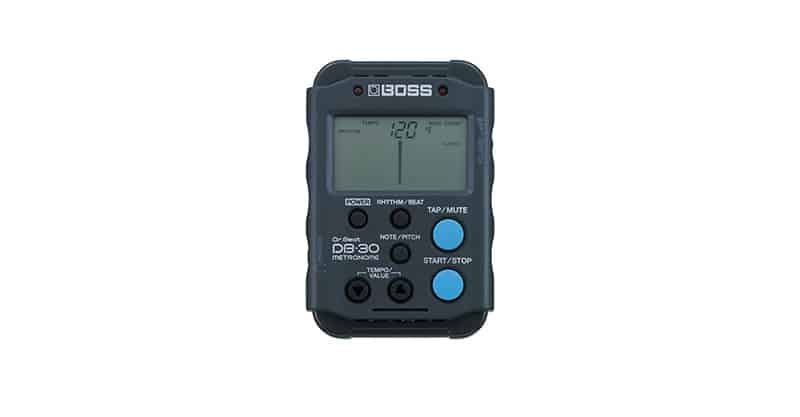 Any dedicated guitarist who is disciplined in their practices will understand the value of having a portable metronome. Doubly so for a metronome with headphone capabilities.
The Boss Dr. Beat DB-30 Portable Metronome can allow you to practice anywhere. Included with the DB-30 is the standard click-beat metronome as well as complex rhythm possibilities.
A large screen shows the pendulum of the metronome. Information regarding the tempo and beat style is also given on the screen.
The DB-30 is very straightforward to use, with controls for:
Rhythm and beat settings
Tuner button
Tempo dial
Quick mute
Start/stop
Headphones can be easily plugged into the DB-30, with a volume control available on the side of the device.
Overall, this is an invaluable tool for the serious guitarist. Metronomes certainly do not need to be fancy, and this one performs its utility without too many frills.
Item Weight: 3.17 ounces
Package Dimensions: 12.91 x 5.79 x 4.65 inches
Digital Modelers
If the software-based audio interface method and effects pedal amp method were to have offspring, it would be a digital modeler. These are effectively dedicated software-based computers that act in place of a traditional amp.
As mentioned before, software-based amp simulation has opened infinite possibilities for tonal combinations. Many of these connect to the internet, where you can create and save new presets as well as download the presets of other users.
What Is Right for Me?
For the most part, what you use to play without an amp is dependent on a few factors. The following factors will likely influence your decision:
What you need the solution for (at-home practice or a band rehearsal/gig)
How convenient the solution is
However, in addition to the previous factors, these are some notes to take into consideration. Being able to define the following motives for your own situation is going to help you choose the right solution for you:
If you are looking to find a substitute until you get an amp
If you're looking for a dedicated and permanent solution as an amp substitute
If you are willing to spend a certain amount of money (and if so, how much)
Can You Play Electric Guitar Quietly?
The electric guitar is perhaps best known for being a loud instrument. However, any musician knows that it is not always appropriate to play at certain volumes.
However, sometimes even the smallest amount of volume can still be inappropriate. Thus, a solution is needed to find a way to play the guitar silently.
If you need to play the electric guitar quietly, all of the previous methods given will allow you to play using a pair of headphones. Although, in the event that you do have an amplifier, many of these will have a dedicated headphone jack as well.
There is still one more thing you can do in the event that you do not have access to any of the aforementioned methods of amplification. You can simply play the guitar acoustically, without anything connected.
Sure, because of the lack of amplification, some of the subtle nuances of the electric experience may be missing. You certainly couldn't use it during live performances.
Playing the guitar without an amp will still allow you to play and practice. It might not be ideal as a continual long-term solution, as nuance and feel when amplified is a large aspect of playing the electric guitar.
Can You Tune An Electric Guitar Without An Amp?
While it's true that some amplifiers have built-in tuners, it is more likely that you will use a dedicated tuner. Nearly every dedicated guitar tuner on the market can be used without an amp.
There are a few different types of tuners available:
Headstock tuners
Effects pedal tuners
Dedicated tuners
Software-Based Apps
Headstock Tuners
Headstock tuners are one of the most recent innovations in the guitar world. These tuners have added a great deal of convenience to tuning and playing the guitar.
These types of tuners essentially clip onto the headstock of the guitar. Once they are turned on, the tuner will measure the frequency vibration of the string being played. Your tuning status will then be displayed on a small screen.
Headstock tuners are primarily battery-based, which makes these extremely portable as they can be used anywhere. As they measure the string vibration only, you can turn the volume of the guitar completely off.
Snark ST-8 Super Tight Clip-On Tuner
If for some reason, I am stranded on a deserted island and could only bring one guitar accessory with me, it would be the Snark ST-8 Super Tight Clip-On Tuner.
This headstock tuner makes it insanely easy to tune your guitar. Simply attach it to your headstock, turn it on, and tune it up. The ST-8 tunes by measuring string vibration.
The clip has spring tension to keep the grip tight. No need to worry though, as the clip has protective pads that will prevent any scratches on your guitar.
The Snark ST-8 can be placed nearly anywhere on your headstock that has enough space. The head of the Snark ST-8 has a swivel rotation of 360 degrees, allowing you to see the screen from any angle.
The Snark ST-8 runs on a lithium battery. The screen will dim when the battery is low.
Overall, it is hard to beat this tuner. You'll likely get one for every guitar you own because they can be easily stored in a guitar case.
Item Weight: 1.58 ounces
Package Dimensions: 3.5 x 3.8 x 9.5 inches
Effects Pedal Tuners
It is likely no surprise that tuners exist in the guitar pedal format. These are very straightforward to use and only require a power source (likely 9v) and a guitar cable.
These are very small and can be convenient when you already have a pedalboard in use. Effect pedal tuners will have a display built into the top of the pedal to display your tuning status.
To tune, simply plug the guitar signal into the pedal and use the pedal to tune. More often than not, the pedal will disengage any outgoing signal coming from the pedal. This is especially useful when using an amp, as you can tune silently.
Dedicated Tuners
Like dedicated metronomes, dedicated tuners are devices built to specifically tune a guitar. More often than not, these devices can fit in the palm of your hand.
To tune, simply plug your guitar into the tuner with a 1/4" guitar cable. The tuner will display your tuning status for each string on a built-in graphic interface screen.
Dedicated tuners are generally battery-powered, which means you can use them anywhere. The small size means you can easily tuck it away in a guitar case.
Software-Based Apps
This might not always be the most practical solution, but you can likely use your phone when you are in need of a tuner. There are many mobile apps that will allow you to tune your guitar.
These mobile apps essentially use the phone's internal microphone to pick up the sound from your guitar. The sound is then processed by the software-based tuner.
The app will show you how in-tune you are on the screen, with a status indicator to let you know that you are in tune.
As these rely on a microphone, they will likely not be very useful in a loud environment. If you have an electric guitar without an amp, you can still tune it acoustically, but the room will have to be quiet.
Do You Need An Amp For An Electric Guitar? Final Thoughts
The absence of an amplifier when playing the electric guitar certainly isn't the end of the world. In fact, many have chosen to buck the "traditional" notion of using an amp in favor of modern digital alternatives.
There is no right or wrong way to play the electric guitar, and no law governing the necessity of an amplifier. Sometimes, the only way to be able to play is without an amplifier.
Regardless of what your motives are for not having an amplifier, you can always be sure that you will still be able to play and tune your guitar without one.