Guitar Aficionado is supported by readers. If you buy something after clicking on one of our links, we may get an affiliate commission from that & it won't cost you anything.
Wireless systems have come a long way in the last few years.
There are more simple, portable, affordable solutions than ever in history, and even the cheapest options tend to perform admirably.
As a bass player, I'm sure you can appreciate the fact that there are products matched to your needs, regardless of whether you're seeking a top-of-the-line wireless system that ensures you've got a strong signal for every gig, even at large distances, or a simpler, more portable option that would work well for the average jam session or bar gig.
In this guide, we'll explore the best wireless systems for bass and answer some of your pressing questions too. Ready? Let's go!
Shure QLXD14 Wireless System With Bodypack And WA305 Instrument Cable For Guitar/Bass
Kicking off this list is Shure, one of the most prolific makers of wireless systems for instruments.
The Shure QLXD14 wireless system is a premium product, among the most expensive on this list, and its elegant appearance seems to reflect this fact too.
The unit comes with the QLXD1 bodypack transmitter, QLXD4 receiver, WA305 instrument cable, power supply, two AA batteries, two 1/2 wave antennas, two BNC cables, two BNC bulkhead adapters, rackmount kit, zipper bag, and user guide.
This baby offers up to nine hours of use with two AA Alkaline batteries, or up to 10 hours of continuous use with a Shure SB900 lithium-ion rechargeable battery (not included).
The QLXD14 also comes with ethernet networking, which allows for networked channel scanning and wireless workbench software integration for remote control of receiver settings from a PC or Mac machine, as well as iOS devices. The ShurePlus Channels mobile app also gives you access to the same functionality.
Overall, users were very satisfied with this wireless unit.
Item weight: 8.3 lbs.
Package dimensions: 19.3 x 17.2 x 3.6 inches
Shure BLX14 Wireless System With BLX4 Receiver, BLX1 Bodypack Transmitter And WA302 Instrument Cable
When it comes to premium wireless systems, Shure is a trusted source, and the Shure BLX14 wireless system is another contender worth your attention.
This package comes with the BLX4 wireless receiver, BLX1 bodypack transmitter, WA302 guitar cable, power and battery status LED, adjustable gain control, frequency matching, two AA batteries (providing up to 14 hours of continuous use), and a 300 feet line of sight operating range.
Reviewers thought it was a great wireless system for small venues, found it easy to use, and high quality.
Some apparently had issues with the signal cutting out though.
Item weight: 2.7 lbs.
Package dimensions: 4 x 13.5 x 12 inches
Shure SLXD14 Wireless System With Bodypack And WA305 Instrument Cable For Guitar/Bass
The Shure SLXD14 wireless system is another Shure performance machine, arriving with a WA305 premium instrument cable, SLXD1 bodypack transmitter, SLXD4 single-channel receiver with antenna and rackmount accessories, a zippered bag, and two AA batteries.
In terms of specs, the unit comes complete with digital perspective switching diversity, 44 MHz tuning bandwidth, 32 available channels per frequency band, up to 10 compatible systems per 6 MHz TV band, 12 systems per 8 MHz band, as well as RF scan and IR Sync.
This box should give you up to eight hours of use with two AA batteries and it has an operating range of 330 feet.
The SLXD14's best quality is that it offers a great sound, and it's easy to set up.
Item weight: 6.9 lbs.
Package dimensions: 17.72 x 13.78 x 4.33 inches
Sennheiser Pro Audio EW 100-CI1 Instrument Wireless System
Coming in as a strong contender to the Shure line of premium products is Sennheiser, who we anticipate will be a rising star in the wireless unit realm.
The Sennheiser Pro Audio EW 100-CI1 instrument wireless system is quite stunning in its appearance, and it's a rugged, all-in-one system for guitar and bass alike.
This unit has a transmission range of 300 feet and has up to 20 compatible channels.
The EW 100-CI1 is a quality product through and through, and it might even be worth more than its asking price.
Item weight: 6 lbs.
Package dimensions: 15.9 x 13.78 x 2.87 inches
Samson Concert 88 Guitar 16-Channel True Diversity UHF Wireless System
Samson is best known as a manufacturer of professional audio equipment, including microphones, PA cabinets, portable PAs, mixers, USB/MIDI controllers, studio monitors, power amplifiers, processors, headphones, accessories, and of course, wireless units. So far as wireless systems are concerned, they are another trustworthy brand.
The Samson Concert 88 UHF wireless system comes complete with a true diversity design to minimize dropouts and a rackmount kit. This box can handle up to 16 systems operating simultaneously across two frequency bands.
This unit is easy to set up, and most of the time, it works flawlessly.
Some might not be crazy about the cable, but that's a relatively small matter.
Item weight: 2.64 lbs.
Package dimensions: 3.25 x 11.75 x 9.75 inches
Line 6 99-123-0145 Relay G55 Digital Guitar Wireless System
If you're a guitarist, then clearly, you've already heard the name "Line 6," and if you're a bass player, well, there's a high chance you've at least brushed up against them.
Line 6 is best known for their POD effects units, and notorious for their beginner guitar amps, who producers tend to hate.
So, Line 6 is a bit of a mixed bag, but we do need to give them credit for their wireless units, which are generally popular, and are about the middle of the road price wise.
The Line 6 Relay G55 digital guitar wireless system comes in a compact, half-rack size with 12 channels, a fourth generation digital wireless platform, and a one-step setup.
It has a dynamic range of 117dB and a transmission range of 300 feet.
The best aspect of this box is that it's easy to set up, and it's a quality unit with minimal noise.
Item weight: 2.99 lbs.
Package dimensions: 15 x 13 x 3.5 inches
Shure GLXD16 Rechargeable Wireless System For Guitarists And Bassists
The Shure GLXD16 rechargeable wireless system comes with a GLXD6 guitar pedal receiver (might represent a nice bonus for some), GLXD1 bodypack transmitter, WA305 instrument cable, SB902A lithium-ion rechargeable battery, PSS24 power supply, wall battery charger, user guide, and two-year warranty. Quite generous considering its price.
This unit boasts a 20 Hz to 20 kHz response, a 120dB dynamic range, 11.5 hours of continuous use, LINKFREQ automatic frequency management, and up to four compatible channels.
This is a solid, sturdy (even tour-ready) unit with great range, stellar sound quality, and easy operation.
Item weight: 3.8 lbs.
Package dimensions: 4.25 x 18.25 x 13 inches
Shure BLX4 Wireless Guitar System With BLX4 Receiver, BLX1 Bodypack Transmitter And WA302 Instrument Cable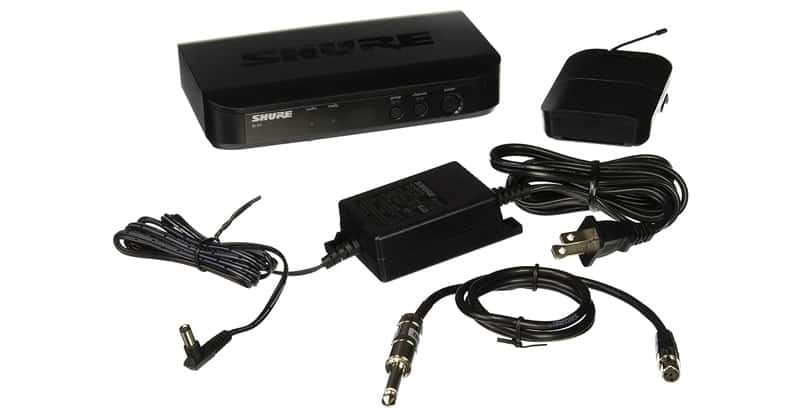 All these similarly named Shure wireless units can get confusing after a while. Are you still with us? Good.
The Shure BLX4 wireless guitar system shouldn't be mixed up with a product introduced earlier, or for that matter, the one to follow.
The bundle comes with the BLX1 bodypack transmitter, BLX4 single-channel receiver, guitar cable, power supply, two AA batteries, and user guide.
The unit is supposed to last up to 14 hours on two AA batteries and has a 300 feet line of sight operating range. It also comes with adjustable gain control, as well as a power and battery status LED.
Overall, this is a quality wireless system, but some users had issues with their signal cutting out. We cannot confirm or deny such claims.
Item weight: 2.7 lbs.
Package dimensions: 13.5 x 4 x 12 inches
Shure BLX14R Wireless Guitar System With BLX4R Rack Mount Receiver, BLX1 Bodypack Transmitter And WA302 Instrument Cable
The Shure BLX14R wireless guitar system includes the BLX4R 1/2 rack, single channel wireless receiver, single and dual rack mount kit, BLX1 bodypack transmitter, 1/4 wave antennas, zippered transmitter accessory bag, PS23US power supply, and two AA batteries.
It features up to 12 compatible systems per frequency band, microprocessor-controlled internal antenna diversity, one-touch quick scan frequency selection, as well as 1/4" and XLR audio outputs. It has a transmission range of up to 300 feet.
Overall, this is a reliable unit.
Item weight: 7.3 lbs.
Package dimensions: 18.5 x 14.88 x 3.88 inches
Line 6 Relay G50 Wireless Guitar System
The Line 6 Relay G50 wireless guitar system is another guitarist-friendly option, with a transmitter, receiver, locking cable, power supply, and batteries.
This unit offers a 200-foot range, 120dB dynamic range, 24-bit digital conversion, eight hours of battery life (with AA alkaline batteries), is FCC/DTV compliant, and more.
We find this to be a quality piece of kit, though apparently some couldn't get the cleanest signal with it.
Item weight: 2.51 lbs.
Package dimensions: 10.88 x 12.45 x 3.2 inches
Audio-Technica 10 ATW-1101/G Wireless Guitar System
This may be the first appearance of Audio-Technica on this list, but as with Samson, they are well known for their professional quality audio equipment, especially their nominally priced microphones.
The Audio-Technica 10 ATW-1101/G wireless guitar system features a digital 24-bit/48 kHz wireless operation, 2.4 GHz range (free from TV interference), automatic frequency selection, and instantaneous channel selection, sync, and setup.
The bundle includes the ATW-R1100 receiver, ATW-T1001 UniPak transmitter, and the AT-GcW guitar/instrument input cable.
The Audio-Technica box offers a near flawless audio signal and works great with active bass pickups (some even say it's best for actives).
Item weight: Unknown
Package dimensions: 10.67 x 13.7 x 4.02 inches
Samson Concert 99 Guitar Wireless System With GC32 Guitar Cable
We might not quite be in the "budget" range of wireless systems yet, but we're certainly starting to get into the more affordable selection of products with the Samson Concert 99 guitar wireless system.
This is a frequency-angle UHF wireless system with 80 operating channels across 24MHz bandwidth, and up to eight simultaneous systems per frequency band.
It comes with an AC adapter and rack mount kit just in case.
Yet again, we weren't disappointed with this unit. It features a good quality signal and is easy to set up besides.
Some didn't find it to be durable, though, and others said the range wasn't quite what they expected.
Item weight: 2.22 lbs.
Package dimensions: 14 x 3 x 12 inches
BOSS WL-20L Wireless Guitar System Transmitter And Receiver
And so, we now arrive at the trendy, portable wireless units often promoted by prominent YouTube personalities. It's entirely possible you didn't know BOSS had one though.
The BOSS WL-20L wireless guitar system is a plug-and-play wireless system for guitar, bass, and other electric instruments. Setup is easy, and all it requires is docking the transmitter and receiver for about 10 seconds to set the optimal connection, and away you go.
The BOSS unit offers ultra-low latency (2.3 ms) a 50-foot line of sight range, charging with USB adapter, and cable tone simulation.
Overall, this is not a bad unit. It doesn't always pair well with amps, and it might not be ideal for gigs, but it's more than decent for a bit of practice, jamming, or messing around.
Item weight: 7.2 ounces
Package dimensions: 4 x 2 x 1 inches
Xvive U2 Wireless System Rechargeable 2.4GHz Transmitter And Receiver
And now, for those who don't have a big budget to spend on a bass wireless system, we have a couple of options that are firmly planted in the "budget" realm, while offering some instant gratification, easy operation, and wireless fun.
The Xvive U2 wireless system is available in a few colors, just in case you're the type that likes to customize – black, red, silver, carbon, and "wooden."
The unit features a 2.4GHz signal transmission, less than 4.5 ms of latency, 120 feet operation range, simultaneous broadcast to four channels, built-in rechargeable lithium battery, and seven hours of operation. It also comes with a USB cable for convenient charging.
Plenty of musicians were quite satisfied with what the Xvive U2 had to offer, though some found it to be about average in terms of performance, which is not surprising.
Item weight: 2.24 ounces
Package dimensions: 5 x 1.2 x 1.58 inches
Westshell Upgrade Digital Wireless Transmitter Receiver
And now we have the ever-affordable Westshell G5 digital wireless system, featuring a similar plug and play design to the last two units we looked at.
The transmitter and receiver pair automatically with the flick of a switch. The system utilizes 24-bit/48KHz sample frequency, low latency, six hours of battery life, and a transmission distance of 150 feet.
So, as you might expect, this is not a bad wireless system, it just isn't perfect. Yes, some reviewers found it worked quite well for them, which is great. But you shouldn't expect to get a pro level signal or sound with a product at this price point, and some unwanted noise (hiss) might even creep into your signal.
For those just getting started in wireless units, though, it's not a bad place to begin your journey. Just don't expect it to last the whole way.
Item weight: 9.6 ounces
Package dimensions: 5.67 x 4.72 x 1.85 inches
What Should I Look For In A Wireless System For Bass?
So, we've looked at a dozen plus wireless systems.
But you might be thinking to yourself, "gosh, they all look kind of the same, except for the last few, and I don't totally understand what the difference is, or ultimately, how to choose the right solution for me."
We get it.
As much as possible, we've highlighted the features and specs of each unit, but even then, some of it can appear complete gibberish.
So, what should you ultimately be looking for in a wireless system?
Although we might not be able to tell you exactly which product is right for you at the touch of a button, we can help you navigate the somewhat confusing journey of shopping for the right product.
In a nutshell, here are the main factors to consider when you're looking at buying a wireless system:
How reliable and durable the wireless system is (does it have a strong, interference-free signal?)
The length of time it lasts on batteries
The overall range the wireless system supports
Whether the wireless system is easy to set up and use
How comfortable and portable the wireless system is
The price of the wireless system and whether it fits your budget
Here we'll get into each of these factors in more detail.
Reliability & Durability
In this case, reliability would refer to things like:
The strength of the signal
How well the signal maintains at longer distances
How clean the signal is (free of noise, crackle, hum, hiss, etc.)
Signal latency
Dynamics
Overall performance
And things of that nature.
Meanwhile, durability would of course refer to the casing or enclosure of the product, how well it's been built, how well it holds up to bumps, knicks, and general abuse.
An important thing to keep in mind with receivers specifically is that many are designed to fit inside a rackmount case, not necessarily at the top of your guitar amp (though this is still how some players choose to position it). And you can find plenty of rock-solid rackmount cases.
Let's not forget, though, that a bass amp thumps and rumbles, which can lead to your wireless unit shaking, shifting, and possibly even falling off your amp (if it's sitting on top), which can't possibly be good for it.
A good thing to look at is what materials the casing was made of, as well as what other users have had to say about the box you're thinking about buying.
Although upfront we tend to base our opinion of a product on a few initial experiences with it (it's human nature), long-term we tend to consider things like durability and reliability too. Especially if we're gigging and touring with it.
So, how long a system lasts could be another important factor, but in general you should expect to get what you pay for.
Usage & Duration
Most if not all wireless systems boast at least three to four hours of continuous use, with some offering up to 14 hours.
Three hours is quite plenty in most scenarios, though depending on the gig and the length of your set, you could end up exceeding that amount. Generally, not an issue if you a) have spare batteries, or b) you go with a mid to upper tier product. Also, like I said, most products will give you six hours plus.
So, this is not a major factor, but just one of many that could influence your overall buying decision. So long as you are aware that some systems last longer than others, and your expectations are properly managed, you should end up with a system that feels right to you.
Range
This is mostly a factor for performers playing in large venues, and not necessarily a key consideration for those who tend to remain close to their amplifiers/wireless units.
Most units, by the way, are going to give you a solid 300 to 330 feet, but if you opt for some cheaper, budget options, then you shouldn't expect more than 50 to 200 feet (where 200 is quite generous).
Obviously, you want a strong signal with minimal latency, and a unit with a large range but poor sound isn't exactly desirable, unless you're still at that point in your guitar journey where you don't really notice when all your tone is being sucked out by inferior gear.
Still, aside from the factors considers, unless you're doing something crazy, most if not all wireless units should do the trick.
And when I say "crazy," I'm basically referring to having your transmitter and receiver in separate rooms, performing in extreme weather, playing in environments with a high level of interference, moving too far away from your wireless unit, and so on.
Ease Of Use
Some wireless units look more complicated than others, and the bottom line is, some are a little more "plug and play." The good news is most are relatively easy to set up.
Look, we know you probably didn't become a bass player only to learn the ins and outs of sound engineering and audio gear. That being the case, it can't hurt to pick a user-friendly option, especially if you don't have prior experience with wireless systems.
Anyway, while ease of use may not be a requirement of every bassist, if it is important to you, it's worth doing your research before committing to a specific product.
Comfort & Portability
Obviously, the receiver isn't going to pose much of a problem here. It's the transmitter that we need to look at.
There are different ways of dealing with the transmitter. You can attach it to a belt loop, a back pocket, a piece of clothing, or sometimes even place it inside a pocket (though it's best to secure it as much as possible, for minimal shifting and movement).
This is obviously where the design of BOSS, Xvive and other similar units kind of have an advantage as they boast more portability overall. They just might not give you a professional sound.
Depending on the wireless unit, we find musicians expressing their dislike of longer cables, though in most cases we haven't found any issues with bodypacks. So, assuming you can deal with a longer cable, you should be okay.
Budget
We certainly don't want to overlook budget as a factor when products range from about $65 all the way up to $1,000.
$1,000 could be a lot for some buyers, especially those not in immediate need of pro quality audio equipment.
And on the other hand, $65 options could be a little lackluster for those who are looking for more.
We can't tell you what your budget should be, but we do suggest examining what you're prepared to pay. And we also recommend against going into debt when buying musical gear.
What Are The Best Bass Wireless System Brands?
Here are some of the best brands representing wireless systems for bass.
Shure
Shure is probably best known for their microphones. But as we said earlier, they are also one of the most prolific producers of various wireless system. They're a solid, reliable brand with plenty on offer.
Sennheiser
As with Shure, you probably know Sennheiser for their microphones, or perhaps their microphones. But as we noted previously, we think they're a rising star among wireless system manufacturers, as they are steadily leveling up their game. Plus, they make great quality products for the price.
Samson
Samson also owns the Hartke brand, and they are making a serious push with their microphones (especially podcasting mics) as of late.
They've got everything from microphones and mixers to headphones and wireless systems, and they're a good all-around brand overall.
Line 6
Line 6 is known widely, in some cases favorably, and in other cases not so favorably. But like a radio station that plays the same hits over and over, it's not necessarily the station that you don't like, but maybe the songs they're playing.
Either way, Line 6 does have some good gear, and many musicians are quite satisfied with their wireless systems.
Audio-Technica
You probably know Audio-Technica for their mics and headphones, but they also make turntables, cartridges, and of course, wireless units.
Though not necessarily top of the line, we generally have a positive experience with Audio-Technica gear and think they're one to watch.
BOSS
BOSS, like Line 6, is perhaps better known for their effects pedals, and we don't think it would be an exaggeration to say that's their "lane."
But what they're doing with their wireless systems is at least admirable, and they do offer a rather accessible way of getting into the wireless realm (just as they do with their effects line).
Top Wireless Systems For Bass, Final Thoughts
The best aspect of a wireless system, of course, is that it gives you more freedom onstage. So, if you're the type to dance, rock out, and move around a lot, it's perfect for you.
For general use…. It's up to you, but cables do tend to maintain better signal integrity without loss of tone. Unless you constantly find yourself getting tangled up in cables or accidentally ripping them out of your gear, you may not require a wireless unit just yet.
Again, it's entirely up to you, just thought you might want to know.
And, of course, we wish you happy trails on your gear shopping!