The 1990s saw punk enjoy the mainstream spotlight, perhaps more than at any other time in history. There were a few bands that were really at the forefront, carrying the torch for others to follow.
Here are some of the best punk bands to emerge from the 90s, in no particular order. When people think back on that era, these are the bands that often come to mind.
Rancid
Rancid is one of the most important punk bands to come out of the 90s. The band consisted of former members of the legendary Operation Ivy, so you know these roots run deep.
Even if you aren't a punk fan, you're probably familiar with Tim Armstrong and Lars Frederiksen, who both play guitar.
It was their mid-90s album, …And Out Come The Wolves that really put Rancid on the map. This album has some of their most famous tracks, some of which have become traditional punk staples.
Their entire career (which is still active) has been colored with excellent hits. They've certainly been both successful and relevant well into the new millennium.
The Offspring
During the 90s, you couldn't turn on the radio without hearing something by The Offspring. The band had a comical approach mixed with catchy musicality that proved to be quite addictive.
Much of the band's iconic sound undoubtedly comes from Dexter Holland's unique voice. The band's recordings managed to really make his voice stand out in what proved to be a potent manner.
This band actually got its start in the mid-1980s. It would be almost 10 years before the band broke into the mainstream.
Of course, when 1994's Smash came out, it seemed as if The Offspring were royalty on the airwaves. This band is definitely one of those bands responsible for bringing punk to the mainstream.
Green Day
The other band largely responsible for bringing punk mainstream is Green Day. Their sound is synonymous with the mid-to-late 1990s.
Again, 1994 was the golden year here, as their album Dookie became a gargantuan hit. This album would be filled with singles that would all go to chart very high for long durations of time.
The band would continue to enjoy success, especially with their album, Nimrod. Eventually, they would change their sound a little bit more and become more pop-oriented in production.
Green Day has managed to stay relevant past the early 2000s, especially with American Idiot. These punks wrote history long ago and continuously prove they have more to add to the books.
Bad Religion
If you've listened to a punk playlist or seen posters for Vans Warped Tour, you're probably familiar with Bad Religion. This group was originally formed in 1980, marking a career spanning over 40 years.
Bad Religion really began to get their stride with their 1993 release, Recipe For Hate. As punk took over the radio waves, their next album, Stranger Than Fiction, would also become quite popular.
Compared to other punk bands that broke the mainstream, Bad Religion is a bit more political in nature. You could say that the group is a bit more of a traditional punk band in that sense.
Blink-182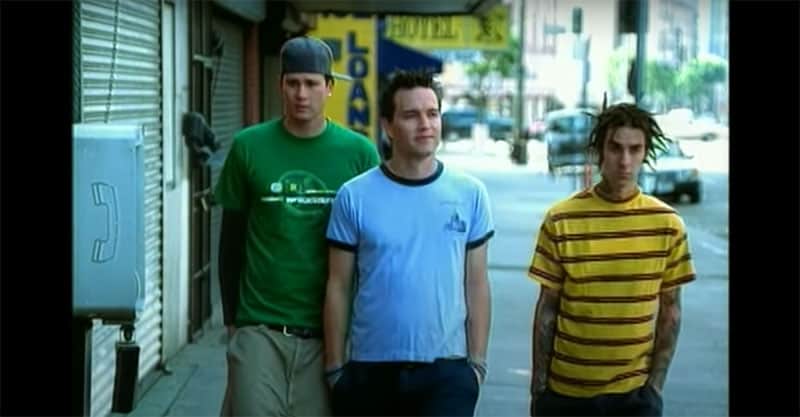 The end of the 90s gave us a preview of what would be continuously played for the next several years. You can bet that Blink-182 is one of the biggest punk bands to end the era.
In fact, it was their sense of adolescent aggression that would help to spawn a new musical movement. However, Blink-182 is, in a way, a sort of evolution of the pop-punk that came a few years before.
1999's Enema Of The State is really the album that did it for the band. However, if you're a Blink fan, you'd most likely enjoy the band's previous 2 albums.
Social Distortion
Social Distortion has an origin story dating back to the end of the 1970s. However, the year 1990 saw the band gaining mainstream prominence with their album, Social Distortion.
This band has a total punk aesthetic, but they also incorporate a bit of rockabilly into the mix. Their sound has gone on to influence generations of musicians to follow in their footsteps.
Agnostic Front
West coast punk had a bit more of a rounded and friendly sound compared to the East coast. This coast's punk music was notably way more aggressive, in both music and lyrics.
Agnostic Front is a punk band to emerge from New York, having been originally started in the early 1980s. The group never saw major mainstream success compared to other groups on this list.
However, any serious punk fan can find quite a few things to love about Agnostic Front. They certainly pack a punch.
NOFX
By far one of the biggest names in the punk genre is NOFX. This is another group that is quite legendary in terms of what the group has done, both musically and otherwise.
NOFX is most associated with its bass player and vocalist, Fat Mike. He created Fat Wreck Chords, which is responsible for producing much of the 2000s most important punk music.
This group never really had a radio hit per se, which is interesting considering their longstanding popularity. They continue to release new material and tour today.
Suicidal Tendencies
Looking for punk that's infused with thrash metal and funk influences? Suicidal Tendencies is the group largely accredited with creating that iconic punk sound.
This band had some killer bass players throughout its history, including Robert Trujillo (Metallica), and Thundercat. Having formed in 1980, this band still throws it down.
You're probably at least familiar with some of this group's merchandise. They had a long-billed hat with their logo on the underside of the hat bill.
Descendents
Speaking of iconic images, everybody is probably at least a little familiar with the album art for Everything Sucks. This image continues to attract new listeners to discover the catalog of the Descendents.
Descendents actually has roots dating back to the late 1970s. In fact, they influenced many of the punk bands that would become mainstream successes in the 90s.
Millencolin
Skateboarding and punk music tend to go together like peanut butter and jelly. The Swedish band, Millencolin, is a band largely associated with the 90s skate punk sound.
In fact, the band's name is actually derived from the melon grab. To illustrate, it's when you grab the board on the backside between your feet, while in mid-air.
Millencolin really started to enjoy worldwide success in the later 90s. They even joined up with the Warped Tour toward the end of the decade.
Lagwagon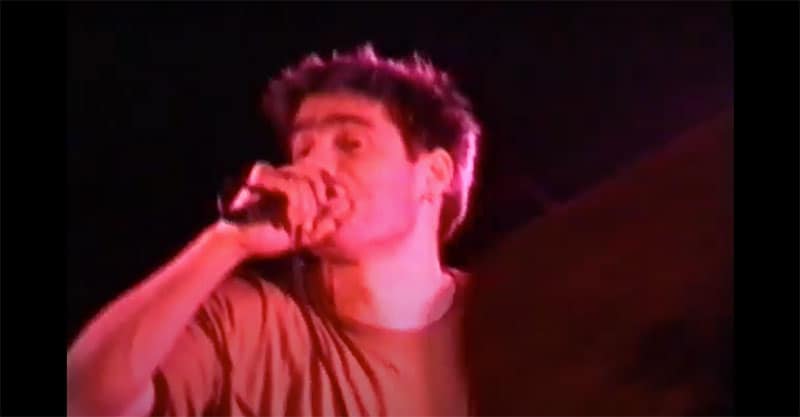 How many successful bands do you know take their name from the name given to their van? If it wasn't for NOFX's Fat Mike, the band probably wouldn't have its iconic name.
This is another band primarily associated with skate punk. One of their tracks landed in Tony Hawk 2, which is considered one of the best soundtracks of all time.
Lagwagon has remained relatively active over the years, with their latest release dropping in 2019.
Propagandhi
Propagandhi definitely has one of the coolest names in all of punk history. This Canadian punk group definitely spreads propaganda of peace through their music.
Much of the lyrics in this band tackle current events that deserve to be spoken about. In fact, the band is actually a little famous for the in-between-song banter during their performances.
You might be familiar with a popular indie-rock group called The Weakerthans. John K. Samson (who played bass in Propagandhi) went on to form that band.
Anti-Flag
With a name like Anti-Flag, you know exactly what kind of punk music you're getting just by reading the name. Since 1988, this band has certainly been quite vocal about many governmental topics.
Their first album, Die For The Government, features a track (of the same title) that would become the band's anthem. Anyone who's listened to punk music has heard the song at least once.
Anti-Flag is one of the rare bands using their music as a platform to tackle larger issues. To say that they are militant in their endeavors would be an understatement.
No Use For A Name
The 1990s was full of music that was making plenty of waves, even if not exactly in the mainstream. A great example of this can be seen with the band, No Use For A Name.
This group wasn't afraid to change with the times. In fact, every bit of their catalog has a different flavor depending on the year it was released.
No Use For A Name was one of the early bands that began to release music on Fat Wreck Chords. Their albums remain classic staples in the genre.
Guttermouth
What's punk music without a little bit of controversy? With a name like Guttermouth, you'd probably expect something a bit ludicrous.
This band rose to prominence after they got their 2nd album released by The Offspring's Dexter Holland.
As the band began to tour around the world, they gained a pretty bad reputation amongst industry professionals. This would continue into the 2000s, having been asked to leave the Warped Tour.
Me First And The Gimme Gimmes
Who doesn't love unique covers of popular songs done tastefully in a completely different genre? For punk, that band is Me First And The Gimme Gimmes.
This group has covered the likes of James Taylor, John Denver, Elton John, and many more.
Me First And The Gimme Gimmes is definitely a fun band that can be enjoyable for the whole family. Plus, Fat Mike plays bass in this band, further extending his influence on the genre.
Goldfinger
Goldfinger's early material is partially responsible for bringing ska music back into the mainstream spotlight. Their first 2 albums were very well-received amongst college-age fans and helped to define the 90s.
The band has been fairly consistent over the years despite a number of lineup changes. Unfortunately, they never really broke beyond the successes they achieved with their first record.
Despite this, Goldfinger remains an important entry in the category of 90s punk bands. A few of their songs have been frequently featured in films, TV shows, and video games.
Dropkick Murphys
The mixture of Celtic influences with punk rock remains to be a potent combination. The Dropkick Murphys are largely responsible for forging this unique sound.
In fact, this sound is a good part of the reason why they have been continuously successful over the years. It really does set them apart from other punk bands, who all seem to have a homogenous sound.
Dropkick Murphys have had hits well into the 2000s, proving that they will always remain relevant. How can you have a St. Patrick's Day celebration without listening to at least one of their songs?
Jawbreaker
Jawbreaker is a band that some might not really consider a punk band. However, the band's early sound has deep roots in punk rock musicality.
This group gradually transitioned a bit outside of punk, eventually opening a tour for Nirvana. At the time, people thought that Jawbreaker was going to completely change their sound.
Their albums, Bivouac, and 24 Hour Revenge Therapy remain staples within 90s punk. They still have loyal fans who listen to them on more than a regular basis.
Fugazi
Another band that might not be considered punk is Fugazi. However, this group is, by far, one of the most influential bands of all time.
In some ways, Fugazi has done more for musicians than almost any other band in the last few decades. Like Black Flag, they helped to pave the path for bands to essentially become independent musicians.
Much of the techniques used in DIY scenes were first employed by Fugazi. When you couple that with the fact that their music is infectious, you have a truly winning combination.
13 Songs, Repeater, Steady Diet Of Nothing, and Red Pill are some of the most beloved albums of the 90s. The tracks on these albums continually inspire generations of musicians.
The Vandals
Sometimes, it's just nice to listen to punk music without having to be overly aggressive or political. The music of The Vandals is perfect for providing a lighthearted punk atmosphere.
Many of their songs have subject matter that is downright cheesy. It'd be a challenge to listen to their music and not crack at least 1 smile.
Don't take our word for it. Give the album Live Fast, Diarrhea, a listen and see for yourself.
Pennywise
Pennywise is one of the most prolific bands to emerge from the 1990s. They have over a dozen official releases, the earliest of which really put the band on the map.
In fact, the group started finding mainstream traction when they were opening for The Offspring. When the mid-90s came along, Pennywise finally broke into mainstream audiences, led by the song, Same Old Story.
Pennywise finished out the 90s and started the new millennium quite strong. They've been a regular feature on the Warped Tour lineup ever since.
Voodoo Glow Skulls
If you're looking for a punk band with over 30 years of music, check out the Voodoo Glow Skulls. This band has been extremely active since 1988, often incorporating horns with their enjoyably aggressive sound.
For those of you in a band, you can probably appreciate this group's background. They essentially got their start by playing at parties with many groups who ended up being quite successful.
Despite their massive career, Voodoo Glow Skulls have never really been a mainstream band. However, within punk music, they are highly regarded and often featured on punk compilation albums.
The Suicide Machines
Hailing from Detroit, Michigan, The Suicide Machines decorated the 1990s with their unique blend of hardcore punk and ska. This group has toured relentlessly to gain a loyal following, many of which still follow the band today.
It was the band's 2nd album, Battle Hymns, which really started to gain attention. Shortly after this, The Suicide Machines would start to change their sound to suit radio audiences.
Today, The Suicide Machines continues on in the tradition of their more hardcore and ska roots. Their 2020 release, Revolution Spring, was released on Fat Wreck Chords.
The Mighty Mighty Bosstones
If you're a fan of ska music, you are probably all too familiar with The Mighty Mighty Bosstones. This group is, by far, one of the most influential ska bands of all time.
In fact, they are one of the few ska bands that have ever really had massive mainstream success. If you were alive during 1997, you definitely heard the song, The Impression That I Get, at least once.
That single would top the chart for Modern Rock Tracks, causing the album, Let's Face It, to be Platinum-certified. The album itself is consistently ranked as being one of the best punk albums ever recorded.
The Bouncing Souls
The Bouncing Souls are a popular underground punk group that came out of the New Jersey area in the 90s. Their brand and style of punk would become quite influential, causing many other groups to copy their sound.
This group never broke into the mainstream like some of these other bands mentioned here. However, amongst punk fans, The Bouncing Souls are classic legends.
The Bouncing Souls has continued to stay active over the years. They've shared the stage with some of the biggest names in the industry.
Top Punk Bands Of The 90s, Final Thoughts
Because the 90s saw punk break into the mainstream, the decade will forever be associated with the genre. It was this time period that would prove to be instrumental for inspiring bands in the next decade to follow.
Despite the age of this music, much of it still holds up quite well today. Those hits that enjoyed radio and TV play are still regularly featured throughout popular culture.