We've all heard things about the greatest guitar players ever, many of whose careers have long since ended. What about the guitar players of today that are pushing the boundaries of skill and possibilities?
If you've found yourself wondering this, you've stumbled on a gold mine. All of the following guitarists are making waves, some have historical careers and some are just starting to make waves.
You might be familiar with some of these names, but chances are, you'll discover a name or two, as well!
Billy Strings
Billy Strings is a guitarist that has become a bit of a household name over the last few years. He primarily plays within the genre of bluegrass, but his flatpicking skills cannot be denied.
As an artist, Billy Strings has found a way to have a massive crossover audience. Those who don't even like bluegrass are drawn to Billy's style of playing.
John Mayer
Unless you've been in a cave for the last 15 years, you've heard John Mayer's name being mentioned. Heck, you've probably listened to his music (whether forced or by choice).
Mayer has a simplistic style informed by an intense passion and knowledge of music. His songwriting skills are his claim to fame, but that's partially because he's such a beast at the guitar.
Redd Volkaert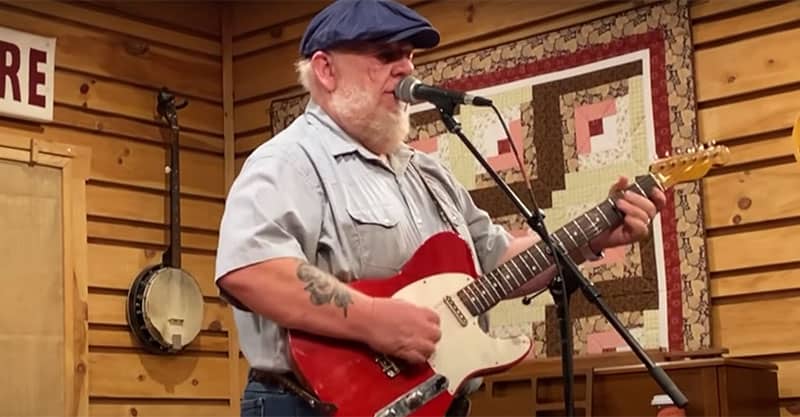 To paraphrase what a friend of mine once said, Redd Volkaert is secretly good. Redd certainly makes playing the guitar look easy as your ears are tickled with his musical personality.
His rise to fame (though Redd might laugh at that word) came with a position in Merle Haggard's band. Redd is the epitome of a working musician, often holding down a steady 7-day performance schedule.
Brent Mason
Unless you're familiar with country music session players, you might not be familiar with Brent Mason. However, his guitar capabilities have colored much of the biggest country hits of the 1990s and 2000s.
Brent masterfully uses the chicken pickin' technique in a way that has changed country guitar styles. The current generation of country pickers aims to at least perform at a fraction of Mason's level.
Brad Paisley
If you only know Brad Paisley from the radio, you might wonder what his name is doing on this list. However, it doesn't take much digging into his catalog to discover that he's a wizard on the guitar.
Paisley has guitar skills on par with some of the best session guitarists in Nashville. He also has the songwriting chops to win himself multiple awards and gain a massive fanbase along the way.
Derek Trucks
Derek Trucks is a guitarist who got his professional start at a very young age. His uncle played drums for the Allman Brothers Band, ensuring Derek was around the right people for musical growth.
Trucks is perhaps the greatest slide guitar player utilizing the technique today. His range of expression is nearly unparalleled in all of slide guitar history.
Christone "Kingfish" Ingram
Kingfish Ingram is relatively young compared to some of the names on this list. However, in just a short period of time, Kingfish has proven himself to be an extremely powerful guitarist.
He's already had a signature guitar model released by Fender (in 2022). There's bound to be a long list of accolades for Kingfish once he becomes an old man.
Daniel Donato
Daniel Donato got his start playing guitar in Nashville at an extremely young age. Before he could even drive, Donato held a spot in The Don Kelley Band, performing in Nashville.
Donato essentially honed his chops during his residency before embarking on a solo career. He's been consistently touring, providing his unique blend of country-tinged jam music.
Marcus King
Marcus King is another young guitarist who has been revitalizing the blues in a unique and modern way. As a guitarist, King has an exceptional command with a dazzling range of expression.
His debut album in 2020 managed to chart within the top 150 positions on the Billboard 200. In 2022, his next album was released at the #1 spot for the Top Blues Albums on the Billboard charts.
Nathaniel Murphy
Nathaniel Murphy is a name you might not be familiar with unless you frequent YouTube. He's an employee of the Chicago Music Exchange but possesses some of the most virtuosic talents the world's ever seen.
His skills have landed him the praise of some of the most well-known guitarists (especially on YouTube). When listening to him play, one has to wonder if there is anything he can't do.
Jimmy Herring
Jimmy Herring has played in a number of bands over the years, some of which you're probably familiar with. Do the names Widespread Panic, or Col. Bruce Hampton & the Aquarium Rescue Unit ring a bell?
Herring's guitar style has a unique blend of southern rock mixed with progressive jazz. He's definitely pushed musical boundaries, but his name might not be as well-known as it should be.
Rick Mitarotonda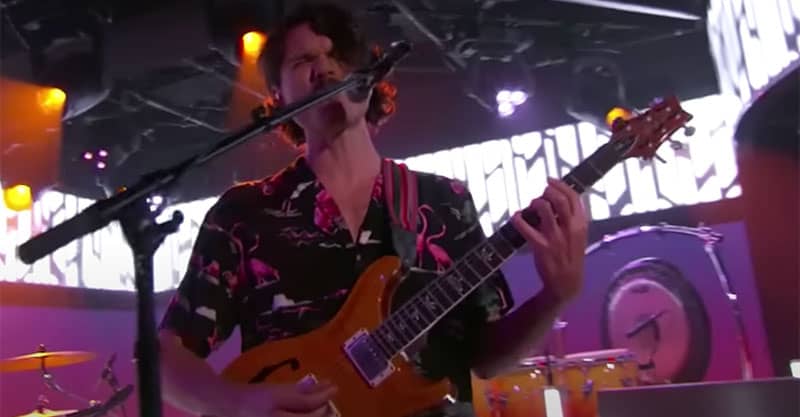 Unless you're familiar with the jam bands of the current era, you probably don't know Rick Mitarotonda. He's best known for his role in the band, Goose.
Since 2014, Goose has risen toward the top of the ladder and is making a name for itself. Their improvisations are driven by Mitarotonda's sense of melody within his playing.
Tom Hamilton
You might not be aware, but there is an entire community based around trying to sound like Jerry Garcia. In a world of Grateful Dead cover bands, Joe Russo's Almost Dead stands apart from the homogenous norm.
Part of JRAD's effectiveness is due in part to the guitar prowess of Tom Hamilton. He's managed to blend traditional Garcia-isms with his own unique, cutting-edge style.
Nels Cline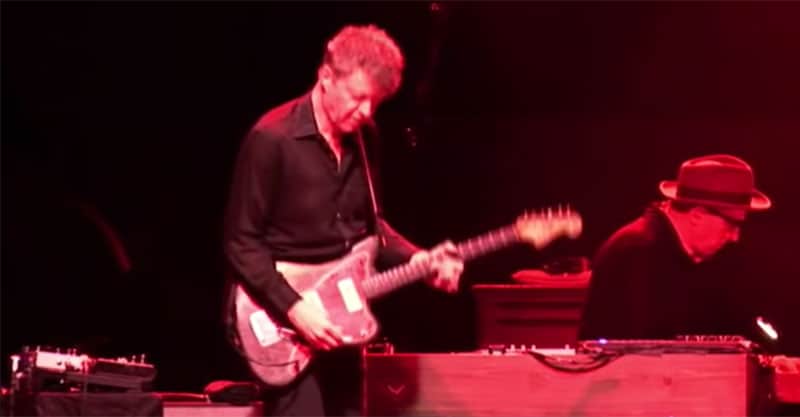 If a hurricane could be a guitarist, then it would no doubt have the name of Nels Cline. As a guitarist, Cline has a very distinct style of playing that is both angular and builds energy.
His work with Wilco has essentially reinvented the band's sound. However, his jazz guitar skills and guitar pedal experimentation should not be overlooked.
Julian Lage
If you want to know who the best jazz guitarist is today, Julian Lage might be deserving of the title. Lage is the product of years of schooling with some of the best musical institutions in the US.
However, while Lage has an academic background, his music doesn't have that sort of stiffness. Typically utilizing a Telecaster, Lage continues to push the sound of modern jazz.
Trey Anastasio
As an improvisational player, Trey Anastasio is undoubtedly one of the best of all time. Trey has established his name by playing in Phish, which has been actively touring since the 1980s.
Few current guitar names are respected to the level of Anastasio's. He consistently sells out tours with both Phish and the Trey Anastasio Band.
Jonny Greenwood
Jonny Greenwood isn't a shredder like so many of the names on this list. But what he does possess is an undeniable degree of creativity.
Greenwood is a vital contributor to Radiohead's distinct sound. He seems to always know what needs to be added and knows when silence is more important, too.
Stephen Malkmus
If you know of Stephen Malkmus by way of Pavement, you might be a little apprehensive about his inclusion here. However, if you scour through his solo career and work with The Jicks, you'll see his guitar skills on display.
Stephen Malkmus might be the godfather of indie rock, but his guitar skills are nothing to sneeze at. He has a sense of melody combined with creative use of rhythm that can't be denied.
Oz Noy
Oz Noy is a world-renowned guitarist that regularly blows the minds of audiences. His playing is primarily rooted in the jazz world, but his sound goes far beyond that.
Oz often incorporates elements of funk with a hefty dose of dissonance to take audiences on a ride. With a recording career nearing 20 years, Oz Noy shows no signs of slowing down.
Greg Howe
Greg Howe exploded onto the scene in the early 1980s with his unique brand of progressive playing. His skills enabled him to play alongside some of the most virtuosic names in the jazz genre.
Howe's career has slowed down a little but he continues to release new material on a regular basis. He has also provided session guitar work with numerous artists since 2000.
Tosin Abasi
Would there be djent music without Tosin Abasi? It's hard to say, but it's quite likely that there wouldn't be.
It isn't every day that a new sub-genre of music is created, and for that, Abasi needs recognition. He has some otherworldly guitar skills that hinge upon the creative use of rhythm.
Steve Vai
For decades, Steve Vai has been synonymous with the most extreme and boundary-pushing guitar skills imaginable. Vai still has a wealth of knowledge that can only be a dream for some to acquire.
He originally got his start working for Frank Zappa before embarking on his own solo career. There's a reason why Vai was cast as the role of the evil guitar player in the film, Crossroads.
Joe Satriani
If Steve Vai is considered one of the greats, surely his teacher would have to be great too, right? There's no denying that Joe Satriani is still one of the best guitarists of modern times.
Satriani was one of the first guitarists to really employ a style that was deemed to be extremely modern. His playing has undoubtedly inspired generations of guitarists ever since.
Tim Henson
Unless you're paying attention, you might not have heard of the band, Polyphia. This group has a technical progressive rock sound driven by Tim Henson's extreme guitar skills.
Sure, it might not be your cup of tea personally, but who can argue his capabilities? His playing is definitely one of the most modern styles currently in existence.
Ichika Nito
There's perhaps nothing more modern than a guitarist who has become famous on YouTube. Ichika Nito is somebody who fits that description, but his playing is the foremost reason why.
What's interesting is that, until the last year or so, Ichika Nito had never even played a live performance. Yet, he was one of the first YouTube guitarists to have a signature guitar (issued by Ibanez in this case).
Andy Wood
Andy Wood began his guitar journey at a very young age, proving himself to be a great bluegrass player. His skills won some prestigious awards in various contests before he picked up the electric at the age of 18.
Since then, Wood has held touring positions with some of the biggest names in the industry. Wood's capabilities have allowed him to become a foremost educator and one of the first-call names for session work.
Greg Koch
Greg Koch has been one of the most underrated guitarists ever since he emerged in the late 1980s. He has masterful control over his guitar, whether he's playing the blues or something else entirely.
Koch has quite a sense of humor, which is certainly evident in his playing style. If you want to feel bad about your skill level, Koch's the man to humble you.
J.D. Simo
J.D. Simo is another guitarist to have graduated from the school of The Don Kelley Band. Since his regular gig in Nashville, Simo has had quite a successful career as a solo artist and session player.
Simo's influence is rooted in the classic sounds of the 1950s and 1960s. In fact, he was appointed to handle the guitar work for the soundtrack of the 2022 film, Elvis.
Carter Arrington
Carter Arrington is another extremely underrated guitarist in today's modern world. Arrington is the product of extensive stage experience mixed with an academic background in music.
This has allowed Carter Arrington to have some of the most technical capabilities in the world. His improvisation skills are certainly bound to leave your jaw on the floor.
Guthrie Govan
Is Guthrie Govan one of the greatest to have ever played the guitar? That's hard to say, but there is nobody else quite like him in terms of capability.
Govan still isn't as well-known as he should be. But, since the 2000s, he's become a prime example of somebody with nightmarish guitar skills.
John Petrucci
John Petrucci is essentially synonymous with progressive metal. Even if you're not a fan of the genre, you're probably familiar with his name.
Petrucci has the ability to play guitar lines that will keep you lying awake at night. He also has the skills to soothe you with a smooth guitar solo.
Top Current Guitarists Final Thoughts
It's always wise to keep track of the advancements of music in this modern age of history. However, that's not always so easy to do with the extreme saturation of new music being released each day.
The chances are likely that the best guitarist the world has seen only plays in the comfort of their home. A lucky break is all that's needed to change the world again, and who knows, maybe it could be you.