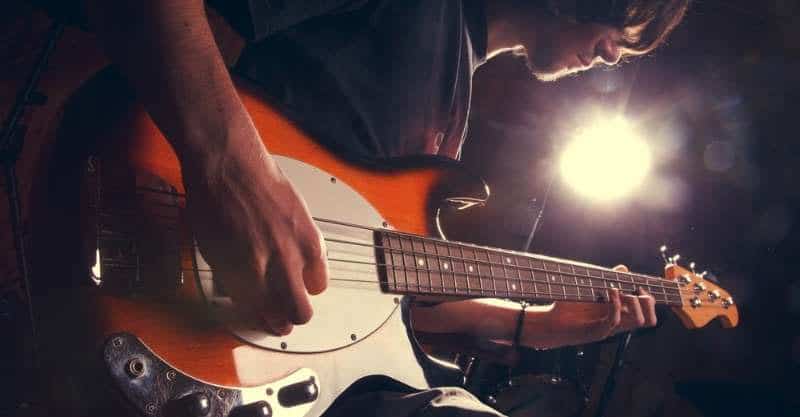 Slapping the bass is one of the essential instruments needed for any good garage band. It may seem like a position in the less glorious band, but the bass is the instrument that holds the rhythm and melody of the music together. Even though the bass guitar is a standard in any band, it can be just as challenging to learn as other instruments.
Bass guitar is just as challenging to learn how to play correctly as a guitar. Even though there are fewer strings on a bass, the strings are thicker and harder to play. Also, the bass guitar player needs to have an impeccable rhythm as well as a sense of music theory so that they can play near with the drummer.
If you are considering learning bass guitar because you thought it would be easier than other instruments, you may want to reconsider. The bass guitar is a great instrument to learn and is always needed in any band. However, the technical difficulty of learning the bass can be challenging to overcome for a novice player. Read on to find out more about learning to play the bass guitar.
Learning Bass Guitar
There are several things that make learning how to play the bass guitar challenging. Some have claimed that the bass guitar is the easiest instrument in a traditional four-person band to learn. But the mere fact that the technique, strings, and even theory are entirely different from an instrument like a guitar makes it hard to believe that bass is so easy to learn.
When you are first learning how to play the bass guitar, you should keep in mind that bass, just like any instrument, will take months if not years to learn to play appropriately. Some tips to stay motivated and continue learning bass guitar, even when it feels like it is too tricky, include:
Play with friends: As you learn to play with more conviction and authority, it can be fun to get together with friends and play or "jam." Jamming with friends is a convenient way to practice that is loose and fun.
Go see live music: Motivation to continue practicing your skills on any instrument can be heightened when you see masters at work. Watching a live performance of musicians playing the instrument that you also play can be inspiring and motivating, and fun.
Learn songs: Sure, you will need to practice the theory and scales of your instrument. But the real motivation behind picking up any instrument is to eventually play some music. Have a few songs that you like to listen to as part of your practice routine to keep you engaged with your lessons and motivated to continue practicing.
Learning to Play Bass is not Easier Than Learning to Play Guitar
Every bassist has heard that question that goes something along the lines of, "So, is it easy to play bass?" As insulting as this sounds, it is also not true. Sure, guitar players have more strings and tend to play faster notes, especially while soloing. But a lead guitar player would probably have trouble playing bass properly if they had not been trained.
The truth is that playing the bass well takes work and dedication to practice. The technique needed for playing bass in a band and using the thicker strings of bass is different from a guitar and can't be compared generally.
Should you Save up for a Better-Quality Bass Guitar?
The short answer is yes, if you can afford it. Paying a little extra for a quality instrument will play better and give you more enjoyable overall. It may even keep you more motivated because playing will be more enjoyable on a more expensive bass.
Some of the reasons why you should get a quality bass even if you are just learning include:
It will be easier to play and easier to learn on
It will be sturdier and last longer
The tone sounds better
You will have more fun, even while you are learning
You will be more committed
You Don't Have to Read Music
Even though the ability to read sheet or tablature music is a benefit when learning how to play bass, it is not necessary. In fact, the bass is an instrument that can be learned and played fairly easily by ear.
Since the technique of playing bass is one string or note at a time, if you can listen to the pitch of others you are playing with or your favorite songs, you can probably figure out how to play along after some trial and error. Playing by ear with a bass guitar is easier than with other instruments, so you don't have to learn to read music to learn how to play bass guitar.
Bass Tabs
Using bass tabs is also a great option when you are learning to play bass guitar. Most guitar players will even look at bass tabs as a way to get the general idea of song chords.
The benefit of learning bass with bass tabs is that you don't have to know the names and rhythms of musical notation. Instead, tabs give you a visual of the fingers on the actual strings that you can follow along with, even if you don't know all of the note's names.
Bass Usually Takes the Solo
One of the easier parts of playing the bass is that you will usually be playing the most memorable part of the song. Your ego will not be in jeopardy because the audience and fans most remember your playing.
Since the bass is the instrument that connects the rhythm of the drums and the singer and guitarist's melody and lyrics, it is the bass that will generally get the audience moving and bobbing their heads to your music.
If you are worried about getting lost in your band's background because you are playing bass, think again! Play a catchy bassline and you'll have listeners remembering your song.
You can Teach Yourself to Play Bass Guitar
As with most instruments that you are learning to play, professional lessons will help you learn much more quickly. However, lessons are not required for learning bass guitar, and you can teach yourself to play with a few simple tips:
Keep track of your practice: By keeping a log of the time and dates that you practice, you can catch yourself if you are falling out of your routine. Seeing the amount you practice can also be very encouraging to continue getting better at bass.
Start slow: Your fingers will not be in shape to play bass guitar for long periods of time when you first start out. Blisters are one of the leading causes of bass guitars for beginners collecting dust.
Keep a routine: Find a time of day when you will not be distracted and devote yourself to practicing during that time. Try to be consistent and diligent about this time.
Practice daily: A little practice every day is better than a long practice occasionally.
Is It Easy To Learn The Bass Guitar? Final Thoughts
Bass guitar may not be as flashy and sexy as laying guitar, but it is also not the easiest instrument to play. Playing the bass properly takes years of hard work and dedication to your craft. This is especially true if you ever plan on playing with others since the bass guitar is the instrument that connects all the other instruments of the band together.
Hopefully, this guide has given you some practical knowledge about the bass guitar to help you to decide if it is worth it for you to start learning to play. Keep in mind, learning an instrument is difficult, especially when you are first starting out. But with our tips and information, you should have the background you need to get started off on the right note.