Guitar Aficionado is supported by readers. If you buy something after clicking on one of our links, we may get an affiliate commission from that & it won't cost you anything.
Guitars come in all shapes and sizes and it can be daunting to figure out which is best for you. Each guitar's construction has inherent characteristics to provide certain tonalities and playing experiences.
Fingerstyle and classical guitar players are likely going to search out acoustic guitars with wide necks exclusively. If you consider yourself such a guitarist, you've come to the right place. Here are some of the best wide-neck acoustic guitars available today.
Yamaha NTX1 – Best Overall
One of the best (and affordable) wide neck acoustics is the Yamaha NTX1 (see price on Amazon or Sweetwater). This is a nylon-stringed acoustic with modern amenities to suit any type of fingerstyle player.
The NTX1 features a Spruce top with the back and sides of the body crafted from Nato. A cutaway design is featured with this guitar, allowing for easy fret access over the entire neck. Construction-wise, this guitar's body features bracing designed to enhance the guitar's natural acoustic tones.
Nato is also used in the neck's construction, which has a scale length of 25.5". A 22-fretted Walnut fretboard with a radius of 23.625" provides a luxurious playing experience.
The nut width of this guitar is 1.875" and is made of Urea. This same material is used for the saddle, which is affixed to a Walnut bridge. Chrome tuners are also provided for a classy touch.
This guitar is also equipped with an under-saddle pickup and a 3-band EQ preamp system and tuner. You can plug in and play live and retain your guitar's natural tone, which is a must for any performer.
Overall, the Yamaha NTX1 is the best overall due to its versatility and its affordability. It effectively combines the best of the classical guitar with traditional flat top acoustics to satisfy any player.
The fact that it has electric capabilities makes this a no-brainer for any performer. Quite often, these types of guitars will be unequipped with this function.
Taylor 814ce-N – Best Premium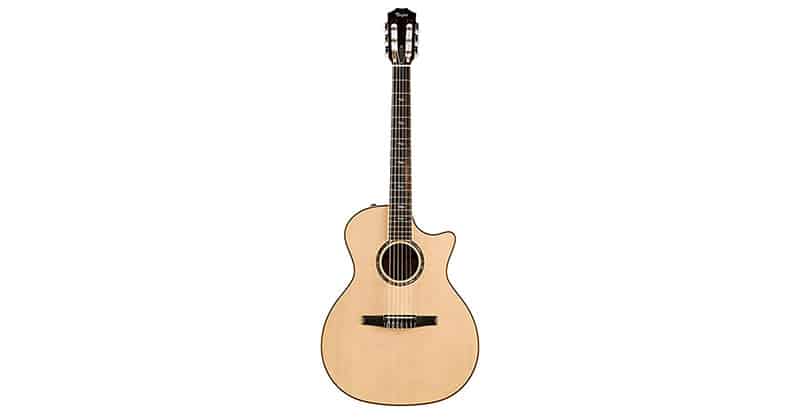 Is a top-of-the-line guitar more of a priority for you? If you have no budget, do not pass up the Taylor 814ce-N (see price on Amazon or Sweetwater).
Taylor's 814ce-N takes their famed Grand Auditorium body style and gives it a makeover worthy of any classical player. As such, it has features typically seen on Taylor acoustics but uses Nylon strings rather than steel strings.
This guitar's cutaway-designed body has a Sitka Spruce top, with Indian Rosewood used for the back and sides. Taylor's Advanced Performance bracing architecture is used to provide enhanced projection and responsiveness.
The 814ce-N has a 25.5" scale length Mahogany neck with an Ebony fretboard that has a radius of 20". There are 20 frets on this guitar, with Mother-of-Pearl inlays provided for fret indicators.
This guitar also has a fairly wide neck, with a nut width measuring 1.875". The nut itself is made of Tusq. Elsewhere on this guitar is a saddle made of Micarta as well as slot head tuners.
Aesthetically, this guitar is given special treatment. An attractive Pale Maple binding surrounds the guitar's edges. A beautiful rosette is affixed around the guitar's soundhole.
If that wasn't enough, Taylor has harkened back to traditional construction methods with this model. An example of this is Taylor's use of protein glue derived from fish to ensure a strong and natural bond. Vegans may want to look elsewhere.
Performers will find this guitar worthwhile as it's equipped with Taylor's ES-N pickup and preamp system. Adding to the package is a hardshell case, allowing you to safely take this guitar anywhere you may need.
Overall, this is an excellent guitar that will give anyone who can afford it a premium playing experience. This is a prime example of Taylor's craftsmanship.
Cordoba Protege C1M – Best Budget
On a serious budget? No need to worry! You can still find a worthwhile wide-neck acoustic. Be sure to check out the Cordoba Protege C1M (see price on Amazon or Sweetwater).
This classical guitar is the perfect choice for beginners, especially for those with smaller hands. It is essentially 3/4 the size of a standard guitar, making it easy to navigate.
The C1M features a Spruce top with the back and sides made of Mahogany. Traditional fan-bracing architecture is used in the body's construction for an excellent tonal response.
As this guitar is a smaller size, its Mahogany neck has a scale length of 24.2". The neck has a C-shaped contour, which, when combined with the 19-fretted Rosewood fretboard, is very comfortable.
The nut of this guitar has a width of 1.875" and is made of composite synthetic materials. The saddle (affixed to a Rosewood bridge) is also made of this composite material.
Aesthetically, the C1M has an attractive rosette around the soundhole as well as a black ABS binding. These provide a very balanced look to the guitar's natural color (which is heightened with a satin polyurethane finish).
Overall, the Cordoba Protege C1M is hard to beat if you're shopping at this price point. The construction is suitable for those who are beginners looking for a guitar to serve them into more advanced levels.
Many young guitarists have found the C1M to be very ideal for learning the guitar. The size seems to be just right to accommodate smaller hands and fingers.
Takamine EF740FS-TT
Looking for a steel-stringed alternative to the nylon guitars found on this list? The Takamine EF740FS-TT might just be the guitar you've always been looking for.
This cutaway guitar features Takamine's Orchestra Model body style. It is designed to provide a warm tone and enhanced mid-range, which is further enhanced by Takamine's construction methods.
For instance, the top of the EF-740FS-TT features Spruce that has been thermally treated. This gives the guitar a tone that has a more aged sound, similar to that heard with vintage instruments. The back and sides of the EF740FS-TT are made of Sapele.
This guitar features a Mahogany neck with an Ebony fretboard. You'll have access to 20 easily playable frets, with Pearloid dots provided as fret inlays.
The EF740FS-TT features a plastic nut with a radius of 1.875". This guitar also has an iconic split saddle, which sits atop an Ebony bridge. Standard open-gear tuners are provided to contribute to the guitar's traditional look.
Performers will rejoice with the inclusion of a Palathetic pickup and TLD-2 preamp system. This has been renowned for its faithful amplification that retains the guitar's natural acoustic tone. The preamp features a 3-band EQ adjustment.
Aesthetically, this guitar has a darker natural color that is very appealing to the eye. Thin binding and a rosette add to the guitar's attractive looks.
Also included with the EF740FS-TT is a hardshell case. Professionals shopping at this price point will find this guitar to be highly practical for all of their performance needs.
The fact that this guitar uses steel strings makes this worthwhile for fingerstyle players who don't exclusively play classical music. Additionally, it could make a great transition instrument for any guitarist transitioning between the 2 musical worlds.
Cordoba C7-CE
Intermediate players looking for a worthwhile wide neck acoustic will find the Cordoba C7-CE a pleasure. This attractive guitar is sure to suit any musical setting in which you may find yourself.
This guitar is effectively a classical guitar that features a cutaway body design. As such, it provides a playing experience suited for even the most modern music.
The C7-CE's body has a Red Cedar top, with Rosewood used for the sides and back. Traditional fan bracing architecture is used in the body's construction to provide a very balanced tonal response.
You'll find that the C7-CE is comfortable to play, thanks to its C-shaped 25.5" scale length Mahogany neck. Rosewood is used for the guitar's fretboard, which features 19 frets.
The C7-CE has a bone nut with a width of 2", which is much wider than a traditional guitar. The saddle is also made of bone, which is affixed atop a Rosewood bridge. Gold tuners are provided for heightened aesthetic appeal.
This guitar is suited for live performances thanks to its under-saddle pickup and internal microphone system. These pickups are combined with a Fishman Presys Blend preamp system to provide an excellent amplified response. A 4-band EQ is included with this setup, as is a built-in tuner.
Aesthetically, the C7-CE is a beautiful guitar with a dark natural color accented by rosewood binding and rosette. This guitar has a gloss polyurethane finish that is the perfect finishing touch on an already attractive instrument.
Overall, the C7-CE is a dream guitar for intermediate players and professional players alike. The highly balanced tonal signature of this guitar is hard to deny for someone in this budget range.
Yamaha CG172SF
Looking for a guitar primed for classical and flamenco styles of play? Be sure to check out the Yamaha CG172SF.
This guitar features a very traditional flamenco body style. In fact, you will find that this guitar does not deviate much from this tradition in its overall design.
The CG172SF's body features a top made of Solid Engelmann Spruce, with Cypress used for the back and sides. Traditional bracing architecture is used to provide that classic tonal balance found with classical and flamenco guitars.
Nato is used in the CG172SF's neck construction, which has a scale length of 25.6". This guitar also features a Rosewood fretboard which has 18 frets.
You'll be able to effectively play any type of classical or flamenco piece, thanks to this guitar's nut width. The plastic nut on this guitar has a width of 2.0625".
This guitar's saddle is also made of plastic, which is attached to a Rosewood bridge. Traditional classical tuners are also provided with the CG172SF.
Aesthetically, the CG172SF has a beautifully bright natural color, which is a nice juxtaposition to its Rosewood components. An ornate rosette and a thin binding are an extra added touch that brings aesthetic balance to the guitar.
As you might have guessed due to its flamenco design, the CG172SF uses nylon strings.
Overall, the Yamaha CG172SF is perfect for somebody looking for a no-frills flamenco guitar. This is not only suitable for beginners and intermediates, but purists who seek out traditional guitar designs.
The CG172SF does not have electric capabilities, which allows it to retain its traditional qualities. You can always add an external pickup if you have such performance needs.
At this price point, you'll be hard-pressed to find another glaring example of such fine traditional craftsmanship.
Yamaha C40II
On a serious budget but need a full-scale classical guitar to play your repertoire? The Yamaha C40II is just the kind of guitar you are looking for.
The Yamaha C40II is a classical guitar that retains tradition in its construction design. You won't find too many extra features here, but you will find a guitar providing a true classical playing experience.
This guitar's body has a top made of Spruce, with Meranti used for the back and sides. Thin black binding edges the guitar's top for a defined look.
Nato is used to construct the guitar's neck, which has a scale length of 25.56". The fretboard is made of Rosewood and has 18 frets.
You can be sure that you'll be able to fret any classical piece, thanks to the C40II's 2" nut width. The nut and saddle are both made of plastic, with the guitar also featuring a Rosewood bridge.
Aesthetically, the C40II has a beautiful natural color that is enhanced with a gloss finish. An ornate rosette around the soundhole is the perfect centerpiece that ties the guitar's overall look together.
Overall, the Yamaha C40II is the ideal choice for a beginner making their entrance into playing classical guitar. It's also a worthy instrument for anyone transitioning from a smaller-sized guitar to a full-scale instrument.
What To Look For In A Wide Neck Acoustic Guitar
When shopping for any new guitar, you're going to want to keep a few things in mind. Much of what you will want to look for will depend greatly on your own personal needs as a guitarist.
Let's take a closer look at some of these things, as they will ensure you find the ideal guitar for you.
Nut Width
As you are shopping specifically for a wide-neck acoustic guitar, you'll need to pay attention to the nut width. But what specification makes a guitar have a wide neck?
Generally, any guitar with a nut width larger than 1.8" is considered to have a wide neck. You'll find a variety of different widths when looking for guitars. Some websites do allow you to search by nut width alone, so keep this in mind.
A wide nut width allows for an easier time fretting complex fingerings. There's also a bevy of techniques inherent in classical and flamenco styles that require a large space between each string.
Body Style
Many of the guitars in the budget range with a wide neck will tend to have a classical-style body. For most people, this likely won't be an issue, especially if you are a beginner or purely classical player.
However, depending on what you play, you might find a guitar with a cutaway body design to be more accommodating. These designs offer much more accessibility to the higher fret range.
Electronics
It goes without saying that if you have aspirations to play on stage, a pickup/preamp system is a necessity. Having a built-in system will allow you to plug in and play anywhere with relative ease.
There are a wide number of different systems that guitars use. Listen to make sure that your choice guitar's pickups can retain the instrument's natural tonalities.
Also, keep in mind that external pickups are available if your guitar of choice isn't equipped. These pickups sit in the guitar's soundhole and can be plugged into any mixer or amplifier.
String Type
When shopping for guitars with a wide neck, you'll tend to find the market dominated by nylon-stringed guitars. This is because guitars of this type tend to be used more by classical/flamenco-style players.
However, there are some wide-neck guitars available that use steel strings. These guitars will have the playability of a classical guitar but have that traditional flat-top acoustic sound.
Best Brands For Wide Neck Acoustic Guitars
As with anything, there are a number of different brands that have a great reputation for building wide-neck acoustics. If you find yourself unsure about what guitar to try out, search out these brands. You can be sure that a guitar from these brands will be worth your time and suitable for your needs.
Cordoba
Cordoba was founded in 1997 and has headquarters located in Santa Monica, California. This company has an extremely well-established reputation for building quality crafted classical and flamenco guitars. Cordoba remains at the forefront of innovative nylon-stringed designs.
Yamaha
Yamaha is a Japanese brand that has its hands in many different facets of the music world. In the 19th century, Yamaha was a producer of organs and remains most known for their piano-based instruments. Yamaha is also well-known for producing high-value instruments for every budget level and type of musician.
Top Wide Neck Acoustic Guitars, Final Thoughts
The classical and flamenco-style guitars have seen quite a bit of modernization over the years. It is incredible how manufacturers have combined the best of this world with the flat-top acoustic world.
As such, it provides a unique playing experience for any type of guitarist from any background. Be sure to try some of these guitars out for yourself to see how they feel and sound to you.