Feeling limited by your lack of chord knowledge when it comes to playing the guitar? You'd be surprised at how effective putting just two chords together in a simple progression can actually be.
If you're in disbelief, take a moment to listen and learn the following two-chord songs on the guitar. You'll build your song repertoire for gigs while realizing it doesn't take much to create a hit song.
"Something In The Way" by Nirvana
Nirvana's Unplugged album is a landmark release and will forever be a legendary entry in rock music's history. The album's songs are usually some of the first songs that many Nirvana fans will attempt to learn on guitar.
Something In The Way is one of the easier songs to be found on the album. You'll be using the chords of E minor and a C with the low G added on the 6th string.
"505" by Arctic Monkeys
The Arctic Monkeys rode the wave of Myspace notoriety all the way to the top of the charts. Along the way, they helped to bring the indie rock sound into the mainstream spotlight.
505 is a song that blossoms around the chords of D minor and E minor. Playing this is pretty easy as you'll primarily be giving each chord one long, sustained strum.
"A Horse With No Name" by America
The acoustic guitar has always been a staple in modern music, but it found a new place in the 1970s. Bands like America utilized the acoustic guitar as a foundation for their folk-influenced rock sound.
America (the band) is primarily known for their smash-hit single, A Horse With No Name. When playing this song, you'll be utilizing E minor and D6/9 (which removes one finger from E minor's shape).
"Born In The U.S.A." by Bruce Springsteen
Whether you like The Boss or not, you have to give Springsteen a massive amount of credit as a songwriter. He's been incredibly prolific throughout his career, with many songs being built from simplicity.
His hit track, Born In The U.S.A. is centered around a I-IV progression, alternating between B and E. Its repeating chorus helped it become memorable, despite being a little misunderstood by those thinking it is a patriotic track.
"Paperback Writer" by The Beatles
Another song that centers around a I-IV progression is the hit single, Paperback Writer. At first listen, you probably would never guess that this song is built from 2 chords.
However, that's only further evidence of the magical combination of The Beatles with producer, George Martin. The layered vocals at the beginning certainly convey a picture far more complex than a couple of chords.
"Sex On Fire" by Kings Of Leon
Love them or hate them, there's no denying that Kings Of Leon rose to the top at a meteoric rate. Their hit singles gained so much attention that the band eventually had indie rock legends opening for them.
Sex On Fire is probably one of the most successful songs that Kings Of Leon ever released. Anyone vaguely familiar with late 2000s music will be able to recognize this in a pinch.
"Break On Through (To The Other Side)" by The Doors
A song by The Doors might be the last thing you'd expect to find here. The band's sound doesn't exactly involve strumming chords, rather, relying on melodic guitar leads and organ passages.
However, condensing Break On Through (To The Other Side) to its basic components reveals a simple two-chord foundation. Unless you have the gravitas of Jim Morrison, it might be best to reinvent this song in your own way.
"Makisupa Policeman" by Phish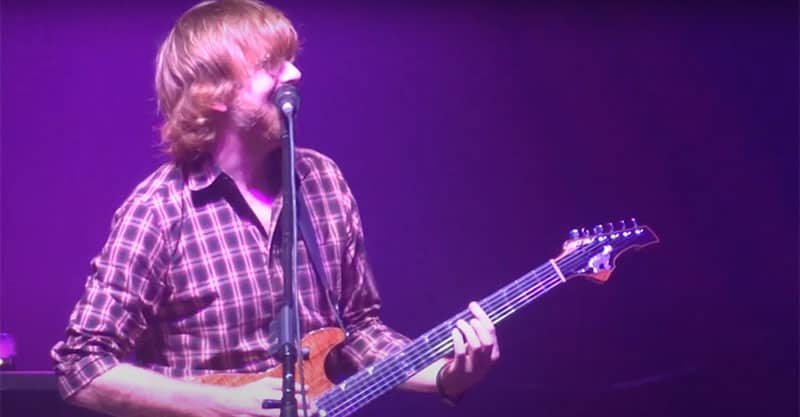 Phish is a band that will unpredictably shift from bluegrass to classical-inspired composition to reggae in one setlist. This versatility, combined with a world-class skill of group improvisation, makes them one of the greatest rock bands ever.
Their song, Makisupa Policeman, is a full-on reggae track with subtle hints of improvisation between lightly defined lines. The guitar part is utilizing the chords of A and E, with inspiration lifted from many Bob Marley songs.
"Closer" by Nine Inch Nails
Nine Inch Nails became instantly iconic with the release of Closer and its vulgar chorus that is incredibly catchy. It also marked a departure from the sounds of Broken and Pretty Hate Machine into a more developed presentation.
While it's based from 2 chords, you will need to invent your own part due to the song's electronic nature. However, playing this at the right time is sure to be the perfect blend of a joke and a singalong.
"Oye Como Va" by Santana
Santana is one of the undisputed masters of crafting melodic lead passages that are incredibly memorable. There are a handful of Santana guitar parts that just about anybody could recite and sing from memory.
Oye Como Va is one of those songs, based on the chords of A minor and D. The rhythmic presentation makes the song more complex while providing a great platform for those signature licks.
"Use Me" by Bill Withers
Bill Withers is somebody that deserves more attention on his entire catalog outside of the hits. There's a definite reason why Withers is held with such a deep reverence within the music industry.
The song, Use Me, is usually one of peoples' first introductions to Withers and his powerful soul music delivery. Using simplicity of E minor and A, his backing band helps weave a layered tapestry that is hard to forget.
"Jambalaya (On The Bayou)" by Hank Williams
Hank Williams combined his signature country swing sound with hints of zydeco with Jambalaya (On The Bayou). It's a song that highlights the way of life in the swamps of the southern US.
This track has been covered time and again by countless artists including John Fogerty and The Carpenters. Standard chords of D and G are used, but can be shifted to your key of choice with a capo.
"Everyday People" by Sly & The Family Stone
Sly & The Family Stone will always be an iconic group, specifically for their foundational role in funk music. Their track, Everyday People, isn't exactly a funk track like some of their other songs in the catalog.
However, Everyday People has a timeless message with lyrics that just about any audience will sing along with. This is a song points out inequalities will also making it feel like a joy just to be alive.
"It's Your Thing" by The Isley Brothers
Speaking of funk, The Isley Brothers are another group that helped bring the sound of soul funk to the mainstream. Their song, It's Your Thing, is one of their most successful tracks.
It's Your Thing sounds like it has more going on than there actually is. The reality is that each instrument's part is relatively simplistic, allowing for complex layers to be built.
"Feelin' Alright" by Joe Cocker
Joe Cocker is one of the few artists in history to have become massively famous by releasing cover songs. His debut album only has 3 tracks in which he was involved in the actual songwriting process.
However, it's this debut album that he's most known for, which features the hit, Feelin' Alright. To play Cocker's iconic cover version, you'll only need to know how to play F7 and C7.
"You Never Can Tell" by Chuck Berry
Most people associate Chuck Berry with his song Johnny B. Goode and his crazy guitar antics. After all, many critics and historians cite that song as the true start of rock 'n' roll music.
Chuck Berry's sound goes far beyond that 50's rock sound, delving into country swing with You Never Can Tell. In some ways, you wouldn't recognize this as Chuck Berry if you didn't know any better.
"Lady In Black" by Uriah Heep
Uriah Heep is one of those classic rock groups that doesn't have the mainstream recognition it likely deserves. In fact, it's almost criminal that, as of 2023, they still aren't in the Rock And Roll Hall Of Fame.
Because they are obscure to the average listener, Lady In Black, provides a great entry into the band's songs. A minor and G are the only chords you need to worry about through the song's entirety.
"Soul Shake Down Party" by Bob Marley & The Wailers
Some reggae songs cover political topics while others tend to be more about just having a good time. This "good time" vibe is especially evident in the iconic Bob Marley track, Soul Shake Down Party.
You'll want to know your barre chord shapes here as the song utilizes C and Bb. As with most reggae songs, it's in the rhythmic delivery of the chords that provides that signature sound.
"Give Peace A Chance" by John Lennon & Plastic Ono Band
John Lennon will undoubtedly live on as one of the greatest songwriters of the 20th century. Even his solo career had smashing success (which probably does pale in comparison to The Beatles).
His solo career began to take on more of an activist role, using music to help deliver a worldly message. Give Peace A Chance is an example of this, with a message that remains timeless and relevant.
"Fire On The Mountain" by Grateful Dead
Improvisation (especially in a group setting) can be an exceptionally challenging ordeal. It requires all players to be adept and comfortable, but also to have open ears to interact with each other.
The Grateful Dead's Fire On The Mountain is a perfect song to get started with your improvisational journey. You'll be playing the chords of B and A, while taking solos in the Mixolydian mode.
"Eleanor Rigby" by The Beatles
Eleanor Rigby is a unique song in the catalog of massive hits The Beatles produced in their career. The song has a palpable feeling of loneliness that matches the song's message and social commentary.
When learning this song, you'll be employing the open chord shapes of C and E minor. The E minor has some room for embellishments with passing tones if you're feeling like spicing things up.
"Tennessee Whiskey" by Chris Stapleton
Are you looking for a simple platform to express some smoky-smooth leads with a powerful vocal delivery? Chris Stapleton's Tennessee Whiskey is a track that even non-country fans can get into and appreciate.
The song is built from a I-ii progression, utilizing A and B minor. Visually, you can think of this as walking up one stair, pausing on that stair, and stepping back down.
"Achy Breaky Heart" by Billy Ray Cyrus
Much to the chagrin of older fans, country music found a new stride in the 1990s with a newer sound. Pop influences with a rock edge and memorable repeated hooks became part of the new normal.
Billy Ray Cyrus ended up having one of the biggest country hits of the 20th century with Achy Breaky Heart. The only chords you need to know how to play here are A and E.
"Stop Whispering" by Radiohead
Considering how complex most Radiohead songs are, you might not expect to find them mentioned here. However, if you dig around on the often-overlooked debut album, Pablo Honey, you'll find an easy two-chord song.
Stop Whispering is centered around a basic I-IV chord progression using the chords of D and G. Because of the straightforward rhythm pattern, any beginner will find this to be easy to learn and master.
"I'd Rather Go Blind" by Etta James
Did you take the time to learn Chris Stapleton's song, Tennessee Whiskey? If so, you pretty much already know how to play I'd Rather Go Blind by Etta James.
Like Tennessee Whiskey, I'd Rather Go Blind has a I-ii chord progression using A and B minor. Yes, these are the same exact chords, and you'll notice that even the lead guitar's melody shares resemblance.
It just goes to show that it's incredibly difficult to be "completely original" if you're a music artist today. Despite these songs having the same structure, they both remain signature staples in their own individual way.
"Tonight's The Night" by Neil Young
Many guitarists shy away from learning Neil Young material because they revere him so highly as a songwriter. It's almost as if his music is sacred and people feel that they'll disappoint by even attempting.
What you'll find, though, is that many Neil Young tracks are extremely basic from a compositional standpoint. The song, Tonight's The Night, is hinged on a simple progression utilizing D and G.
Tonight's The Night has some little riffs that are fun to learn when you're ready to break beyond the chords. It's important to remember that you should always continually find ways to challenge yourself on old material.
"What I Got" by Sublime
Sublime's What I Got is one of those songs that has become a sort of anthemic hymn for fans. It's almost guaranteed that if the song is playing, anyone who knows it will be singing along in unison.
Fortunately, What I Got is super simple to play, with the only chords to know being D and G. This is an ideal song to bust out at parties, especially because others will sing if you forget the words.
Best Two Chord Songs For Guitar, Final Thoughts
As a guitarist, I can relate to the feeling of being intimidated by guitarists employing exemplary skills and knowledge. This is usually a good thing, as it pushes awareness of our shortcomings and motivate us to close the gap.
But, if I'm being truthfully honest, two-chord progressions are some of my favorite platforms to use when jamming with others. The simplicity of the progression itself makes an almost infinite plethora of creative doors accessible.