Want to get into 80s rock music but not sure where to begin? This decade was ripe with emerging musical styles, featuring both evolutions of existing genres as well as new sounds altogether.
The 80s were also responsible for producing some of the most well-known bands that are still enjoyed today. Here are some of the best rock bands of the 80s, in no particular order.
Mötley Crüe
As far as hair bands from the 80s go, Mötley Crüe has quite the legacy. This band is associated with fast lifestyles, with a history featuring some of the most outlandish rock folklore.
In some ways, the band's partying antics are what attracted fans to the never-ending party. Their success was undeniable, churning out hits like Dr. Feelgood, and Shout At The Devil, which are both still popular.
Despite their past of unhealthy habits, Mötley Crüe is back on the road and enjoying continued massive success. When a band's members have all become celebrities in their own right, you can be sure they'll have people's attention.
Def Leppard
Def Leppard is truly one of the biggest rock bands to have forged a path in the 1980s. Few bands of this era had the massive worldwide success that Def Leppard would eventually achieve.
Their rise to fame came rather quickly as their first album was received quite well amongst English music fans. Within 2 years, music fans started getting frequent and continual exposure to the band's material, aided largely by MTV.
The album Pyromania lit the match that would spark the fuse to worldwide recognition. You can bet that their next album, Hysteria, truly caused a hysteric frenzy of fans when it was released.
Even today, these 2 albums are standout works that help to exemplify much of the 1980s rock sound.
Poison
Familiar with the mammoth hit, Every Rose Has Its Thorn? Even if you don't like the song, you can probably sing the chorus from memory.
At the end of the 1980s, Poison was taking over the airwaves with their brand of glam rock. They tastefully mixed ballads with rock music and pop aesthetics into a package that was too hard to resist.
Both Brett Michaels and guitarist C.C. DeVille have become pop culture icons in their own right. Brett has even had his own television shows, proving he can find a way to be relevant in today's society.
King Crimson
Although their biggest radio hit might have come in the 1960s, King Crimson's 1980s lineup is the stuff of fantasy. It might be a bold statement, but this era of the band has some of the decade's best musicianship.
This really is the most iconic lineup of King Crimson, featuring Robert Fripp, Tony Levin, Adrian Belew, and Bill Bruford. Belew's influence is definitely at the forefront, from his crazy guitar antics to his dramatic vocal performances.
The 80s King Crimson sound is notably tight, departing from the improvisational aspect of the previous lineup. Many of today's musicians have been inspired by the 3 albums this particular lineup would produce.
Talking Heads
When speaking of Adrian Belew, one must make mention of the Talking Heads. Their album, Remain In Light, was the perfect way to begin a new decade.
That particular album is quite orchestral in a funky nature, combining African music elements with experimental sound design. It remains an extremely influential album that still holds up well today.
Because of its sonic requirements, the group added Belew and several other ace musicians to their lineup. Those live performances have a sort of spiritual undertone, even today.
The film, Stop Making Sense, has been acclaimed as one of the best rock films ever made. Of course, the band's music has quite a bit to do with that.
Stevie Ray Vaughan And Double Trouble
What do you think it would sound like if Jimi Hendrix played blues in a more traditional style? You don't have to wonder, as Stevie Ray Vaughan is perhaps the best representation of that combination.
Much has been written about Vaughan's extremely precise and mind-blowing guitar feats. Unfortunately, many forget about Double Trouble, the rhythm section behind Vaughan.
As far as backing bands go, Double Trouble was one of the best, allowing SRV to perform at maximum capability. They had a rare talent for staying in the pocket while also being extremely aware of every musical moment.
Metallica
American 80s metal and Metallica are essentially synonymous. Metallica's brand of lighting-fast anthemic metal proved you didn't have to rely on imagery to sell records.
Instead, Metallica produced music that anyone (and everyone) has enjoyed at one time or another. Metallica helped to spread the sound of metal across the globe, inspiring the musicians that play today.
In the last 30 years, only 2 other groups (Garth Brooks, and The Beatles) have sold more albums than Metallica. That is a massive feat and evidence of undeniable success.
Megadeth
Whenever Metallica is mentioned, the band Megadeth is usually in the same conversation, and for good reason. Dave Mustaine actually got his start playing in Metallica before going on to form Megadeth.
With this group, Dave proved he had worthwhile musical contributions to make to the world. The album, Peace Sells… But Who's Buying? helped to set the stage for newer styles of metal to come.
Iron Maiden
Metal wasn't restricted to the U.S. by any means. Iron Maiden had been forging the sound since the mid-70s, utilizing addictive synchronized guitar riffs and pure metal aesthetic.
It really wasn't until Bruce Dickinson took over vocal duties in the 80s that Iron Maiden became massive. Compared to other bands, Iron Maiden's success wasn't really the result of having a radio hit.
That, alone, is nothing to sneeze at, as many bands had to rely on radio singles and music videos. Sometimes, the right music with the right imagery is all that's needed.
Bon Jovi
By far one of the biggest American glam rock bands is Bon Jovi, who absolutely took over the airwaves. Many of this group's songs are prone to having large groups of people sing along.
Bon Jovi's music does have an anthemic quality that seems to personify much of what was popular in the 80s. Of course, having a guitarist like Richie Sambora definitely helped to provide a definitive overall musical package.
Depeche Mode
As new wave music started to blend with electronic music elements, Depeche Mode was at the forefront. Some might disagree with this group's inclusion here, especially because they are more pop-oriented.
However, one must admit that Depeche Mode has had a massive reach, influencing some of today's biggest names. Without Depeche Mode, we wouldn't have bands like Nine Inch Nails, or The Smashing Pumpkins.
Scorpions
One of the biggest international bands of the 1980s was Scorpions, who formed in Germany in the 1960s. Over that period, Scorpions went through a massive evolution of sounds, creating a brand of hard rock that was infectious.
Rock You Like A Hurricane is one of the most enduring tracks of the 80s. Believe it or not, Scorpions is still active and releasing new music today, with their latest album released in 2022.
Guns N' Roses
Guns N' Roses was one of the bands that helped to usher the world into the 1990s. Their debut album was a chart-topper in the late 80s, which is a massive feat for any band.
Some of the most popular songs of the decade have come from GNR. Axl Rose and Slash are true musical icons from the late 80s and early 90s.
This band had it all, mixing heartfelt ballads with vulgar rock and roll that could be borderline offensive.
Twisted Sister
If anthemic 80s rock is your cup of tea, then you probably love the band Twisted Sister. This group released, We're Not Gonna Take It, and I Wanna Rock, on the world, which spread like wildfire.
Both of these songs have truly transcended the time period they came from. It seems every generation can relate to the lyrics of those tracks, which is partly the reason for their success.
Twisted Sister will forever be one of the best rock bands of the 80s. Their music is inescapable and has been continuously featured in movies, TV shows, and video games.
Whitesnake
Are you familiar with the song, Here I Go Again? This song has become one of the staple standout hits that is always featured on 80s playlists.
Whitesnake was founded by singer David Coverdale, who was originally discovered by Ritchie Blackmore, of Deep Purple. The band actually employed guitar virtuoso, Steve Vai at the end of the decade.
Interestingly enough, it was the film Crossroads that got Coverdale's attention focused on Vai's playing. It seems as if everybody who has an interest in music was impressed with Vai's role in the film.
U2
U2 has become one of the music industry's largest presences. Despite forming in the mid-70s, the band has continually pushed the envelope both musically and in business.
The Edge was also one of the first guitarists to make a career solely with the use of guitar effects. His playing would make the use of guitar pedals become a staple aspect of guitar playing.
Joshua Tree remains to be the band's most impactful album. This is the one that made U2 a household name around the world.
Ratt
Any conversation about 80s hair bands would be remiss without making mention of the band Ratt. This group was instrumental in bringing the Los Angeles sound into the mainstream spotlight.
Ratt's biggest hit is, by far, the song, Round And Round. You can't turn on a classic rock radio station without hearing it at least once per day.
In reality, that fact is a true testament to the song's actual success when it was initially released in 1984.
Europe
You would have to be living under a rock to not have been impacted by Europe's music in some way. Their song, The Final Countdown, is by far, one of the most definitive songs of the 1980s.
Just about everybody under the sun can recite the song's opening synthesizer melody. It's been featured in just about every avenue of media that exists.
Not many other songs reached the top of the charts in over 20 different countries worldwide. For that reason alone, Europe deserves to be titled as one of the best rock bands of the 80s.
Yes
Having formed in the 1960s, the band Yes has been a constant presence in the music industry. The group was initially propelled into the spotlight due to their classical music influences mixed with progressive rock.
As the 1980s rolled around, Yes began to pivot more towards a sound that was more accessible to larger audiences. Their evolution turned out to be a success, especially with the song, Owner Of A Lonely Heart.
Perhaps the best thing about the Yes catalog is that there is something for just about everyone to enjoy.
The Bangles
For decades, the music industry has been (and continues to be) dominated by men. It's only been in the last 50 years that women have begun to be given a modicum of respect.
There have been a number of all-female groups since then, but The Bangles are one of the most successful. They were responsible for the iconic songs, Walk Like An Egyptian, and, Manic Monday, both of which are colossal hits.
Bands like The Bangles proved that women could write music and play instruments as well as any man.
Kraftwerk
The electronic sound of the 1980s probably wouldn't exist without the legendary German band, Kraftwerk. This group is one of the most influential bands ever, although they might not have ever had a radio hit.
Kraftwerk is responsible for pushing the boundaries of what was possible with electronic instruments. This band even created their own instruments, which would find their way into the lexicon of electronic instruments.
They continue to have a massive fanbase that is extremely dedicated and loyal.
Devo
Have you ever watched the popular TV shows Rugrats or Pee-wee's Playhouse? If so, you're probably familiar with the quirky music that helped to define those particular shows.
If you trace the source, you'd arrive at Mark Mothersbaugh, who helped to form the iconic 80s group Devo. This band helped to push the new wave sound, especially with their hit track, Whip It.
Devo is truly an iconic band, as both their music and their image are etched into pop culture. There's only one band in the world that wears layered dome hats during their performances.
Weather Report
Unless you're into jazz-rock, the Weather Report probably missed your radar altogether in the 1980s. However, that isn't to say that this group isn't influential.
You'll find quite the contrary, as this group has been a host to a number of legendary musicians. Bassist Jaco Pastorius and saxophonist Wayne Shorter are perhaps the most well-known members of the lineup.
If you haven't listened to this group, you owe it to yourself to discover their catalog. This music helped to define jazz-rock groups for generations to follow.
Genesis
Whether you love or hate Phil Collins, you have Genesis to thank for bringing him into the spotlight. For a drummer, Phil Collins proved that you can have technical instrumental prowess and still be a great singer-songwriter.
Genesis has roots that date back to the late 1960s, but it was the 1980s that saw Genesis come alive. It was the band's success during this decade that allowed Phil Collins to have such a successful solo career.
After Phil left Genesis in the 90s, it became evident that the band could no longer continue without his presence. It's only when he's with the group that the band is successful.
Kiss
Kiss became the poster children for how colossal a rock and roll show could be. Their performances had the characterization of a circus, complete with pyrotechnics and a massively loyal following.
This group is more often thought of and defined by their career in the 70s. That particular period featured all of the makeup and costumes the band is best known for.
The 1980s saw Kiss taking the makeup off, showing their faces unmasked for the first time. It proved that they didn't need to rely on theatrical gimmicks to sell a ton of records.
Everybody is familiar with this band as their existence has become common knowledge around the world.
The Police
The Police are one of the most influential bands to have come out of the late-70s and early-80s. Nearly all of this band's albums have received massive widespread critical acclaim.
Sting, the bassist, has gone on to have quite a successful career following his involvement with the group. Stewart Copeland, the drummer, is also known for being in Oysterhead with Les Claypool and Trey Anastasio.
Ghost In The Machine and Synchronicity remain standout 80s albums of the entire decade.
ZZ Top
There's only one 3-piece band consisting of members that have extremely long beards. If you aren't familiar with the guitar tones of Billy Gibbons, you're surely familiar with their iconography.
ZZ Top grew to acclaim in the late 70s, but it was the 1980s that propelled them into the mainstream. The album Eliminator produced some of the band's most well-known hits, all of which still receive regular radio play.
There is just something instantly catchy about ZZ Top's infectious brand of blues rock. This band will forever be remembered as one of the greatest.
The Smiths
Indie rock music of the last 20 years wouldn't have been the same if it wasn't for The Smiths. This band found audiences in almost every genre as they helped to usher in an era of new musical styles.
The Smiths are probably best-known today for having Morrissey as their singer. He's been extremely vocal about a wide range of political topics over the years, making him hard to ignore.
Despite this, Morrissey remains to be a cultural enigma and still holds the weight of having legendary status. None of that would have been possible without The Smiths.
R.E.M.
Another band that was extremely influential to indie rock music is the band R.E.M. Before R.E.M., there really hadn't been any band that created the kind of sound this band had.
R.E.M. is often credited as being the creator of the college rock genre. Much of the band's initial audiences happened to be people who listened to the band via college radio stations.
The band was extremely active during the 1980s, continually gaining more and more widespread exposure. By the 1990s, R.E.M. was a household name around the world.
Ozzy Osbourne
Ozzy Osbourne is undeniably one of the biggest names in rock music history. His involvement with Black Sabbath only set the stage for extreme success in his solo career.
Unlike other solo artists, Ozzy understood the value of having a band of top-notch musicians. The playing of Randy Rhoads during this time period remains some of the best guitar work of all time.
One simply does not have their own longstanding hit reality TV show without being a bonafide rockstar. Ozzy is the best personification of what people think a rockstar is.
Slayer
The 1980s was really when metal music reigned supreme. Perhaps the best part about it was that there were so many different flavors of metal during this time period.
For those that were looking for a heavier and faster style of metal, Slayer became a go-to band. Their album, Reign In Blood, remains to be one of the most definitive metal albums to have ever been released.
Reign In Blood was full of insanely fast guitar lines and controversial subject matter. You can bet that many metal bands would continue to create metal music in this same tradition.
Sonic Youth
As far as underground music goes, Sonic Youth is perhaps one of the most important bands. Without Sonic Youth, many of the bands we have enjoyed over the years may not have been discovered.
Sonic Youth were true pioneers in almost every sense of the word. They were one of the first bands to really incorporate noise elements and unconventional guitar playing into their sound.
Where many 80s bands aimed to have a plush sound, Sonic Youth was downright grimy and intense. This is the only band that would travel with a semi-truck trailer full of guitars with unique modifications and tunings.
Dinosaur Jr.
Toward the end of the 80s, music was starting to change from posh production to a more raw aesthetic. This is generally considered to be the era where alternative music really started to find a mainstream footing.
The band Dinosaur Jr. was one of the groups leading the way for a new generation of sounds. This trio had a raw sound accented by the blistery guitar solos of J Mascis.
Today, Dinosaur Jr. is regarded as one of the most important bands in alternative music history.
Black Flag
Black Flag and 80s punk rock music are absolutely synonymous with one another. No other band has been quite as influential in this realm of music.
This band came out of the Washington, D.C. hardcore scene, and helped to forge a new era of punk. It also introduced the world to Henry Rollins, who has become a pop culture icon in his own right.
Even today, you'll see members of bands wearing a Black Flag shirt. The band really did set a precedent for what was possible for an independent touring band.
NOFX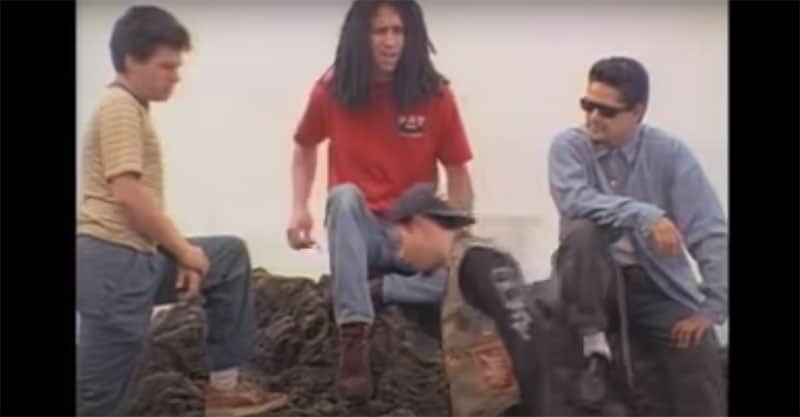 One of punk rock's most enduring bands is NOFX, which is perhaps best-known for its bass player, Fat Mike. Despite never really having a radio hit, NOFX has been one of the biggest names in punk since the 80s.
The band's influence goes far beyond their own music. Fat Mike created the Fat Wreck Chords record label, which has released some of the finest modern punk music.
In fact, modern punk fans owe Fat Mike and NOFX quite a bit of gratitude. Without them, the punk genre wouldn't be as widespread as it is today.
Jane's Addiction
Jane's Addiction is probably most often thought of as being a 90s band. That's simply because that was the decade the band had achieved the most success.
However, at the end of the 1980s, Jane's Addiction released their debut album which was extremely well-received. In modern times, the same album has gone on to rank amongst the best albums to ever be recorded.
Without Jane's Addiction, the world wouldn't know of guitarist, Dave Navarro. We also wouldn't have the Lollapalooza music festival, which was founded by Perry Farrell.
The Cure
Ever wonder where the gothic aesthetic of the 1980s came from? The Cure had quite a bit to do with that.
In fact, it was this gothic imagery that helped to propel The Cure to the world's attention. This English group eventually became one of the biggest musical acts of the 1980s that weren't a metal band.
Throughout the entire decade and beyond, The Cure has had massive success. Even today, they continue to enjoy an extremely large following.
Minor Threat
Have you ever been curious about where the philosophies of the DIY musician originated? Minor Threat was the band that really blazed the path that most musicians follow to this day.
This group had a fairly short career, but their impact on their local scene became something other bands aimed for.
Today, Minor Threat is still enjoyed by hardcore punk fans. Without this band, we wouldn't have bands like Fugazi (both of which feature Ian MacKaye).
Social Distortion
Social Distortion is another punk band from the 80s, although they didn't necessarily have the aggressive East Coast edge. This group had more accessible musical elements that could be enjoyed by anyone.
In fact, they produced a number of hits in the 1980s to prove this very fact. It was the 80s that set the stage for Social Distortion to become the monolithic band they were in the 90s.
Dire Straits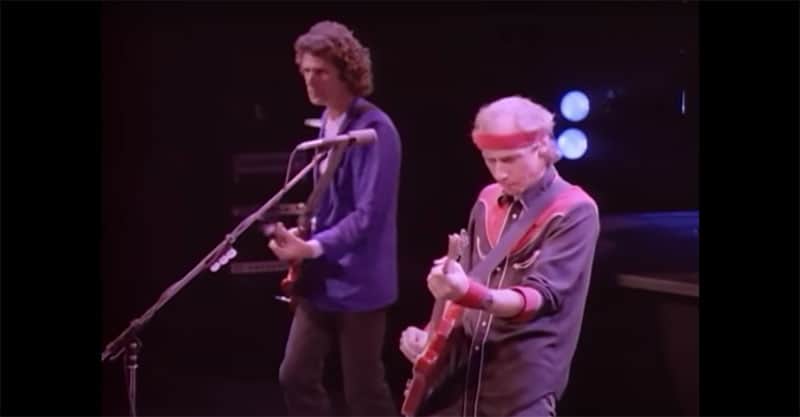 You probably know Dire Straits because of their classic song, Sultans Of Swing. That particular song has become a go-to track for any aspiring lead guitarist to learn.
Sultans Of Swing came out in the late 70s, helping to make the 80s a fruitful decade for Dire Straits. Perhaps their best-known album from this decade is Brothers In Arms.
Brothers In Arms became a chart-topping success around the world. It is still widely regarded as one of the best albums of all time.
Van Halen
Any attempt to name the best rock bands of the 80s would be incomplete without mentioning Van Halen. For many people, Van Halen is the most definitive rock group of the entire decade.
One thing is for certain: Eddie Van Halen pushed the boundaries of the guitar in the 80s. In some ways, he single-handedly made the guitar something cool, inspiring generations of new guitarists.
Van Halen, perhaps more than any other group, deserves to be titled as one of the best of the 80s.
Queen
Queen is another band that is synonymous with 80s rock music. This group really rose to critical acclaim in the 70s, but their success did not slow down in the 80s.
Both Brian May and Freddie Mercury continue to be regarded as legends within the music industry. This particular combination gave us a brand of rock mixed with operatic elements that proved too potent to deny.
The Pretenders
Another band at the forefront of the 80s new wave sound was The Pretenders. Chrissie Hynde's buttery smooth vocals mixed with posh musical stylings were downright infectious.
One of the band's biggest hits of the 80s is, Back On The Chain Gang. This track has been one of the most enduring of the decade.
Even Morrissey (from the aforementioned group, The Smiths) has done a cover of Back On The Chain Gang. You know a song is a cultural smash hit when that happens.
Journey
It's almost impossible to live life in today's world without hearing a song by Journey. The song, Don't Stop Believin' has become an anthem that even today's youngest generations enjoy singing.
Over the course of Journey's history, the band would be home to some of the biggest names in rock music. These include Steve Perry, Neal Schon, and Randy Jackson, to name a few.
Love them or hate them, Journey's longstanding success is absolutely undeniable.
Toto
Who doesn't love the song, Africa? This synthesizer-heavy pop song with intricate guitar work has been quite popular ever since it was released.
Toto was the band responsible for unleashing that iconic track on the world. This band was actually comprised of studio musicians who worked on some of the 70s' biggest releases.
Among the band members was guitarist Steve Lukather, who was prominently featured in many 80s guitar magazines. He even contributed some guitar parts to some of the most famous Michael Jackson songs from the decade.
Top Rock Bands Of The 80s, Final Thoughts
Many consider the 1980s to have some of the best music to have ever been made. It's fair to say that a statement like that might not be too far off of the mark.
People today continue to live and breathe all things 80s music. Perhaps that is all the evidence we need of this decade producing some truly timeless classics.