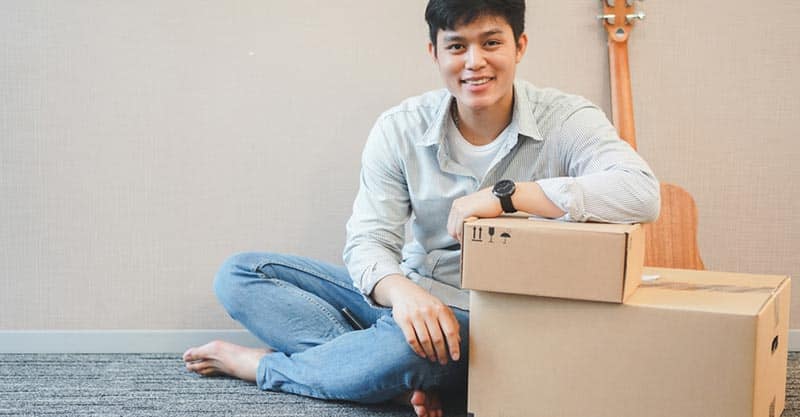 So, you're thinking about shipping a guitar.
These days, there are plenty of people starting drop shipping businesses, and because of the global eCommerce market, your guitar store might be getting international orders too.
Maybe you just need to ship your guitar off to your new home or next tour stop. Individuals sometimes need to ship guitars too.
It's no secret that there's a lot to consider when shipping a guitar, especially if you don't have any established systems in place. But don't be intimidated – it's easier than you might think.
So, here's a simple guide on how to ship a guitar.
Shipping A Guitar With A Case
Conveniently, many guitars, especially those exceeding a certain price range, come with a hard-shell case or sturdy gig bag.
This is good news, because it will offer a basic level of protection for the instrument. I would even say it's essential.
Now, this isn't to say that you should just pack the guitar in its case and ship it off as is.
Because the guitar will likely shift around in transport, there's always the possibility it will be subjected to drops, bumps and knocks. It will be subjected to the elements, too.
If you're lucky, there will be no damage to the instrument, but only if you're lucky. We need to take some additional steps to ensure its safe arrival.
Plus, shipping with a gig bag should be considered a last resort. You should always ship the guitar in a hard-shell case when possible.
So, here's a foolproof procedure for preparing the guitar for transport:
Prepare The Guitar For Shipping
First, you'll want to loosen the strings on the guitar to ease the tension on the neck.
I've transported guitars without doing this in the past (even on airplanes), and they were okay.
But since the guitar may be subjected to a variety of conditions, whether it's weather, humidity, altitude or otherwise, this is a good precautionary measure.
Also, keep in mind that you don't need to loosen the strings completely. A few turns on the tuning pegs should be enough.
Second, ensure there are no moving parts.
Ideally, you don't want anything rattling around in the case, whether it's a whammy bar, bridge, pickup or otherwise. They can shift around and damage the guitar.
You can wrap these parts in newspaper or bubble wrap to prevent shifting.
And, if you're shipping an acoustic guitar, the end pin should be removed as it can end up cracking the sides.
These components can be wrapped up and placed inside the accessory compartment (most cases have one).
Third, protect the fretboard.
You can place a piece of cardboard or newspaper in between the fretboard and strings so that the strings don't rattle around and scrape the fretboard.
Finally, remember to wrap the headstock.
Headstocks can be quite sensitive, and Gibson instruments specifically are known to have some vulnerabilities. You can use newspaper or bubble wrap.
Secure The Inside Of The Case
Now you can put the guitar inside of the case.
Be sure to take measurements for the case (length, width and depth) as you will want to get a box that is three to four inches longer, wider and deeper than your case.
We'll talk more about packing the guitar inside the box in a moment.
So, the next step is to prevent the guitar from shifting around in the case while it's in transport.
Again, we can use similar materials to fill the cracks in the guitar case, whether it's newspaper, cardboard, Styrofoam (packing peanuts not recommended) or bubble wrap.
Rest assured there are always small spaces to fill in the case, so don't overlook them.
Guitar cases typically have a lot of extra space around the headstock, so remember to fill it all in.
If the guitar can't slide around inside the case, it should minimize the potential for damage.
Close the case and shake it to ensure nothing is moving around.
Pack The Guitar & Case Inside A Cardboard Box
The last step is to pack the guitar in a cardboard box. It should be relatively easy to find a sturdy, guitar sized cardboard box (it need not be a specific shape, which makes this part easy.
Again, refer to the case's dimensions to ensure you get the right sized box.
But there is one more step. We don't want the guitar case shifting around inside the box, which means we must fill all the nooks and crannies in the box too, with newspaper or otherwise.
If the case can't move around inside the box, the chances of damage will be minimized. If in doubt, try shaking the box to see if anything shifts around inside.
Once the guitar is secure, close the box and seal it with packing tape.
You may want to add stickers that say, "Do Not Lay Flat" or "Please Handle With Care/Fragile" so that heavier objects are not placed on top of the guitar.
As far as where to get the box, you can probably get one from your local guitar store. Alternatively, you should also be able to order one online.
Shipping A Guitar Without A Case
Again, shipping a guitar without a case should not be considered a safe or worthy option.
Generally, if you didn't have a case, you would follow the same steps outlined above, but without that base level of protection, there's always the chance the guitar will be damaged in transport.
Meanwhile, if you follow the above procedure, most professionals and couriers say the guitar should arrive at its destination safe and sound.
Other Things To Consider
Packing and shipping your guitar is easy enough if you follow the above steps. Your guitar should arrive safely at its destination.
But here are some other things worth considering.
Cost Of Shipping
The cost of shipping a guitar (roughly $100 to $150) should always be considered, whether you're a store selling guitars or an individual looking to have your guitar shipped to a specific address.
For businesses, there is always a bit of margin built into the price of the instrument, but shipping costs could easily eat into your profit or leave you without any.
Naturally, most businesses have their customers pay for shipping, and that's the easiest way of handling it.
But if you're a drop shipping eCommerce store or an online store offering free shipping, you'll want to consider alternatives.
For instance, you could mark up the price of the instrument. Or, maybe you could work out a discount with the vendor to ensure a good profit margin.
As an individual shipping your guitar to another home, hotel or music venue, it's important to be mindful of the costs, plain and simple.
It's all well and good to pack the guitar securely, but if you can't afford to ship it, then all your work is for naught.
Shipping isn't cheap, so don't forget.
Type Of Instrument
So, you may have thought to yourself, "What if I'm shipping a classical guitar, acoustic guitar, 7-string guitar, 12-string guitar or other type of guitar?"
Ultimately, the packing process will be the same for every type of instrument.
Even for an acoustic guitar, you don't need to fill in the inside of the instrument. Just remove any moving parts, wrap them and store them inside the accessory compartment.
Finding a proper hard-shell case for each may prove challenging but is necessary.
Otherwise, follow the steps outlined above.
Insurance
Should you purchase insurance for the guitar?
I imagine sellers and businesses alike would handle this on a case by case basis.
If they've never had issues in the past, then maybe they would forego insurance.
Meanwhile, if you're worried about anything happening to the instrument, and you're shipping a high volume of guitars, having insurance might give you peace of mind.
Different couriers seem to handle this matter differently too, with some only offering insurance on instruments costing up to or less than $1,000.
And, of course, insurance companies all handle these matters a little differently. This will likely only apply to individuals and not sellers, however.
If you're going to purchase insurance, be sure to do your research. Ultimately, it's up to you.
Packing Materials
The professionals assure us that the packing materials already mentioned are perfect for shipping guitars.
I don't have any reason to doubt them, but just in case – here are some things to think about.
Personally, I'm a little skeptical of using newspaper to secure the guitar inside the case (although it's fine for inside the box).
Guitars should always be wiped down with a soft cloth and with a proper guitar cleaning fluid.
What's my point? Newspaper and Windex are the last tools you'd want to use to wipe down a guitar because it could scratch or ruin the finish.
Assuming your guitar is secure inside the case, it shouldn't rub up against the newspaper, leading to unwanted scratches. But if it isn't, who's to say what could happen?
I would consider soft towels as an alternative to newspaper, though it would end up costing more. But that's just me. Bubble wrap should also work.
I doubt there are any major risks here – just something that came to mind.
Final Thoughts
Aren't you glad to know packing a guitar isn't that hard?
Since so many people are selling guitars on eBay, Amazon and classified sites, and you may even want to send a guitar back to a seller, it makes your life a lot easier knowing this isn't a big deal.
Just follow the above steps and ensure the guitar is not moving around inside the case or box.
Good luck!