Guitar Aficionado is supported by readers. If you buy something after clicking on one of our links, we may get an affiliate commission from that & it won't cost you anything.
Do you play guitar for worship services and feel like your signal chain is lacking something? Guitar pedals can often be the perfect remedy, providing unique sounds that can be used for any song.
Whether you're looking for essential pedals or something to elevate your tone, this article is for you. Here are some of the best guitar pedals on the market that can really add some versatility to your rig.
Wampler Tumnus Deluxe – Best Overall
There's something to be said about an overdriven tone that is just barely distorted. Transparent overdrives are the best for achieving this type of sound.
You'll find a wide range of different overdrives on the market. The Wampler Tumnus Deluxe (see price on Sweetwater, Amazon) is one of the best at providing transparent crunch.
This overdrive pedal is set up very similarly to other overdrives on the market. So, if you have experience with other pedals, learning how to use this pedal will be a breeze.
There are a decent number of controllable parameters on the Tumnus Deluxe. These include controls for level and gain, as well as a 3-band EQ with controls over every EQ range.
This EQ factor alone provides more control than other overdrive pedals on the market. You can dial in your tone to minute detail, as opposed to relying on 1 knob for the overall function.
On top of that, Wampler has also included a 2-way switch to change the operating mode of the pedal. You can run the pedal in "Normal" mode, or switch to "Hot" for increased gain and distortion.
Overall, the Tumnus Deluxe is quite versatile in the tones that it can produce. You'll be able to use it as a semi-clean boost to full-on gritty crunch, and everything in between.
Sometimes, a clean guitar is best for worship services. A pedal like this can add a hint of character without actually taking over the tone itself.
For power, you'll need to have a 9V power supply or a 9V battery.
Strymon BigSky – Best Premium
A tasteful reverb can truly make a guitar tone come alive. If you're looking for the best reverb pedal, look no further than the Strymon BigSky (see price on Sweetwater, Amazon).
This pedal is one of the very few on the market offering nearly infinite reverb possibilities. If you have a particular reverb sound in mind, you can be sure the BigSky is capable of producing it.
For starters, there are 12 different reverb types built into the pedal, accessible by a rotary dial. These include:
Room
Plate
Hall
Swell
Spring
Bloom
Magneto
Chorale
Cloud
Shimmer
Reflections
Non-linear
Within these reverb types, Strymon gives you many tools for customization. In fact, there are 300 different presets you can use and manipulate to your heart's content.
You'll be able to save the fruits of your experimental presets and recall them during a performance. The pedal is equipped with foot switches to scroll through the bank, with an LED screen displaying the current setting.
There are plenty of parameters to play with here. You can even add modulation to the reverb for unique tonal fingerprints.
You could also control the pedal's settings with a MIDI controller as the BigSky has both MIDI in/out. Support is also provided for expression pedals, adding another factor to incorporate with the reverb.
Plus, if you wanted, you can attach an external switch to utilize BigSky's tap-tempo function.
The BigSky has support for both mono and stereo signals. This pedal's signal output provides extreme clarity so your reverbs take on a sense of depth and dimension.
You'll need a 9V power supply to power the Strymon BigSky.
Sure, it might be expensive to buy new, but this pedal is truly the one reverb pedal you'd ever need.
Pro Co RAT 2 – Best Budget
Looking for versatility on a serious budget? The Pro Co RAT 2 (see price on Sweetwater, Amazon) has been a staple distortion pedal for years.
This certainly isn't a transparent boosting overdrive by any means. The RAT 2 is the perfect blend between a distortion pedal and a fuzz pedal.
That means you'll be able to dial in some hard crunch, which can provide the perfect punch in some songs.
However, the RAT 2 is quite a versatile pedal, which is why it has been so celebrated over the years. You really can find some tasteful distortion with the ability to change the tonal characteristics.
Chances are, if you never actually saw the pedal, this description might make you think that it has many controls. The reality is that the RAT 2 has one of the most simplistic designs with regard to its controllable parameters.
There are 3 controllable parameters here, including:
As you might guess, the distortion level controls the amount of crunch present in the tone. The filter changes the tonal frequency inherent in the distortion and is partly where the magic is.
Of course, the volume control is what determines how loud the signal coming from the pedal is.
The RAT 2 can be powered by either a 9V battery or a 9V power supply.
So, if you need some slight dirt or full-on fuzz, consider taking the RAT 2 out for a spin. You'll probably be a bit surprised with what this pedal can dish out, especially at this price point.
Strymon TimeLine
Delay is one of the most iconic guitar effects of all time. This echoing effect is perfect for any style of music, with some guitarists basing their careers around the pedal.
The Strymon TimeLine (see price on Sweetwater, Amazon) is one of the best delay pedals on the market. This pedal revolutionized the guitar community with its sheer number of possibilities and pristine tonal presentation.
There are 12 different types of delays you can take advantage of here. These include:
Lo-Fi
Trem
Swell
Duck
Filter
Dual
Digital
Pattern
Reverse
dBucket
dTape
On top of this, the TimeLine offers 200 presets that you can use to shape the delays to your liking. You'll be able to save these and easily recall them during live performances.
Strymon has provided 2 foot switches here that you can use to cycle through the various presets. An LED screen displays the current preset setting so you're always aware of your bank position.
There is a massive amount of adjustable parameters to affect the delay. You can change the repeats, modulation speed, distortion, filter, and much more.
To ensure you're always in time with the song you're performing, the TimeLine has a tap-tempo function.
If that wasn't enough, the TimeLine also has the ability to record loops as long as 30 seconds. You can even choose whether you want the loop's signal to be dry or affected by the delay pedal.
The Timeline does support MIDI connections along with both mono and stereo inputs and outputs. It also has an open connection for an expression pedal.
This pedal might not be in everyone's budget. However, in terms of its offerings, you can be sure that TimeLine is well worth the price.
Electro-Harmonix Deluxe Memory Man 1100-TT
The Memory Man has been a staple pedal for decades amongst guitarists seeking analog delay tones. Unfortunately, original vintage models can be scarce and a bit pricey.
The Electro-Harmonix Deluxe Memory Man 1100-TT (see price on Sweetwater, Amazon) is the perfect modern upgrade. In effect, this iteration allows the Memory Man to remain the holy grail of analog delay.
All of the same classic versatility and distinctly warm analog delay tones are on tap here. This model is equipped with a bit more tools to benefit today's modern players.
The first obvious upgrade here is the fact that it comes with a tap-tempo function with 5 different subdivisions. You'll be able to easily make sure your delay stays in time with the rest of the band.
Also notable here is that this version has more delay time compared to the original. With 1100ms of delay, you'll probably have more than enough delay than you could ever find a use for.
On top of that, the Deluxe Memory Man 1100-TT has 5 different modes for use with an expression pedal. These settings allow you to use the pedal like an instrument, allowing the expression pedal to control the parameters of:
Rate
Blend
Delay level
Feedback
Depth
This pedal is exceptional at maintaining its repeats without getting too muddy in the mix. Yet, it does have a bit of warmth that gives the tone a very tangible dimension.
Electro-Harmonix POG2
Sometimes, it's just fun to make your guitar sound like something completely different. For this, the Electro-Harmonix POG2 (see price on Sweetwater, Amazon) is a go-to pedal.
This is a poly-octave generator mixed in with some synth and modulation effects. You can make your guitar sound like an organ, saxophone, synthesizer, and much more.
The POG2 gives you controllable parameters over 4 octaves (2 above, 2 below), as well as the dry output. Likewise, you can also adjust the attack, LP filter, and any detune effect as well.
If that wasn't enough, the POG2 allows you to operate the pedal using the dry effects only. Plus, you can add some Q enveloping to your tone for a little extra quack.
The POG2 is full of tonal possibilities that you're sure to have fun experimenting with. There are 8 programmable preset banks available to save your favorite tones for use during performances.
If you're savvy, you could essentially get this pedal to run 9 different presets if you memorize one yourself.
A standard 9V power supply is needed to run this pedal. Fortunately, a power supply comes included.
Electro-Harmonix Superego
Are you looking for something that can be a potent tool for creating ambient soundscapes? Look no further than the Electro-Harmonix Superego (see price on Sweetwater, Amazon).
This is a fairly bizarre pedal but it is perfect for creating layers of sonic bliss. For the most part, this is a freeze pedal combined with a synthesizer and a gliss effect.
There are 3 modes here on the Superego, including:
Latch mode will grab the note you are playing when you press the foot switch and sustain it. You can continuously stack notes by pressing the button again and again, double-tapping to turn the pedal off.
What's cool is that you can latch one note and play over top of the drone without being affected. Only when you press the foot switch in this mode will another tone be added to the drone.
Momentary mode essentially controls the pedal in a freezing manner. It will sustain your pitches only during the time that you press and hold the foot switch down.
Auto mode engages the freeze effect each time your note selection is at or above a certain volume threshold. With the gliss control turned up, you can really create some otherworldly sounds.
This is one of those pedals that you need to be able to hear to understand exactly what it does. There aren't too many sound-shaping pedals like this on the market.
Xotic SP Compressor
Have you been feeling like there's something missing in your guitar tone? Compressors can often be the remedy, serving to balance out your tone, as well as providing sustain and volume boost.
One of the best compressors on the market is the Xotic SP Compressor (see price on Sweetwater, Amazon). This mini pedal is extremely easy to use, yet, despite its simplicity, excels at doctoring your tone.
There are only 2 controllable parameters to have to worry about. The first (Level) affects the volume coming from the pedal itself.
There's also a handy Blend knob, allowing you to blend the dry signal with the wet signal. This gives you total control over how much compression is present in your overall tone.
A 3-way switch is also provided, allowing you to switch the staging of the compression. These 3 settings range from:
For even more control, the SP Compressor has internal dip switches. You can access these by opening the pedal's housing via the mounting screws.
A standard 9V power supply is required to use the SP Compressor.
Overall, the SP Compressor is a fabulous compressor, especially considering its price and versatility in a small size. You can opt for a completely transparent compressor, or fat and chunky country tones.
Ernie Ball 6180 VP JR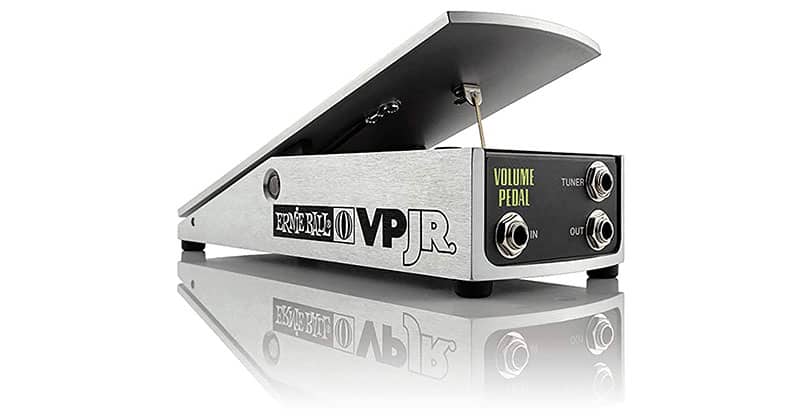 One of the simplest, yet most versatile, effects pedals is, by far, the volume pedal. The Ernie Ball 6180 VP JR (see price on Sweetwater, Amazon) is an especially ideal choice.
Volume pedals are insanely easy to operate, utilizing a construction similar to a wah pedal. There is a foot pedal that rocks forward and back, with forward being loud and back being quiet.
Unlike the wah pedal, the 6180 VP JR doesn't have an internal foot switch. Rather, this pedal remains on at all times so you can use it to control your volume at any time.
One thing to note, however, is that the pedal doesn't actually need any power to operate. It's completely passive, meaning it only affects the tone when being used.
Another thing to note is that this isn't the most ideal volume pedal for those with active pickups. However, Ernie Ball does make volume pedals for active pickups if you fit this criterion.
Overall, the 6180 VP JR is an excellent volume pedal, providing swells and volume control at an affordable price. It does have a fairly large footprint to accommodate, but it's well worth it because of its function.
What To Look For When Buying Guitar Pedals For Worship
If you've never bought a guitar pedal, it can be hard to know what you should be looking for. Quite often, the advice covering the process of researching pedals can be a little lackluster.
Keep the following points in mind, and you'll find that buying a guitar pedal isn't a difficult process. While these may be basic guidelines, you'll still need to make the effort for your own individual research.
Function
Before you purchase a pedal, you should have a pretty good idea of what the pedal actually does. This is a fairly obvious point, but it always bears repeating.
When buying a pedal, you should have some sort of mental picture of what the pedal should do for you. Just how, exactly, do you plan on using the pedal within the music that you play?
Guitarists often have a general idea, but might find that a pedal wasn't able to deliver on their hopes. You can avoid this altogether by actually going into a shop to try the pedal out for yourself.
By doing this, you'll get a firsthand experience of how the pedal sounds and if it complements your playing style. Most shops will allow you to bring your guitar in so you can demo out pedals for yourself.
Consider The Setting
One of the most important aspects to consider (especially with worship music) is the setting you're playing in. This includes both your musical group as well as the location itself.
You obviously want to purchase pedals that complement the overall style of your musical group's sound. For instance, a hard-clipping distortion sound might not go well with a classic country sound.
Most importantly, you really need to be aware of what your specific purpose is for playing guitar during worship services. This isn't necessarily the time to be super flashy and let your ego run rampant within the music.
Because of that, you might want to steer on the side of taste, rather than something sonically jarring. It can be difficult for people to sing along with something unpleasant to listen to.
Plus, worship services are generally for giving thanks and praise. Always be mindful of your intentions.
Of course, if you're in a band creating original music and touring, you're free to do what you wish.
Certain pedals may be quite awesome but they might not make sense for use during a worship service. Use your intuition and best judgment, and don't be afraid to ask somebody when in doubt.
Power Requirements
You'll want to pay close attention to the requirements necessary to power the guitar pedal. This is true whether you have a dedicated power supply, or not.
Most pedals operate on a 9V connection, whether it is by a power supply or a battery. Keep in mind that not all pedals support battery operation.
Some pedals have different voltage requirements, such as 12V or 18V. Don't wait until you own the pedal to figure this out as it could leave you in a sticky situation.
Form Factor
Pedals come in all sorts of different sizes, but, for the most part, can be categorized into 3 groups. These could be thought of as:
Mini/Nano
Standard/Full-size
Oversized/Large
Full-size pedals generally measure to about 5" x 3", which is fairly common across the board. Mini pedals measure roughly 3.5" x 1.5", which is notably smaller yet provides much of the same function.
Oversized pedals can often span the width of 2 or 3 full-size pedals sitting next to one another.
Why does all of this matter? If you're using a pedalboard, being mindful of these sizes will be crucial in the efficient use of real estate.
No matter how big your pedalboard may be, you'll eventually run out of space after a certain number of pedals. The sizes, and how organized you are, often determine the difference between a pedal being on the board, or not.
Budget
Prices can quickly get out of hand when purchasing pedals. Before you know it, you've blown your budget and you're not even sure how.
Always be aware of what the price on the sticker is. You need to factor this information into your analysis of the pedal overall.
After you try the pedal out, consider if it's worth the price compared to what a cheaper alternative offers. Using this kind of discernment is a practical step to ensure you get the best value for your money.
If you really want to save money, consider buying a pedal off of the used market. Quite often, these pedals will be fairly new (or not) and cost a serious fraction of their new list price.
Because of this, a pedal that was outside of your budget might actually be affordable due to its used condition.
Plus, you can utilize this used marketplace for yourself and sell any pedals that might not fit your fancy. You'll retain part of your original investment and meet some other guitarists along the way.
In this age of mass consumerism, it certainly doesn't hurt to buy something that was produced in the past. Especially if it's the same exact thing you were considering buying completely new.
Another thing you can do to save money is to ask if a demo version of the pedal is available. These are pedals that have only been used within the shop for people to try out.
For the most part, these are essentially new pedals, but since they've been used, are sold at a discount. However, the discount on the used market is far greater than what a demo model offering could provide.
Best Brands For Worship Guitar Pedals
It can be easy to be overwhelmed by the sheer number of pedals available for today's guitarists. If you're not sure where to begin your research, consider investigating the top brands in the market.
The following brands have a well-established reputation amongst guitarists. Their pedals have been used and trusted for years.
Strymon
Strymon has been producing quality effects since 2004 (officially in 2009 after a name change). These pedals are notorious for being laden with infinite possibilities with an exquisite tonal presentation.
Electro-Harmonix
From the simple to the bizarre, Electro-Harmonix makes pedals in almost any type of variety. Founded in 1968, this company has one of the longest histories of producing effects pedals.
Top Guitar Pedals For Worship, Final Thoughts
Be sure to give these pedals a try to hear what they can do for your guitar's sound. Pedals such as these can prove to be a valuable tool to have at your disposal.
Being equipped with versatile pedals means that your worship music can be elevated to a higher degree. Plus, they can provide a much-needed breath of fresh air in any performance that might feel a little stale.