Females unfortunately do not get the same amount of recognition and respect in the music world as men do. This is a fact that has been true for decades and is still true, even today.
The reality is that females are more than capable of writing and producing excellent music. If you're in disbelief, you'll definitely want to read on.
Here are some of the best girl bands from the 1980s, ranging from female-fronted groups to all-female bands.
Heart
Heart was a band that rose to extreme prominence in the 1970s. The group was fronted by Ann and Nancy Wilson (the latter of which held down guitar duties).
You're probably familiar with the group's most popular songs, which include Barracuda, Magic Man, and Crazy On You. All of those songs are, indeed, from the 70s.
Many of the band's albums all ranked high in the charts well into the beginning of the 1980s. As time passed into the new decade, Heart was still quite active but they weren't as successful.
Their song, How Can I Refuse, did manage to top the charts in 1983. However, it wasn't 1985 when Heart would have bonafide hits with songs like Never, and What About Love.
Those tracks would signal Heart's return to commercial success, with many of the albums following it becoming Platinum-certified.
The last few years of the 1980s saw Heart enjoying the same kind of success they achieved a decade previously. And while the music from the 70s was iconic, the 80s helped cement their place in history.
As of today, Heart remains one of the most important female-fronted bands of all time. They are responsible for really prompting the public's mindset toward female musicians to change.
A vital part of this change in perception was due to Nancy Wilson's ability to play the guitar. All of the sudden, an attractive woman was playing guitar better than some men, which seemed to be unheard of.
It is because of Heart's musical willingness that generations of women decided to become musicians themselves.
Heart has quite the stats, many of which surpass some well-known male musician groups. They're even members of the Rock and Roll Hall of Fame, having been inducted in 2013.
The Pretenders
The Pretenders started in the late 70s and at the time had more of a punk aesthetic. It wasn't until the 1980s that the band would start to become the band that they are known for being.
This group was fronted by Chrissie Hynde, who sang and played rhythm guitar. Her voice had a very distinct lower tonal quality that allowed her to sound effortlessly sultry.
During the 1980s, The Pretenders were unstoppable and they gained a massive fan base along the way. In more years than not, The Pretenders had a hit register on the radio charts throughout the decade.
Despite being inductees into the Rock and Roll Hall of Fame in 2005, the band hasn't slowed down. They're still actively busy producing and releasing music, with the most recent in 2020.
Joan Jett
Few women of the 1980s had the massive success that Joan Jett was able to achieve. In a way, she's the pure embodiment of her own musical self, without the worry of what people might think.
Joan's success spanned the entire decade as she released solo albums and works with The Blackhearts. Many of these songs have been featured prominently throughout film and TV when something needs a hint of attitude.
You might not know it, but Joan's musical career actually started much earlier than the golden era of the 80s. She was a part of the all-female group called The Runaways throughout the latter half of the 70s.
What's interesting about this is that Joan was only 16 when she joined the group. They would have fairly moderate success, with enough response to be able to tour worldwide.
After her stint with The Runaways, Joan embarked on a short solo career before forming a full band. This would become known as The Blackhearts and would act as Joan's backing band.
Having this support gave Jett the perfect platform to let her persona come alive. Some extremely massive hits resulted from this, allowing Joan to reign supreme in the 1980s.
Joan Jett has more hits than a person can count with 2 hands. All of these songs remain incredibly iconic, especially Bad Reputation, and her cover of I Love Rock 'N Roll.
As an artist, Joan didn't shy away from playing the guitar and singing simultaneously. She was frequently seen donning a Gibson Melody Maker, which is sort of like a double-cutaway Les Paul.
In fact, Joan and the Melody Maker are so synonymous that Gibson released a signature model in her honor.
She was eventually inducted into the Rock and Roll Hall of Fame in 2015.
Stevie Nicks
There are few female singers that have the notoriety that Stevie Nicks has. Females today often fashion themselves after Stevie's distinct bohemian look.
Stevie quickly rose to fame after she joined the lineup of Fleetwood Mac in the 1970s. Her work from this time period is some of the most famous enduring music still finding relevance to this day.
The 1980s saw Stevie Nicks venture out and try her shot at a solo career. This would be a massively fruitful endeavor, with her debut album becoming Platinum-certified multiple times.
You might be familiar with the track Stop Draggin' My Heart Around, which comes from this album. It's a notable song because it features a collaboration with Tom Petty.
That wouldn't be the only famous collaboration on the album. She and Don Henley recorded Leather And Lace together, which also became a bonafide hit in its own right.
Throughout the 80s, Nicks would be active in both her solo career and with Fleetwood Mac.
As far as achievements go, Stevie Nicks has more than her fair share of accolades. Before her, no female had ever been admitted into the Rock and Roll Hall of Fame more than once.
She is also widely recognized as being one of the greatest songwriters of the last century. A few of the albums she is on are considered to be some of the best of all time.
You really can't get much bigger than Stevie Nicks in regards to having a musical presence. Today, she continues to inspire women to be musicians just as much as she did in the 1980s.
Bonnie Raitt
As far as female lead guitarists go, Bonnie Raitt is by far one of the best of all time. Since the 1970s, Bonnie has been wowing audiences with her slide guitar techniques.
Even the king of blues himself, B.B. King, gave credit where credit was due. You know you're doing something right to receive his compliments.
Raitt started to achieve moderate success in the late 1970s. However, it really wasn't until the end of the 80s that Raitt had a smash hit.
The album that did it for her was entitled, Nick Of Time. It would go on to top the charts and caused Raitt to win 3 different Grammy awards in 1990.
Raitt had also contributed to a recording of blues guitarist John Lee Hooker's song I'm In The Mood. She would go on to win a Grammy for this, as well, proving to be a very commendable achievement.
Bonnie is usually known to play a Fender Stratocaster, which she's had since 1969. Fender has produced a signature replica line of this very Stratocaster in the past, attesting to her pure skills.
While she might not have had the mainstream successes of others, Raitt is a truly accomplished musician. She's played alongside some of the most respectable musicians some could only dream of playing with.
In fact, she's been in the Rock and Roll Hall of Fame since 2000. Bonnie really is one of the most inspirational female guitarists of all time.
Jefferson Starship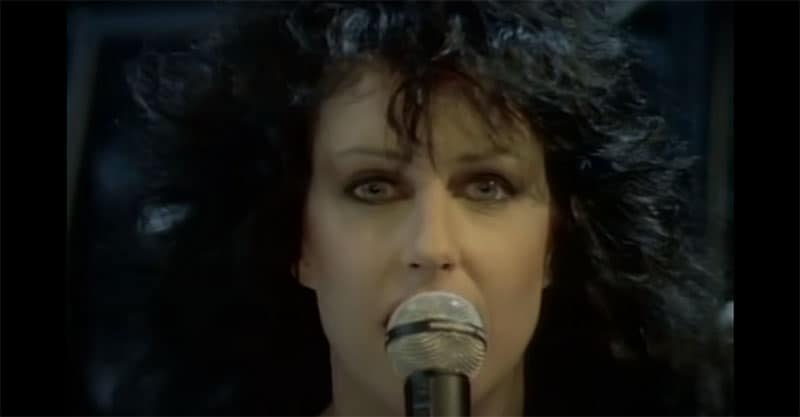 Are you familiar with the psychedelic-hazed 60s band, Jefferson Airplane? Ever wonder what happened to them as the times evolved beyond the hippie era?
Part of the group went on to form the band Jefferson Starship. This would include the psychedelic queen herself, Grace Slick.
The original group would definitely be carried by Slick's very unique voice, which helped to define the late 60s.
Grace made it very apparent that she had more to offer than her iconic performance of White Rabbit. In fact, she would evolve quite well with the changing times, with the group becoming a force of nature.
Jefferson Starship had a solid run until the mid-1980s. During that time, they had many albums that were extremely successful on a commercial level.
Songs like, Find Your Way Back, Winds Of Change, and No Way Out, serve as a testament to their success. These tracks ensured that the group didn't end up falling out of popularity.
Lita Ford
Lita Ford is another person who was actually in the 1970s all-female group The Runaways. She played guitar alongside Joan Jett, where Lita performed lead guitar duties for the band.
Like Jett, Lita Ford was only 16 when she joined up with the other members of The Runaways. Her guitar parts became a signature aspect of the group's overall sound.
In the early 1980s, after the group broke up, she started a solo career. However, she was not as initially successful as Joan Jett was.
During the 1980s, Lita was still very active as a musician and did have some moderate success worldwide. It wasn't until the final years of the decade that Lita really got to experience massive commercial success.
This would ultimately come to a culmination when she did a song with Ozzy Osbourne called, Close My Eyes Forever. The song would chart within the top 10 spots and enjoyed play on all media channels.
Lita Ford managed to finish out the 1980s relatively strong, though her success did gradually decline. She took a break until the mid-90s, where she's been active ever since.
As a musician, Lita Ford is a very competent lead guitarist. She's been seen playing a Gibson SG, as well as various B.C. Rich guitars.
If you didn't know, Lita actually started her own guitar company in 2018.
Lita also endorses Marshall amplifiers, which she has been consistently using since her time in The Runaways.
As a guitarist, Lita has enjoyed widespread recognition, often being featured in various guitar magazines and other media outlets.
She's even had a career in the visual arts, having roles in various films and TV shows. Lita has also dipped her toes into the world of voice acting, contributing hers to the video game, Brütal Legend.
Babes In Toyland
The inclusion of Babes In Toyland might be a little controversial, especially because their success came in the 90s. However, the group did form in 1987, which counts the band as an 80s band.
In fact, it was the early years that really set the stage for the kind of success the band would later receive. The band's performances were what really gained them attention, particularly from some massive players in the industry.
One notable group that was fond of Babes In Toyland was Sonic Youth, with whom they toured in 1990. Sonic Youth had a massive reputation and having their stamp of approval was a great accomplishment.
In 1989, Babes In Toyland would start to record their debut album, which would be released the following year. This is ultimately what put the group on a trajectory to success.
Even legendary BBC DJ, John Peel, deemed the album to be his personal favorite to have been released that year. If you're just a casual music fan, you know that particular name has some weight to it.
Babes In Toyland seemed to be one of those bands that had the right sound for the changing of times. The 90s were all about intensity and rawness, and this all-female group had plenty of that to provide.
The Go-Go's
The Go-Go's are by far one of the most popular all-female bands of the 1980s. With a name obviously inspired by the Whiskey A Go Go venue, this band seemed destined to go places.
This band had a rock sound that was perfectly tinged with the right amount of punk rock attitude. Sprinkle in some tasteful pop sensibilities, and you have yourself a winning combination.
The Go-Go's were able to accomplish what no other girl band had done before. They hit the top of the charts on their debut release.
You have to understand that commercial all-female bands weren't really a thing until the 1980s. They did exist prior but were incredibly rare.
Quite often, those groups would employ a backing band of men, with the ladies providing vocals. Every member of The Go-Go's played their own instrument and they all wrote their own songs.
Their song, We Got The Beat, would help to propel the group's debut album to the number 1 spot. It would also become one of the most enduring songs of the entire decade.
We Got The Beat is still incredibly popular today. Even high school marching bands perform this as part of their repertoire.
In 2021, the group was honored with admittance into the Rock and Roll Hall of Fame. They have a well-earned spot amongst some of the greatest female performers of all time.
Debbie Harris
If you aren't familiar with the name Debbie Harris, you're likely familiar with her band Blondie. That band rose to commercial prominence in the late 1970s, helping to launch Debbie's own solo career in the 80s.
While Blondie did have some massive hits, the band actually took a break at the start of the 80s. It was then that Harris struck out on her own and began exploring her career in other avenues.
Throughout the 80s, Debbie's solo career achieved fairly moderate success, though nothing compared to Blondie. Later in the 80s, the band would come together, playing intermittently throughout the following decades.
As an actor, Debbie Harris has a fairly sizable catalog of films. She's had roles in Tales From The Darkside: The Movie, and Hairspray.
Perhaps her most notable acting role was in Videodrome, a truly odd film by David Cronenberg. It is a must if you're a fan of late-night mind-bending horror flicks.
Debbie's role in music definitely helped to pave the way for other females to find success in the industry. Blondie has been in the Rock and Roll Hall of Fame since 2005, partly because of Debbie's influential contributions.
The Bangles
Are you familiar with the 80s hits Walk Like An Egyptian and Manic Monday? These hits could have only come from the iconic 80s band, The Bangles.
The Bangles are another group that consisted solely of girls in the lineup, with the exception of some touring members.
This group would be incredibly active throughout the entire decade. However, it wasn't until 1987 when The Bangles started to achieve wide mainstream success.
The Bangles would go on to win a few awards over that timespan for their various hit releases. By far the most iconic of all has to be Manic Monday.
Upon listening with close inspection, you might detect that the song has a very familiar sound. That would be because Prince actually wrote the song.
Despite having an active career in the 1980s, The Bangles are still active today. If you need the nostalgia, be sure to catch them when they announce a show near you.
Top Girl Bands Of The 80s, Final Thoughts
The 1980s saw females becoming a bit more widely accepted as being valid artists. Unfortunately, many females were still targeted by record executives as something marketable for commercial gain.
Take the time to recognize and acknowledge the females who contribute music to your local music scene. Chances are, you're sure to discover some musical treasures.