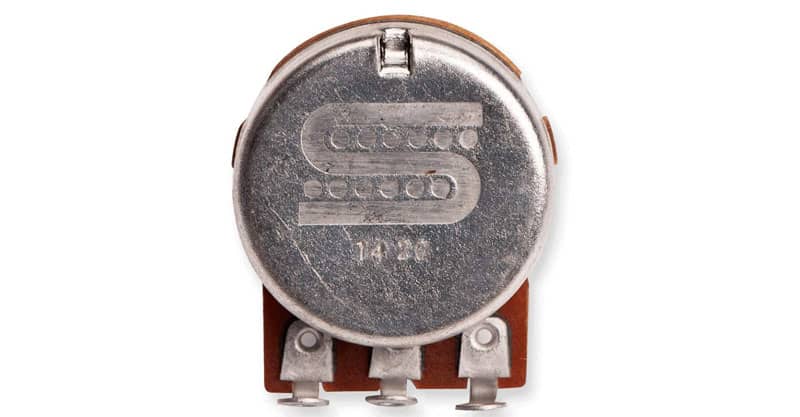 Guitar Aficionado is supported by readers. If you buy something after clicking on one of our links, we may get an affiliate commission from that & it won't cost you anything.
Guitar pots become worn and dirty over time. You can maintain them with a little bit of upkeep, but sometimes it's nice to swap out old gear for new gear.
There are other reasons to swap out guitar pots too, including the tone benefits that can come from the right setup.
So, in this guide, we'll look at the best replacement parts for your guitar.
Seymour Duncan YJM Hi-Speed Volume Pot (250k)
Seymour Duncan is best known as a maker of quality aftermarket pickups (though some guitars come equipped with them too). To that extent, they are a trusted brand and their pots are also highly rated.
The Seymour Duncan YJM Hi-Speed volume pot has been designed with single-coil configurations in mind. It can be used for your volume or tone control, though it doesn't come with a knob (in most cases, you can always use the one that's already on your guitar).
This is a great choice for anyone who finds the resistance on their knobs a little too high. For instance, if you like using techniques like volume swells on your guitar, you'll find this pot will reduce hand cramping because of how smooth and easy it is to turn.
It might not be great for players who find themselves accidentally hitting their knobs, as that could mean instantly going from 0 to 10, or from 10 to 0 at the least opportune moments.
By the way, we checked to make sure that the hi-speed does make a difference, and yes, it does.
YJM, in case you didn't know, stands for Swedish virtuoso guitarist Yngwie J. Malmsteen, who worked with Seymour Duncan to develop this kit.
But is this extra functionality worth the asking price? Many users thought so and pointed out that it worked great with Fender guitars (no surprises here, as most Fender guitars feature single-coil setups).
Some guitarists didn't like the feel of the pot. So, resistance is going to come down to preference. But if you find yourself fiddling with your knobs a lot and would prefer a speedier response, the Seymour Duncan is worth experimenting with.
Item weight: 0.353 ounces
Dimensions: 7.09 x 3.54 x 1.57 inches
Jim Dunlop DSP500K Super Pot Split Shaft Potentiometer
Jim Dunlop is known for all manner of guitar accessories – pedals, picks, capos, cables, strings, and a whole lot more. With their name being so ubiquitous in the guitar world, if you've been playing guitar for any amount of time, it's unlikely you haven't heard of them.
The Jim Dunlop DSP500K super pot is made with humbucking setups in mind, but they've also got 250K equivalents for those who have single-coil setups. So, either way, you might be interested in this potentiometer.
This pot comes with fine-knurled 24 spline split shaft, audio taper, and sealed construction that resists dust and corrosion. Manufacturer even claims these pots never require cleaning and never get scratchy(!) and they even come with a lifetime guarantee. That alone might be worth it to some guitarists.
Reviews are slightly mixed though. Some buyers said they loved the quality of the Jim Dunlops.
Some reviewers, however, said there was no noticeable difference between the super pot and much more affordable pots, and others even said their build quality is a little suspect.
Item weight: 1.13 ounces
Dimensions: 6 x 3.5 x 1.5 inches
Seymour Duncan 500K Potentiometer
Not everyone is going to go wild over resistance reduced YJM potentiometers. Fortunately, there are some worthwhile Duncan alternatives, such as this one – the Seymour Duncan 500K potentiometer.
This is a smooth turning pot, ideal for humbucking setups. It can be used for volume and tone control, and it comes with evenly tapered control.
Overall, the 500k pot seems quite responsive. Most reviewers were quite happy with it and found it offered smooth turning indeed.
Although they were certainly in the minority, some users had issues with build quality, fit, and scratch.
It's always worth checking whether the pot you've chosen fits your specific guitar. In some cases, it may not without some modification.
Item weight: 0.81 ounces
Dimensions: 7.09 x 3.54 x 1.57 inches
CTS 500K Electric Guitar Pots Guitar Linear Potentiometer B500K
I like to think of CTS as the generic brand for guitar pots. They generally work as replacement parts and are relatively standard in their functionality.
The CTS guitar linear potentiometer is available in multiple configurations, and they have 250K counterparts as well. So, if this seems like the right pot for you, you shouldn't have much trouble finding one that's right for your axe.
The B500K is a split shaft pot with coarse knurling, nut and washer, and was made in Taiwan. CTS claims they have both Taiwan and US factories, though we can't confirm or deny that.
Some buyers say CTS is the only brand they trust and loved the quality of the pots. Nitpicks are few and far between.
Item weight: 0.81 ounces
Dimensions: 2 x 1 x 0.75 inches
Fender 500K, Split Shaft Potentiometer For Volume Or Tone
Some guitarists are going to see "Fender" and instantly want this pot over others. After all, Fender is one of the most trusted and recognizable guitar brands out there. But does the Fender 500K split shaft potentiometer live up to reputation?
This Taiwan-made potentiometer claims to be a genuine Fender replacement part of high-quality and durability.
It seems most users had good results with this guitar pot and noted its quality.
There are some unhappy users, too, saying this is not a genuine Fender part and it didn't fit their guitar. But Fender has many guitars, so it's possible this pot won't work for all Fenders.
Item weight: 0.18 ounces
Dimensions: 5.1 x 3.2 x 1.1 inches
CTS No-Load 500K Tone Pot
The CTS No-Load 500K tone pot is for tone control knobs on a dual-coil guitar setup. At this price point, they certainly are good bang for buck, but without many other details to go on, it's hard to be decisive. Let's examine what users said.
The good – some customers loved the CTS pot and even said they liked it better than the Fender alternatives.
The bad – others said this would not be an upgrade over stock pots, and said they weren't quite the quality they expected.
Item weight: 0.8 ounces
Dimensions: 1.25 x 1.25 x 1 inches
Fender Original 250k Splitshaft Potentiometer, Volume Or Tone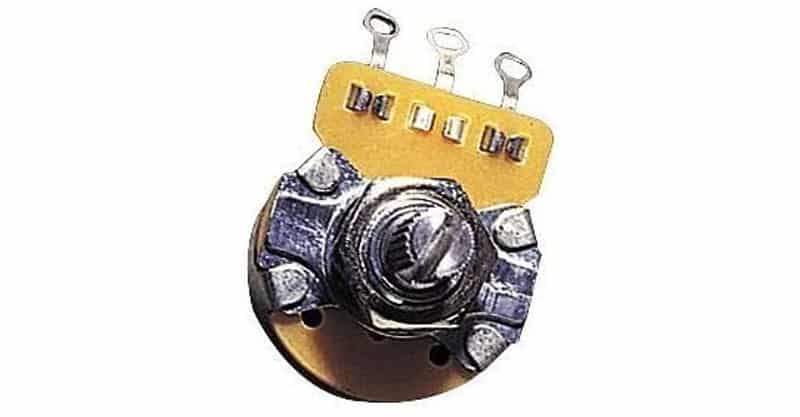 The Fender Original 250k splitshaft pot claims to be an original Fender factory part and comes with a 250k split shaft design. Also included are a nut and washer, and the pot can work as a volume or tone pot on a single-coil guitar.
Some users had incredible results with this pot, in terms of response and clean tone.
But best we can tell, these Taiwan-made pots didn't deliver the tone users were hoping for, at times even altering the tone of their axe.
Item weight: 0.8 ounces
Dimensions: 11.42 x 7.48 x 3.54 inches
Musiclily Guitar Full Size Pots A500K
As with the CTS linear potentiometer introduced earlier, the Musiclily full size pots come in multiple configurations and with different resistance ratings. So, regardless of whether you're buying for a single-coil or double-coil guitar, you should be able to find what you're looking for.
This pot claims to fit any 6mm knobs, whether on a Fender Stratocaster or Gibson Les Paul. The A500K features an audio taper design and is made with metal alloy.
Buyers liked the design of these pots, as they kept noise and scratch to a minimum.
Others said they didn't like the stiff resistance (which is a matter of taste), and others had issue with noise.
Overall, it seems like it depends which model you get.
Item weight: 0.704 ounces
Dimensions: 3.15 x 1.77 x 1.18 inches
CTS TAOT Custom 500K Short Shaft Vintage Taper Volume Pot – 450G
The CTS TAOT Custom 500k vintage taper volume pot promises a smooth taper ideal for volume controls, spline shaft, brass brushing and shaft, and have 10% tolerance. They're made for U.S. guitars and aren't intended for use with import guitars, just so you know.
Some guitarists found these babies worked better than stock potentiometers. Others didn't like the feel of these pots, saying they weren't responsive enough.
Item weight: 0.64 ounces
Dimensions: 3.5 x 2.05 x 1.16 inches
CTS 500K Short Shaft Audio Taper Pot
The CTS 500K short shaft audio taper pot comes with aluminum brushing and shaft, features U.S. sizing, and has 15% tolerance.
This potentiometer can work with volume or tone knobs and it has a modern wiring configuration too. Obviously intended for use with humbucking setups.
The best part about this pot is that it has a smooth roll off with no cracking. Others liked the overall quality too.
Some users seemed to have issue with installation and adjustment, but if you work with a guitar tech, you probably won't have that issue.
Item weight: 2.39 ounces
Dimensions: 1.25 x 1.25 x 1 inches
Bourns Guitar & Amp Potentiometer, 500K Audio, Knurled Split Shaft
Finally, we have the Bourns knurled split shaft guitar and amp potentiometer. Its standout feature is that it's the most affordable pot on this list, but that's not saying much considering how affordable pots are to begin with.
This pot is not compatible with US-spec knobs. Also, it cannot be used in import guitars with metric components, so that limits its use big time.
What users liked best about this pot is that they turn smoothly, making them great for volume swells. Some even said they liked the Bourns better than DimMarzio and ProLine pots!
Others said these are adequate at best.
Item weight: 0.16 ounces
Dimensions: 4 x 1 x 3 inches
What Factors Should I Consider When Shopping For Guitar Pots?
Although pots aren't expensive, it's always nice to "nail" the purchase, because it means you'll be happy with your electric guitar setup for a long time to come.
There isn't a whole lot to know about potentiometers, so a little bit of homework should be enough to send you on your way.
In this section, we'll look at:
250k and 500k pots
Pot type
Pot fit
Budget
Let's dive right in.
250K Or 500K?
Most of the time, you should be buying 250K pots for single-coil setups, and 500K pots for double-coil setups. If you have any questions, or if you're in doubt, then consider calling up your local guitar dealer or guitar tech.
For custom or more sophisticated modifications, we always recommend working with a qualified guitar tech (unless you're a guitar tech yourself!).
Type?
At the top level, we have mini and full-size pots. Under that umbrella, you'll find short-shaft, long-shaft, and push-pull (for split-coil designed guitars) pots. In terms of design, you'll also see split shaft and solid shaft design.
So, make sure you know what you're getting and that it will work correctly with your guitar.
Fit?
Can be a bit of a challenge (also see Type). This shouldn't come as a surprise considering the sheer number of guitar brands and products available. They aren't all created the same.
Do your homework and see what you can find. Do some pots work better than others for specific types of guitars? Would you need to make some slight modifications? Would the modifications be worth it?
Budget?
Not a concern. Pots are inexpensive, even if the top shelf ones are 3x the cost of cheaper ones. Under no circumstance should you go broke buying guitar pots!
Should I Swap Out Pots Myself?
If you already have experience with swapping out guitar parts and soldering, then this is something you might be able to do on your own. If not, you should refer to online video tutorials. The process can be done in less than an hour, but if you're new to it, it could take you several hours.
If you're interested in "turning every screw" and learning exactly how your guitar works, then you can certainly learn to do it yourself. The risks are relatively low (assuming you research the steps), and so is the cost.
If you don't like dealing with wires and the technical aspects of a guitar, then just get a guitar tech to do it. Sure, it might cost you more, but you could probably get them to do a couple more things without having to pay for more of their time (replace strings, dress the frets, etc.).
Does Brand Matter?
Yes and no.
Brand does matter to the extent that different manufacturers create products of varying quality. To that extent, finding a trusted brand (and checking reviews) can help you find potentiometers you'll be completely satisfied with.
But where brand doesn't matter is when it comes to matching up your guitar brand with a guitar pot brand. This is impossible since most guitar manufacturers don't make their own pots (many use stock pots on their guitars and brand them as their own).
More commonly, you will find that makers of pickups and other guitar accessories are more likely to have their own set of potentiometers (Seymour Duncan and Jim Dunlop being the perfect examples).
What matters more is the resistance rating of the pot. And generally, they are either rated 500k or 250k.
500k pots are designed for humbucking or double-coil pickups. 250k pots are designed for single-coil pickups.
So, when choosing your pots, make sure you're getting the right ones based on your guitar's pickup configuration.
Best Guitar Pots, Conclusion
We hope you found exactly the guitar pot you were looking for!
The right components do make a difference, and while it might seem inconsequential, you can't forget about the importance of something as small as pots.
Have fun shopping!