Guitar Aficionado is supported by readers. If you buy something after clicking on one of our links, we may get an affiliate commission from that & it won't cost you anything.
Guitar games can not only be a great extracurricular activity for a mental workout but can be an excellent source of entertainment as well. Let's face it, everyone needs a break every now and again, and games can help keep you entertained as well as help you keep your skills sharpened when you're away from the instrument.
In this article, we will cover the best guitar games that you can experience today. These will range from applications for mobile devices to browser-based and computer-based software. Read on and see which games sound like they would be a good match for you.
Guitar Games for Learning
Despite what you might have experienced in a school setting, learning doesn't have to be a boring endeavor. In fact, with the right approach, learning can be made fun, with incentivized rewards to motivate you to continue on in your quest for more knowledge and a higher skill level.
Whether you are an absolute beginner or a seasoned player, you are likely to find value in the following guitar games. These games are primarily designed to help you learn.
Rocksmith+
As far as guitar games that are fun and help you actually learn the guitar, Rocksmith+ is one of the best options you could find. While it is a subscription-based service, you will be able to use the app to learn some of your favorite songs along with the guitar techniques used in each song.
Rocksmith was originally released on video game consoles in 2011-2012 by the video game studio Ubisoft. The game was instantly famous as it took many aspects of well-established games such as Guitar Hero, but designed in a way that actually involves a real guitar.
Yes, you read that correctly. Rocksmith+ allows you to use any guitar that has an output jack. The game has a mobile app that pairs with the desktop version to connect the guitar signal. However, you can also connect to the game with an audio interface with 1/4" input capabilities, or by using the Rocksmith Real Tone Cable.
While Rocksmith+ does have a game feel to it, the program is incredibly dense with practice tools to help you learn your favorite songs. Some of these tools include:
Riff repeater for isolated sections
Speed control
Customizable difficulty
Rocksmith+ also has a unique feature called Rocksmith+ Workshop, which allows you to effectively compose your own songs on the guitar. You can then play your songs on the program, as well as upload them to the public database for others to be able to play through their subscriptions.
It should be noted that the program cannot be used offline. The subscription is also limited to the platform indicated when first subscribed, as cross-platform capabilities are not supported at this time.
Currently, Rocksmith+ is available on the following platforms:
PC
Android/iOS mobile devices
Playstation 4/Playstation 5
Xbox One/Xbox Series X
Overall, it might be worth looking into Rocksmith+ if you have the necessary equipment to connect your guitar to the app. This game could be especially helpful for those looking to add a gaming element to their learning and practicing sessions.
Yousician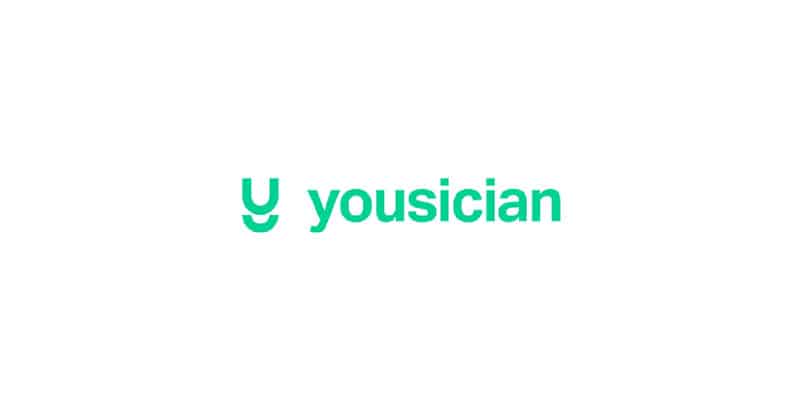 Another app that gives a game aspect to learning the guitar is Yousician. The app is very popular, with over 20 million registered monthly subscribers using the program.
Yousician features an intuitive user interface that not only has a wealth of different lessons related to the guitar but has a database of 1800 different songs in its catalog. This means that you can learn your favorite songs and have fun doing them.
If you have a goal to play a certain amount of time each day, Yousician tracks the amount of time you spend in the app so you can properly monitor your time-based goals. When you accomplish goals within the app, you will receive rewards to keep you incentivized to continue learning.
Within the app, you have a wide range of choices when it comes to the type of material you would like to learn. Lead guitar and rhythm guitar aspects are covered, as well as some technique-related categories such as fingerpicking.
Yousician has tools that are critical when it comes to learning difficult passages and phrases. Within the app, you can slow down the song being learned to a desirable speed, and loop isolated phrases that you may have trouble with.
All you need to use Yousician is a subscription to the app and your guitar (both acoustic and electric guitars are supported). The app utilizes the microphone in your device to register your playing, giving feedback in real-time with regard to accuracy and precision.
Currently, Yousician is available on the following platforms:
Android/iOS mobile devices
PC
Yousician is not limited to the guitar. In fact, the application has lessons and games for the piano, bass, voice, and ukulele as well. This makes the subscription a worthy investment for those interested in learning other instruments.
MusicTheory.net Exercises
If you've ever scoured the internet in an attempt to learn music theory, you've likely come across the website MusicTheory.net. While this is an excellent resource with free lessons on music theory, the website has a trove of free browser-based exercises and games to sharpen your musical skills.
The MusicTheory.net exercises can be very helpful, especially if you struggle with concepts related to reading music. The website actually has exercises that are specifically tailored to guitarists.
Some of the exercises for guitarists include:
Fretboard note identification
Fretboard scale identification
Fretboard interval identification
Fretboard chord identification
Within these activities, the website allows you to customize the difficulty of the exercises. You can set the number of frets covered in the exercise, the number of strings being utilized, the tuning, and the number of key signatures. You can also enable the Challenge Mode, with which you can add a time limit as well as a maximum number of tries available for each question.
There is no question that having a well-trained ear is a valuable asset for any musician. The MusicTheory.net exercises offer a number of different ear training exercises available to keep your ears well-tuned.
Some of the ear training activities include:
Note ear training
Scale ear training
Interval ear training
Chord ear training
Keyboard ear training
Like the guitar exercises, the ear training games are completely customizable. You can even choose what instrument is playing the note(s) you need to identify, as well as the option for extended octave ranges and a reference note. Challenge mode is also available for these exercises.
If you should find that you enjoy the wide range of exercise games found on the website, you have the option to take the exercises with you anywhere through the website's Tenuto app. Tenuto is currently only available for iOS devices.
It can not be overstated how great of a resource these game exercises are, as they allow you to challenge yourself and learn something new at the same time.
For Entertainment
Learning can be fun and all, but sometimes guitarists just need to take a mental break. Games have been shown to be beneficial in providing an energetic outlet, as well as improving cognition.
If you're absolutely obsessed with the guitar and are looking for games that are guitar-related, be sure to check out some of the following games. While these aren't tailored towards learning the instrument, they could prove to be somewhat beneficial in rhythmic concepts.
GuitarFlash
One of the most fun browser-based games available on the internet is GuitarFlash. This is a game modeled after the famed game Guitar Hero but is played with the computer keyboard.
On GuitarFlash, you can play an extremely large number of different songs, with more being added on a regular basis. When you pick a song, you have the option to choose the difficulty level, ranging from easy, medium, hard, and expert.
GuitarFlash also has the option to choose which style of game you prefer to play. One option is to just play the notes, with the other option being playing notes and strumming at the same time (which is notably more difficult).
When you choose a song, the song's YouTube video will play as the scrolling guitar neck provides the notes that you will need to play.
To play the notes in the game, each string corresponds to a numerical keyboard key (1-6). Strumming involves pressing the enter key. To successfully play and strum, you will have to press the corresponding numerical keys as indicated as well as the enter button to strum the notes.
You can play GuitarFlash for free without an account. However, you can have more fun by creating an account (which is still free) to qualify for the ranking system to see how you stack up compared to worldwide competition. You also have the option to play another person head-on through multiplayer mode.
GuitarFlash is also available for Android and iOS mobile devices and can be downloaded for free in the corresponding app stores.
Guitar Band Battle
Another free rhythm-based guitar game available for Android and iOS devices is Guitar Band Battle. This game has been an extremely popular download and takes inspiration from the game Guitar Hero.
Guitar Band Battle is somewhat of an RPG, having you start out playing in the garage. Progressing in the game means that you start to play bigger stages.
The game is unique in that you have the option to use guitar replicas from famous companies such as Fender, Gibson, Kramer, Epiphone. You also have the option to hire musicians to assemble your band in your quest to become the world's most famous musician.
Guitar Band Battle also provides rankings so you can track how well you are playing compared to other players from around the world. Plus, having a multiplayer aspect to the game makes it that much more exciting to play.
Overall, this is a fun game that can quickly become competitive. Plus, if you have aspirations to be in a world-famous band, you might pick up some inspiration on things you might do in the real world with your own band.
Best Guitar Games Online, Final Thoughts
Guitar games can be incredibly fun to spend time with. In fact, many games can help you keep your musical skills sharp. There's even games like Rust which have guitar elements.
With that being said, do be sure not to rely solely on these games to support your growth as a guitarist.
Much of the work necessary to become a great guitarist involves hands-on experience, as well as music analysis to understand how and why things work. However, guitar games can be a great source of relaxation and entertainment when you just need to take a break.