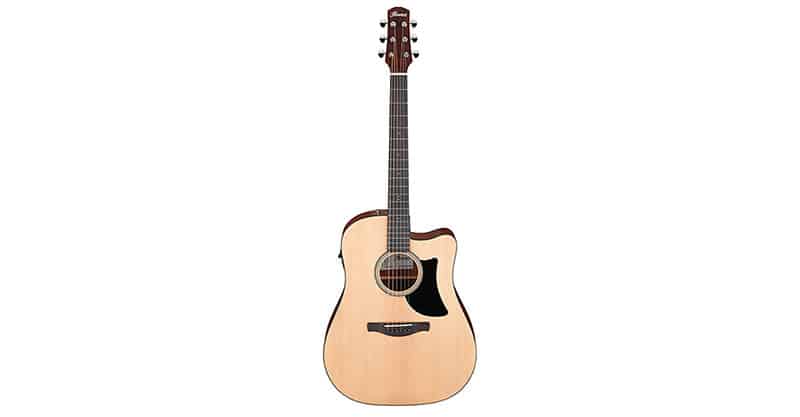 Guitar Aficionado is supported by readers. If you buy something after clicking on one of our links, we may get an affiliate commission from that & it won't cost you anything.
The acoustic guitar is often the guitar of choice for a beginner's first guitar. This allows them to play anywhere without the necessity of an amplifier.
What's fortunate is that today's beginners are absolutely spoiled for choices, many of which are of excellent quality. The following guitars serve as prime examples fit for any beginner looking for their first acoustic.
These guitars could very well become lifelong companions!
Yamaha APXT2 – Best Overall
Looking for some of the most value at a cost that can't be denied? The Yamaha APXT2 is loaded with features that ensure its relevancy in your life for years to come.
This guitar is effectively labeled as a travel-sized guitar, which makes it fairly small in overall size. As such, both children and adults will have no issues playing this guitar.
The guitar itself has a cutaway body design, with an overall design reminiscent of a modified miniature dreadnought. Its body features a Spruce top in combination with a tone wood laminate (usually made with locally-sourced materials).
Like the body, Yamaha crafts the APXT2's neck out of a tonewood that is convenient and on-hand. The fretboard itself is crafted from Rosewood, offering 21 fully-playable frets.
This fretboard has a 15.75" radius, with a nut width of 1.6875". The scale length of the guitar measures 22.81", which is considerably shorter than average.
Yamaha has also used Rosewood for the APXT2's bridge, opting for plastic on the nut and saddle. Covered tuners provide a fairly standard tuning experience.
Where things start to get interesting with the APXT2 is the fact that it's equipped with electric capabilities. The guitar has a pickup and a preamp that provides a convenient built-in tuner, and controls for volume and tone.
Aesthetically, the APXT2 is definitely not your average guitar shape, but it doesn't look out of the ordinary. You can choose between the color options of:
Both color options have an attractive cream binding that helps to pull the guitar's visual dimensions together. A 3-ring rosette around the soundhole provides that classic acoustic look.
As if that wasn't enough, Yamaha has also provided a gig bag with the APXT2.
What's So Great About The Yamaha APXT2?
If you can get beyond the fact that the APXT2 is technically a travel-size guitar, you'll see its incredible value. Sure, it's definitely a bit smaller than your standard dreadnought guitar.
But, if you're somebody that finds larger guitars awkward to play, the APXT2 will be a great fit. It's small, but not so small that it feels like a cheap toy in your hands.
In fact, it might actually be a bit easier for beginners to play, thanks to its shortened scale length. This essentially decreases the space between each fret, minimizing the need for excessive and awkward finger stretches.
Unlike many of the guitars in their similar price range, the APXT2 has a cutaway design. This means you'll be able to bust out your favorite guitar leads, taking advantage of the guitar's entire range.
The fact that it comes with electronics ensures that you'll be able to use the guitar for years. All too often, beginners will end up purchasing another guitar once they're ready to perform on stage.
More often than not, such electronics aren't typically offered at a beginner budget's price. With the APXT2, you won't need to worry about having to upgrade your gear just to play a gig.
Plus, since it's so small, you'll find the guitar ideal for any travel situation, whether by car, train, or plane. It's small enough to be stowed away, usually without having to pay an extra fee for storage space.
The fact that Yamaha includes a gig bag at this price point is almost unheard of. It doesn't make the guitar better, but it does make it an economical choice of value.
Despite being small, the APXT2 has a balanced tone with a bright crispness. It has a decent volume projection considering how small it actually is.
Ibanez AAD50CE – Best Premium
Maybe you've had some time under your belt and have had to borrow a guitar to learn the instrument. In cases like this, spending a bit more for the Ibanez AAD50CE is a worthwhile consideration.
This guitar comes from Ibanez's Advanced Acoustic series, which adds modern innovation to a traditional design. The fact that it's offered at an affordable price is something that shouldn't be overlooked.
On the surface, the AAD50CE is described as a Grand Dreadnought guitar, with a cutaway design. The body of this guitar is noticeably a bit thicker in width than your traditional Martin dreadnought-inspired guitar.
In its construction, the AAD50CE features a Sapele body with a Solid Sitka Spruce top. Ibanez has used both X and M-style bracing for greater enhancement of the tonal range.
Nyatoh is used for the AAD50CE's construction, which features a C-shape-inspired modern neck contour. The fretboard is crafted from Purpleheart, which has a 15.75" radius and is adorned with a modernized dot inlay pattern.
For the most part, this guitar has fairly standard measurements akin to what most guitars have. The scale length measures 25.5", while the nut width measures 1.69".
Like the fretboard, the bridge is also made of Purpleheart, with both the nut and saddle made of plastic. Standard chrome die-cast tuners provide a respectable tuning experience, as you would expect.
Part of this guitar's value is in the fact that it's equipped with an under-saddle pickup and preamp system. The preamp itself comes with features such as:
Built-in tuner
3-band EQ
Volume control
Aesthetically, the AAD50CE looks like a traditional dreadnought with a winged pickguard and a decorative rosette. It has a satin finish, giving the guitar more of a matte look while reducing pesky fingerprints.
What's So Great About The Ibanez AAD50CE?
After reading the guitar's overview, you might be wondering exactly what makes this an "Advanced" guitar. As you might guess, it's not that it's for advanced players (it could be), but for the innovations in design.
Guitarists tend to be purists at heart, wanting the closest thing to a vintage guitar without openly accepting change. But, sometimes, changes can be so beneficial that they can completely change the game.
What Ibanez has done here is subtle and might not be noticed right away. For starters, they've contoured the neck heel to provide greater access to the upper frets.
Anyone who plays leads on an acoustic knows that the heel joint can sometimes get in the way of things. Contouring this part of the guitar can already be found on some of the most high-end electric guitars.
Ibanez has also figured out how to get more out of the traditional dreadnought design. By adding a hint of more depth to the body and combining X and M-bracing, the result is fascinating.
In some ways, it's almost as if Ibanez found a way to put a compressor inside the acoustic. The natural tones in every range of the EQ spectrum are noticeably more pronounced and alive.
Of course, the addition of pickup electronics is always nice, but that isn't even the real kicker. Not only is there a standard 1/4" output, but Ibanez has also included an XLR output as well.
This gives you greater flexibility over your stage rig, allowing the choice of how you want to route your signal.
The inclusion of a gig bag would have likely made this one of the best deals on the market. But, for the money, this is a fabulous guitar that competes with the craftsmanship and designs of more expensive models.
Yamaha JR1 – Best Budget
Looking for a solid guitar that doesn't cost a whole lot of money? The Yamaha JR1 is one of the best choices available at a low cost.
In many senses, this is a no-frills dreadnought acoustic that gets the job done. Its body is crafted from Meranti and features a Spruce top for a bright and balanced tone profile.
Yamaha has used Nato for the neck, which has a familiar C-shape contour for comfort and playability. The fretboard is crafted from Rosewood, offering 20 frets outlined by traditional dot inlays.
Rosewood is also used for the JR1's bridge, which helps provide a uniform resonance along with an aesthetic touch. Yamaha has used plastic for both the nut and the saddle, with open chrome tuners at the headstock.
As far as measurements go, the JR1 is actually a 3/4-size acoustic guitar. So, not only is the body smaller but the scale length is shortened to 21.25".
Unfortunately, there are no electronics installed into the guitar, which is partly the reason for its price. Nevertheless, Yamaha has included a gig bag with the JR1, making it portable right out of the box.
Aesthetically, the JR1 has a vintage vibe to its look. The color Yamaha has used is tinged with an aged-looking pigment, striking a nice balance with the guitar's different woods.
A classic tortoiseshell pickguard, along with a 2-ring rosette help to give the JR1 a familiar look. The black binding provides a tasteful edge along the guitar's sides.
What's So Great About The Yamaha JR1?
Too many guitars these days try to achieve above and beyond what they are actually capable of doing. More often than not, these types of risks don't pay off, resulting in a lackluster guitar.
The JR1, on the other hand, is about as simplistic of an acoustic guitar as you'll be able to find. That's definitely not a bad thing, as its simple nature is actually what makes it a worthwhile beginner guitar.
In some ways, the JR1 provides an ideal learning platform without providing features that get in the way of playing. It's a guitar that definitely serves its intended purpose quite well.
The fact that it's 3/4 the size of a standard guitar makes it ideal for both children and seniors. Struggling with excessive finger stretches and awkward body dimensions are things you won't find here.
Those with arthritis might find its shortened scale length to be an absolute blessing.
This is a guitar that has the capability of being a lifelong guitar in many aspects. It might not be ideal for the stage, but it could become a budding songwriter's favorite guitar.
Even then, at this price, you could easily attach a soundhole pickup to the guitar for electric performances.
Yamaha is known for stuffing as much value into its instruments as possible, and this is a great example. It's practically the cheapest guitar Yamaha has, yet they've cut as few corners as possible.
Plus, Yamaha's inclusion of a gig bag means more money saved on a case/gig bag purchase. This is primed for travel to your guitar teacher's house or anywhere else that suits your fancy.
What To Look For When Buying A Beginner Acoustic Guitar
If you're not familiar with the acoustic guitar, it can make the process of buying one much more difficult. You could spend months in research, trying to figure out the pros and cons of different things.
Before you know it, you've spent an immense amount of time on something that might not have been that important. While research is extremely important, the process can be much more intuitive than you may have imagined.
The following ideas will help to serve as a compass, allowing you to figure out what is appropriate for you. You can take this information and use it for the rest of your life when considering any acoustic guitar purchase.
Body Style
If you haven't noticed, acoustic guitars come in many different shapes and sizes. In some ways, there might be just as many acoustic guitar styles as there are electric guitar styles.
How can somebody know what is the most ideal for their preferences? In general, guitars come in the following styles, each with a different size:
Dreadnought/Jumbo
Concert/Auditorium
Classical
Parlor
Travel
Fractional
Dreadnought acoustics have perhaps the most iconic design and is usually the most recognizable. These bodies tend to be fairly large, with most of the width in the hips of the guitar.
Concert and Auditorium guitars are slightly smaller than dreadnoughts, usually with more pronounced body cuts. Where dreadnoughts are usually boomy in sound, these maintain warmth and balance while providing volume projection.
Classical guitars feature nylon strings and usually feature a wider neck than steel-string acoustics. You'll be able to find these varieties in just about any size you wish.
Both the Parlor and Travel guitars are fairly similar in size, with Travel perhaps just a tad smaller. These are both designed to be portable, but also ideal for any casual situation (such as practice on the couch).
Guitars of Fractional sizes are essentially scaled down to provide a full-size playing experience on a smaller guitar. These are especially ideal for children, coming in the sizes of:
The only way to truly judge which body size is the best fit is to try it out for yourself. What's a perfect fit for somebody else could feel extremely awkward to you.
Neck Shape
One of the major areas to give attention to is the feel of the neck when in the playing position. Guitar manufacturers use many different types of contours, and not all of them will feel right to you.
For the most part, you'll find acoustic guitars with neck contours in the shapes of:
The best neck will provide the most comfort possible without compromising performance. Your hand spends its entire time on the neck, so make sure you find the right feeling neck for you.
Features
Some other things to consider are whether there are any features you might wish the acoustic guitar to have. Most acoustics in the beginner range tend to be fairly basic, but some do have offered features.
One of the first things to consider is whether the guitar has electric capabilities. This will allow you to easily plug the guitar into a PA for live performances.
Another thing to consider is whether you'd like the guitar to have a cutaway body style. With this, you'll have access to the upper frets of the guitar, which is especially necessary for lead players.
Tone
Les Paul once joked that the best way to purchase a guitar is to put a blindfold on. That way, you're drawn to the best-sounding guitar without falling prey to illustrious looks.
You should have a fairly decent idea of how you'd prefer your acoustic to sound. Are you looking for something bright and crisp, or warm and mellow?
Perhaps you're looking for the most-balanced tone possible, with the perfect blend of warmth and brightness?
These are all things you'll need to consider. The best way to do this is to hear the guitar with your own ears.
A guitar can be inexpensive, but if it sounds amazing, nobody listening to a recording will ever know its price.
Budget
The ideal budget for a beginner should not exceed the £300 area. Manufacturers build guitars in this range specifically with the beginner guitarist in mind.
At this stage, you might not be sure how dedicated you'll actually be to the instrument. This prevents you from spending a fortune on something you never actually stuck with (if you did quit).
If you've been playing for a while (perhaps on a borrowed guitar), it might make sense to spend slightly more. Time and dedication generally make for the strongest reasons to purchase a more expensive guitar.
Do consider buying a used guitar if you wish to save the most money. Vintage guitars aside, used guitars fetch for much less than the original cost in the store when they were new.
Best Brands For Beginner Acoustic Guitars
It's always a good idea to know what the best brands are in relation to what you're thinking of purchasing. The following brands have spectacular reputations for producing worthwhile beginner acoustic guitars.
Yamaha
Yamaha is one of the biggest names in the piano industry, with a growing reputation concerning its guitars. The company's beginner guitars are loaded with value and have been held to high acclaim over the years.
Ibanez
Ibanez is a well-known Japanese company that originally began as an importer of classical guitars. Today, the company is noted for exquisite craftsmanship for every budget and is home to a number of virtuosic players.
Best Acoustic Guitars For Beginners UK, Final Thoughts
While it's been mentioned, it's always worth restating that you should take the time to try each guitar for yourself. Being patient with the process will give you the greatest opportunity to find the best possible guitar.
A guitar that you love to play will ensure that your investment truly pays off beyond its initial cost. The guitars mentioned in this article definitely have advantages that make them worthy of consideration!