Guitar Aficionado is supported by readers. If you buy something after clicking on one of our links, we may get an affiliate commission from that & it won't cost you anything.
If you're looking for a 3/4 size electric guitar, chances are you're a beginner, student, a player with small hands, a parent buying a gift for their child, maybe even an uncle or aunt buying for their nephew or niece.
These guitars can come in handy when your youngster wants to play guitar but isn't ready for the "big time." Alternatively, they can be great instruments for regular travel and hauling about, as they tend to be quite robust.
Professional grade 3/4 size guitars are in scarce supply, but beginner level instruments are not. In this guide, we'll look at some of the best guitars for small hands and those still developing their finger dexterity.
Fender Squier 3/4-Size Kids Mini Strat Electric Guitar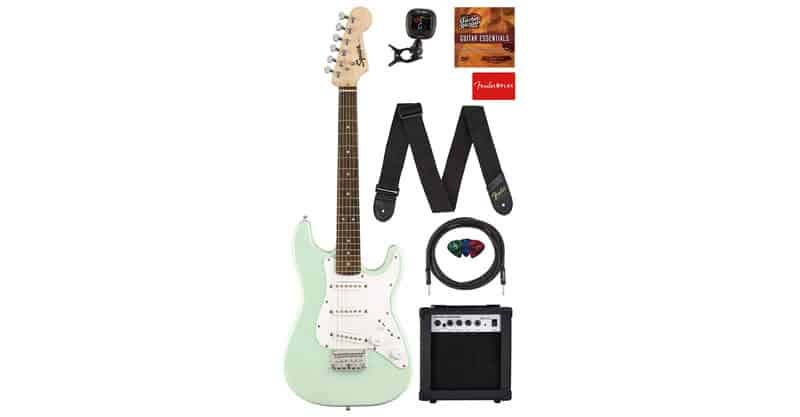 Fender is one of the top brands in guitar, in large part because of their Stratocaster and Telecaster models. They also happen to make some great beginner friendly guitars, usually in the form of Squier branded axes.
Here we have the Squier 3/4-size mini-Strat with a beautiful surf green finish. It's also available in black, brown sunburst, competition orange, Dakota red, and shell pink though.
Although my first guitar was a nylon-stringed classical guitar, my first electric was a Squier, and I can attest that they make for good beginner guitars.
This noisemaker features a 3/4-size body, 22.75" scale length, C-shaped maple neck, 20 frets, three single-coil Strat pickups with five-way switching, vintage style hardtail Strat bridge, and a convenient accessory bundle that includes the amp, instrument cable, tuner, strap, picks, Fender Play Online lessons, and an Austin Bazaar instructional DVD.
This bundle is one of the priciest of the bunch, but Squier is also one of the most trusted names in beginner instruments.
Buyers thought this was the perfect guitar for kids as well as for people with smaller hands.
Less enthusiastic reviewers said they had issues with the guitar's action and didn't think the included bundle was anything special (which is a bit of a common theme with the bundles regardless of brand).
Item weight: 13 lbs.
Package dimensions: 51 x 16 x 5 inches
LyxPro 30 Inch Electric Starter Kit For Kids
LyxPro has a good reputation when it comes to beginner guitars, and here we have the 30-inch electric starter kit that looks like it could be a ton of fun.
This beginner friendly axe is available in a few different colors/configurations, including the blue pictured here, as well as natural, pink, and red.
The guitar features a rosewood fingerboard, Canadian maple neck, volume and tone knobs, as well as one humbucking pickup.
The starter kit also includes the 20-watt amp with cable, digital clip-on tuner, instruction book, six backup strings, two picks, and strap. Most kits come with five-watt amps instead, so if you're looking for one with a little more power, this might be the kit to go with.
Buyers thought it was a great starter kit for beginners and some even thought it was the best deal available.
Some reviewers apparently had issues with keeping the guitar in tune though.
Item weight: 13.87 lbs.
Package dimensions: 7 x 13 x 34 inches
LyxPro 36 Inch Electric Guitar And Kit For Kids
The LyxPro 36 Inch electric guitar kit features a guitar that's slightly bigger than the one already introduced, but it is nonetheless 3/4-size, and it's available in the pictured red (with matching amp) or natural configurations (the natural finish guitar is closer to a Strat setup).
Its overall construction, though, is much like the last LyxPro we looked at. It comes with a rosewood fingerboard, Canadian maple neck, and volume and tone knobs. The main difference would be the two humbucking pickups (rather than one) and toggle switch.
You also get the full bundle deal – clip-on tuner, instruction book, a backup pair of strings, two picks, and strap.
Reviewers thought it was a great guitar for kids and liked its reasonable price point too.
Apparently, some buyers were sent the bundle with an incomplete set. Be sure to contact the seller if you run into such a predicament.
Item weight: 14.72 lbs.
Package dimensions: 36.5 x 13 x 6.6 inches
Ibanez GRGM21BKN 3/4 Size Mikro Electric Guitar
Japanese guitar brand Ibanez always seems to create guitars that are excellent value for the money, and we have no reason to think otherwise with the Ibanez GRGM21BKN Mikro electric guitar either.
It's even available in some of Ibanez' most iconic and popular finishes, like jewel blue, candy apple, blue burst, white, metallic purple, orange burst, walnut sunburst, and of course the pictured black.
The guitar comes with a maple top, mahogany body, maple neck, and rosewood fretboard.
The price doesn't include an accessory kit, but reportedly the guitar has been set up just like Ibanez' full-size GRG models. If that's true, this might be one of the best guitars in its class.
And if you need a left-handed model rather than a right-handed one, apparently that's an option too.
Buyers thought it was a fun guitar, great value, and perfect for small hands.
Some weren't quite as enthusiastic, though, and noted that the guitar could use a little setup work out of the box.
Item weight: 9 lbs.
Package dimensions: 37 x 3 x 14 inches
AXL Headliner Series Electric Guitar, 3/4-Sized
With the AXL Headliner series electric guitar, you won't be paying for any extras – just the guitar itself.
And the guitar looks decent enough. It's got a modified Strat style body (a little shaper at the top, and a little wider at the bottom) and a headstock that's reminiscent of Ibanez designs.
It features a basswood body (might be alder – even the manufacturer seems unsure), maple neck, three single coil pickups, five-way selector switch, and apparently a tremolo bridge (but it doesn't look like there's a cavity for a whammy bar…).
Overall, customers thought it was a quality guitar and a good one for younger players to mess around with. They even said they thought the finish quality was excellent.
Item weight: 6.45 lbs.
Package dimensions: 37.5 x 15 x 3.25 inches
CNZ Audio ST Mini Electric Guitar
I'll be honest when I say I've never even heard of "CNZ Audio," and it's more than likely an off brand. But I would be lying if I said their guitars didn't look super decent, including this, the CNZ Audio ST mini electric guitar.
This Strat styled axe comes in fiesta red, black, and sunburst. It features one humbucking and one single-coil pickup, along with a toggle switch and volume and tone knobs.
The guitar features an alder top, maple body, and rosewood fretboard.
The CNZ Audio ST electric guitar has received high ratings and words of praise from buyers, which seems to validate our initial impression that this is a quality beginner guitar.
Item weight: Unknown
Package dimensions: Unknown
COLUBER CABLE Kids 30 Inch Electric Guitar And Amp Complete Bundle Kit For Beginners
The COLUBER CABLE kids electric guitar bundle is another solid option if you're looking for an all-in-one kit. It comes in a few different configurations, including black, blue, red, sunburst, rose red, and a left-handed purple model (which appears to be full size rather than 3/4 size).
The guitar comes equipped with a Phoenix wood body, maple neck and maple fretboard (looks more like rosewood to us). You get one humbucking pickup with volume and tone knobs.
The bundle comes with a 20W amp, gig bag, strap, two picks, digital tuner, instrument cable, extra string set, and two Allen wrenches.
The highlight of this ensemble would obviously be the guitar itself. We like the "burst" finish, even if it doesn't quite compare to the appearance of higher priced guitars.
That said, happy customers said the guitar was even better in person than online and thought it was an awesome beginner kit.
Others weren't entirely thrilled with the quality of the amp, but we're not surprised. Honestly, you can't expect much in this price range. When a guitar comes bundled in a kit like this, the accessories are basically an afterthought or just a bonus.
Item weight: 13.87 lbs.
Package dimensions: 34 x 13 x 7 inches
Raptor 3/4 Scale 36" Kids Starter Electric Guitar Pack
The Raptor kids starter electric guitar pack is a reasonable budget option, and the guitar itself doesn't look half bad. You can get it in black, pink, red, and tobacco burst.
The axe features a basswood body, maple neck, and rosewood fretboard. It comes with a single humbucker, as well as a 3W amp, digital tuner, gig bag, strap, cable, replacement strings, Raptor picks, and amazingly, a whammy bar (not sure we've seen a single guitar that comes with a whammy bar on this list yet).
Reviewers said the guitar was much better than they expected, solid quality, and liked that all the essentials were included.
Some said they weren't impressed with the cheap components, but it's a budget guitar for a reason.
Item weight: 10.01 lbs.
Package dimensions: 37.01 x 14.02 x 5 inches
SX Electric Guitar Package
The SX electric guitar package is another budget friendly option for those might be a little more price conscious.
As with a few selections on this list, this axe is closer to a half size guitar, so buyer beware. That said, half size guitars can be quite good, so we figured it wouldn't hurt to add a couple of options to this list. Besides, the size makes for a nice travel guitar and general hauling around.
This guitar features a 23" scale length, basswood body, maple neck, and it also comes with a guitar amp, instructional video, guitar bag, strap, and cable.
Although buyers say it would be advisable to take this guitar to a luthier for a quick setup job before attempting to play it, overall, they felt it was good quality for the price, and a capable axe for beginners.
More critical reviewers suggested you'd be better off with a more expensive package if your budget can tolerate it.
Item weight: Unknown
Package dimensions: Unknown
Rise By Sawtooth Right-Handed 3/4 Size Beginner Electric Guitar Kit
If there's one thing we can say about the Rise by Sawtooth beginner electric guitar kit, it's that it presents well. We'll need to dig a little deeper to determine whether it lives up to its high rating though.
The 24" scale length guitar comes with a basswood body and maple neck, maple fretboard, and chrome hardware.
The kit includes a 5W amp, guitar strap, instrument cable, gig bag, pitch pipe (obviously a little cheaper than a digital tuner), and three picks.
Some buyers thought it was so much more than just a beginner guitar and were impressed with the quality of the instrument.
The manufacturer (or seller) seems to have some issues with quality control, however, as not every customer got what they were looking for when this kit arrived on their doorstep.
Item weight: 4.5 lbs.
Package dimensions: 36 x 11 x 2 inches
CNBLUE 36 Inch 3/4 Size Beginner Electric Guitar
The CNBLUE 3/4 size beginner electric guitar features a poplar body, maple neck, and technical wood (processed wood material – composite) fingerboard. It comes with one humbucking pickup, tone and volume knobs, as well as a gig bag.
Overall, users were pleased with the quality of the guitar and didn't think you could go wrong at the price point.
Item weight: 7.73 lbs.
Package dimensions: 34.9 x 11.8 x 1.58 inches
Best Choice Products 30 Inch Kids Electric Guitar Beginner Starter Kit
These last few options are especially budget friendly, and there are some decent picks here. Just be sure to keep your expectations in check, and you'll do fine.
The Best Choice Products 30-inch kids electric guitar starter kit comes with a guitar that appears to be closer to 1/2 size than 3/4 size. That said, its neck seems to be the same as what you would find on a 3/4 size guitar.
It has a simplistic setup, with one pickup and a single volume knob, laminated body, maple neck, and maple fretboard.
It comes with all the essential accessories, including amp, carrying case, extra set of strings, strap, cable, and pick.
Enthusiastic buyers thought it was the perfect starter guitar set and found it fun to play with too.
Not all reviewers were as enthusiastic, though, and thought the guitar could be a lot better.
Item weight: 7.55 lbs.
Package dimensions: 30.7 x 12.2 x 3.5 inches
Stedman Kids Series Electric Guitar Pack
Here's another viable half sized guitar option. The Stedman kids series electric guitar pack features a bright pink one-pickup guitar at its heart. This guitar comes with a basswood body, maple neck, and maple fingerboard.
Also included are an amp, cable, strap, picks, gig bag, and wrench.
Users thought the guitar was perfect for kids and beginners.
Negative reviews were mostly inconsequential.
Item weight: 6.89 lbs.
Package dimensions: 31 x 4 x 10 inches
ZENY 30 Inch Kids Electric Guitar Kit
If you've come this far down the list, chances are you're committed to a budget option, and we're not here to judge.
The ZENY 30-inch kids electric guitar kit will certainly help you save some money. The 30-inch guitar is closer to a half-sized axe, but again, totally viable depending on what you're looking for.
You can get the guitar in black, blue, and pink, in case you're looking for more fun options.
The guitar's construction isn't entirely clear, but at this price point we would expect it to be laminate or composite woods all around. Not a bad thing, given that it would probably make this guitar a little more durable (in general, all 3/4 size guitars are).
The kit includes a 5W amp, cable, strap, replacement strings, and guitar picks.
Now, for the most part, customers seem satisfied with the ZENY kit. That said, more vocal buyers were expecting a lot more, and didn't think it was worth it.
Either way, the choice is up to you. We just thought you should know.
Item weight: 4.99 lbs.
Package dimensions: 38.58 x 11.02 x 18.11 inches
Smartxchoices 30" Kids Electric Guitar Kit
We suspect this Smartxchioces kids electric guitar kit is some variation on the ZENY one just introduced, and it's entirely possible that it was built by the same manufacturer, just that two separate brands have opted to sell the same bundle under different names.
As such, you basically know what to expect. The description says this guitar has a hardwood body and rosewood fretboard. It comes with a cable, amp, and amp strap. From the picture, we would assume it comes with the gig bag, guitar strap, replacement strings, picks, and wrench as well.
Overall, the buyers of this guitar seem to be happier than the ZENY one, so who knows? Maybe this bundle is a little different. They thought it was good bang for buck, with great quality.
Others said it was a cheap guitar with various issues, be it tuning, uncomfortable fretboard, broken gig bag zipper, or otherwise. Again, you can't expect too much at this price point, but these concerns are worth mentioning.
Item weight: 1.15 lbs.
Package dimensions: Unknown
What Should I Look For In A 3/4 Electric Guitar?
Trying to figure out which guitar to buy? Don't worry – we've got you covered!
In this section, we'll look at several factors that will help you make your buying decision.
The main considerations here are:
Whether to get just a guitar or guitar bundle
The sound of the guitar
The playability of the instrument
How durable the guitar is
Price point
Let's get into it.
Standalone Guitar Or Guitar Bundle?
Whether to buy just a guitar or a guitar bundle mostly comes down to the individual. There is no right or wrong answer, and it might be more a budgetary consideration than anything else.
A standalone guitar can be a great option, if only because the value of the guitar is a little more apparent. When bundled up with other accessories, it can be harder to tell exactly how much guitar you're paying for. Additionally, if you already have all the other gear you need, you might not be hard up for the additional kit.
If this is your first time buying a guitar, or you're buying a guitar for someone else, it can be nice to have the extra equipment, and it makes for a great birthday or Christmas gift too.
Just don't expect too much from the included accessories. If you want a separate, better quality amp, for example, you can probably find one for about $100.
Sound Is Not A Major Factor
Guitars in this range generally aren't built with sound in mind, and the amps they come with are also little more than brash sounding practice amps.
There are still some decent guitars and amps on this list, but in this price range, you should not expect too much.
Which is okay, because 3/4-size guitars are generally for kids and beginners, and not for pros. They can still be useful for those will smaller hands, but if you want a better sound, you're usually better off matching a higher quality guitar with a higher quality amp.
Basically, with 3/4-size guitar, if the guitar makes a sound, it gets a passing grade. If it offers more, it gets high marks.
Playability Is Important
For beginners, players with smaller hands, and individuals with less finger dexterity, playability is of the utmost importance. Arguably, it's critical for all types of players, but even more so for the types of people just mentioned.
Starting off on a guitar that's hard to play can slow your progress and even cause unnecessary discouragement on your guitar journey.
Now, there will always be those who say you're better off starting on a guitar that's hard to play, because when you move to an axe that's properly set up, it will feel much better. And there might be something to that.
But for the most part, students find it a better experience learning on an instrument that's highly playable.
If in doubt, go to the store to try out a few axes.
Durability Can Be A Factor
For younger players and beginners who don't know how to care for their instruments, a more durable instrument is generally preferred.
Fortunately, most beginner guitars are made to withstand quite a bit of abuse. It certainly helps that they're made of wood. A few nicks, dents, and bumps shouldn't negatively affect the instrument or make it unplayable.
There isn't too much to think about here, though it is fair to say the guitars nearing the top of the list are made of better-quality materials than the ones found lower on the list (the budget options).
Durability is also key when it comes to regular travel or hauling one's guitar around to lessons, recitals, workshops, and so on.
Budget Is A Worthy Consideration
Budget is always a good filter to apply to your buying decisions. Most options considered above are in the $70 to $280 range. Not a huge margin, but $280 could still be a lot for some.
There's absolutely nothing wrong with purchasing something cheaper or something in the middle of the road, especially if it saves you from going into debt.
That's one thing we recommend avoiding at all costs! Don't go into debt to buy your musical gear.
What Are The Best 3/4 Size Electric Guitar Brands?
Obviously, there are a ton of guitar makers, and most of them do have a bigger pack of sorts.
In this section, we'll highlight three brands worth considering, but just know that premium brands like Gibson, Yamaha, and Washburn tend to have worthy beginner options too.
Squier
Fender's Squier has a long-standing reputation for developing affordable beginner instruments and have even come to serve the intermediate market with capable additions. Even pros sometimes use Squier guitars on the road, though they are often modified with components like upgraded pickups.
Ibanez
Ibanez has a strong reputation in the shredder community, and that in part is thanks to their fast necks and use of double-locking tremolo systems. Their guitars are always great bang for buck, so when you're on a budget trying to get more guitar for less, Ibanez is often a great brand to turn to.
LyxPro
LyxPro manufactures affordable musical and audio gear in all major categories, like speakers, musical instruments, live sound and accessories, mic stands and accessories, cables, and headphones. Not a brand you would necessarily turn to for all your musical needs, but they do serve the budget market quite well and offer some solid instant gratification.
Best Guitar For Small Hands, Final Thoughts
One last tip for guitarists with small hands:
In some cases, it can be helpful to watch video demos and reviews of the products you're considering.
There isn't that much difference between beginner guitars, at least not enough to write home about. But there are options at different price points for a reason – more expensive guitars are clearly better, even if it's just in small ways.
Aside from that, you should be ready with all the information you need to make your purchase.
Have fun!